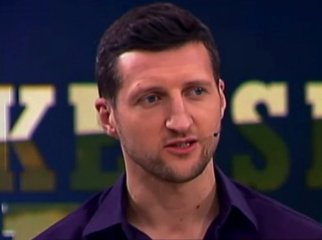 Eddie Hearn has ruled out what would be a lucrative fight between his fighter IBF super middleweight champion Carl Froch and 48-year-old IBF light heavyweight champion Bernard Hopkins this year in September. Hearn doesn't want Froch to be fighting guys that are slightly bigger than him like Hopkins because he sees it as putting Froch in a difficult position.
Hearn said this to Sky Sports News "It's flattering [that Hopkins wants to fight Froch]. Hopkins understands the value of a fight with Froch, but I don't think Carl needs a fight at a catchweight…he'd be at a big disadvantage."
Let me get this right; the 35-year-old, 6'2", 168 lb. Froch would be at a disadvantage against a 48-year-old Hopkins at a catchweight of 171 or 172. Is there something wrong with this picture? How on earth would Froch be at a disadvantage against the nearly 50-year-old Hopkins if all Froch had to do was move up three or four pounds at most?
Would it hurt Froch to gain a few pounds to make the fight at a catchweight against a guy that is half a century old? I don't know about you but I smell fear, and a lot of it.
But let's analyze Froch's recent past, shall we? We saw how Froch was completely out of his element in his loss to Andre Ward back in 2011. As everyone knows, Ward is like a younger copy of Bernard Hopkins. He fights exactly like Hopkins does, except he's maybe a little tougher than how Hopkins fights now.
He fights more like how Hopkins used to fight earlier in his career when he a very physical fighter. But Hopkins can still really fight on the inside when he wants to, and against a long-armed fighter like Froch, Hopkins would set up shop on the inside and stay there for 12 rounds giving Froch pure hell.
I give Hearn a lot of credit for being sharp enough to realize that Froch would be out of his class against Hopkins even now. It's a smart move for Hearn to keep Froch far, far away from Hopkins for the rest of his career.