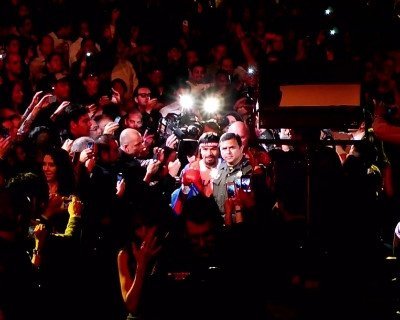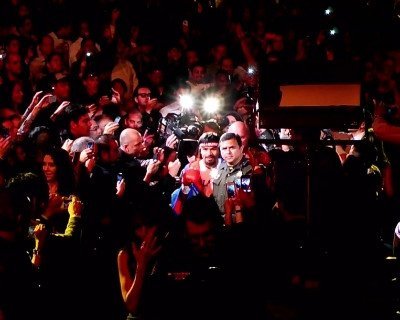 While Manny Pacquiao's close adviser Michael Koncz met with Top Rank promoter Bob Arum this past week to discuss the two names – Tim Bradley and Ruslan Provodnikov – that Arum has for Pacquiao's next bout April 12th in Las Vegas, Nevada, Pacquiao is still very much interested in fighting Floyd Mayweather Jr. That's his first choice of who he'd like to fight, but unfortunately Mayweather's not on Arum's list of opponents for him to fight. It's going to be one of Arum's Top Rank fighters that Pacquiao faces next.
Earlier today Pacquiao was asked if he'd like to fight Mayweather, and he said "Anytime. We're just waiting."
What Pacquiao means by that is unclear. Is he waiting for Mayweather to agree to fight him while he's still being promoted by Arum, or does Pacquiao mean that he's waiting for his contract with Top Rank to expire in 2014 so that he can sign with another promoter in order to fight Mayweather without the Top Rank – Golden Boy Promotions cold war stopping it? Mayweather made it perfectly clear in a recent interview that he will never fight Pacquiao as long as he's promoted by Bob Arum. Mayweather refuses to fight Pacquiao for some reason while he's still with Arum.
Whether Mayweather will do business with Top Rank if the 82-year-old Arum were to suddenly pass away is unclear. If Pacquiao is waiting for his contract with Top Rank to expire, then it makes sense him saying that he's "waiting." That's the only thing that Pacquiao can be waiting for at this point, because if he's waiting for Mayweather to change his mind about not wanting to do business with Arum then he might be waiting for the remainder of his career. Mayweather sounded adamant about not wanting to do business with Arum, and it's doubtful that he'll change his mind anytime soon.
If Pacquiao decides not to re-sign with Top Rank after next year, he's potentially going to have a lot of big fights available to him. If he promotes himself then he can fight Golden Boy promotions and Top Rank fighters, although I'm not sure why he'd still be interested in fighting the Top Rank guys, because Pacquiao has already exhausted the best options with that promotional company. The only way he could still be fighting Top Rank guys after his contract runs out with them is if he wants to keep fighting Tim Bradley for a 3rd and 4th times. But that's not a smart use of the remaining fights of his career.