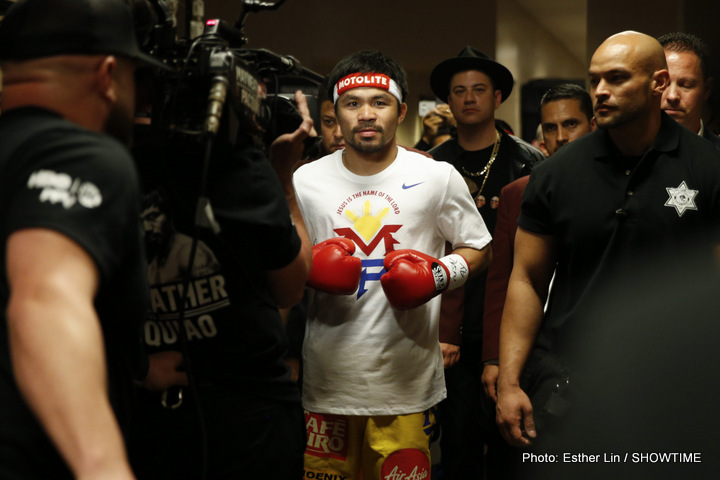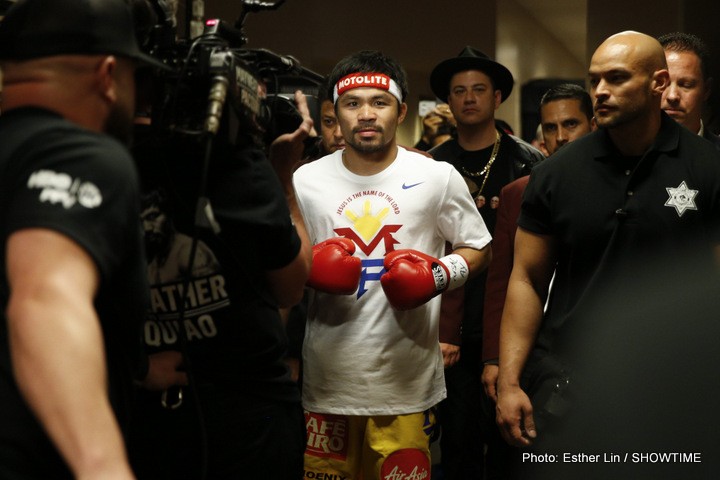 Manny Pacquiao has spoken. The 39 year old all-time great/living legend, who recently bailed on a supporting slot on the April card topped by Jeff Horn-Terence Crawford, says he will be back in action in either May or June, in Malaysia. The opponent according to Pac Man? Either Lucas Matthysse or Danny Garcia.
Speaking with ABS-CBN television this week, the former multi-weight world ruler who has not boxed since his controversial and upset decision loss to Australia's Horn in July of last year, said it will "definitely" be Malaysia for his next fight.
"Definitely, Malaysia is where we will fight," Pacquiao said Tuesday. "If not May, this coming June, maybe [the] third week of June, so the preparation will not conflict with my (political, senate) work."
Okay then, we fight fans who have missed seeing Manny do what he does best, fight, are pleased to hear this news. But can we take Pacquiao's word as gospel? We've heard quite a few things about Manny just lately, some of these things coming directly from him – from a fight being set between he and Vasyl Lomachenko, to Pacquiao not answering trainer Freddie Roach's calls.
If Pacquiao is to fight either Matthysse or Garcia in the summer, the event promises to be a big deal, and an exciting deal. But can the great who has not scored a KO since way back in 2009, and who has not won a fight since November of 2016, beat either man? Garcia looked great, in the end, in taking out Brandon Rios in his most recent outing, while Matthysse also looked great, in the end, in closing the show in his fight with Tiwa Kiram, in which he won a version of the WBA welterweight title.
Who would you rather see Pacquiao go up against out of these two?Matthysse has, or had, an exciting, even thrilling style, and maybe he and the ageing Pacquiao would make for a barn-burner. Garcia who, it must be said, can blow hot and cold, could well be outworked by Pacquiao.
If Manny is indeed telling us what he will in fact do next in the ring, we will find out who wins out of he and either the Argentine banger or the Puerto Rican/Philly fighter soon enough.