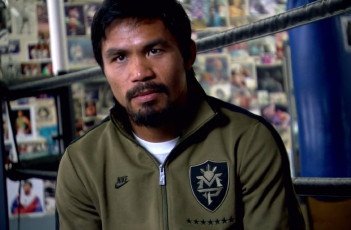 By Rob Smith: If Manny Pacquiao and his promoter Bob Arum want to get Floyd Mayweather Jr. into the ring for a big cash fight next year then they're going to have to play it by Mayweather's rules by taking the smaller cut, because he no longer sees Pacquiao on the same level as him.
Mayweather told Hot97 FM NY, "Actually, we don't do the same type of numbers, so how can we split? We don't draw the same type of money."
That would suggest that Pacquiao and Arum going to have to back off their request of a 50-50 purse split with Mayweather if they want the fight to get made. It's still possible that Arum can put the fight together but he and Pacquiao will have to swallow their pride and come in with a much lower figure, perhaps as low as 35 percent of the pie. That's still more than a bargain for a fighter with four losses and who is coming off of a defeat against Tim Bradley. Pacquiao won't be able to make that kind of money against anyone else, and he could end up in a bad situation if he loses to the next opponent that Arum lines up for him in December.
In this case, Pacquiao would be better off taking whatever crumbs Mayweather throws him because he won't be able to bargain at all, period. It's bad enough right now with Pacquiao losing to Bradley, and the fight drawing only 700,000 PPV buys. But if Pacquiao loses to another one of Arum's fighters, it's going to start looking bleak for Pacquiao and Arum in terms of them getting the big money that they could have once gotten in a Mayweather fight. You can't bargain if you're not winning fights and you're bringing in low PPV totals. And it's not going to work if Arum keeps blaming Pacquiao's losses on controversial decisions by the judges.