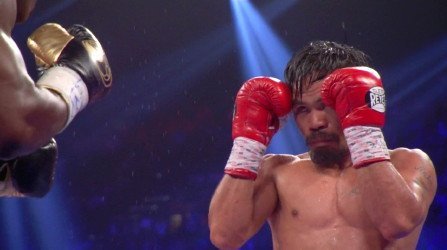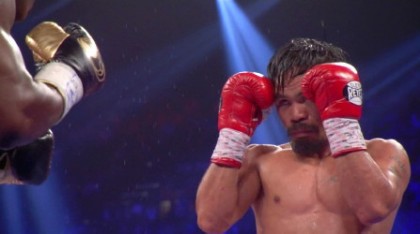 Manny Pacquiao (55-5-2, 38 KO's) full expects that he'll need to go after WBO welterweight champion Tim Bradley (31-0, 12 KO's) this Saturday night on April 12th in their rematch at the MGM Grand in Las Vegas, Nevada. After watching Bradley defeat Juan Manuel Marquez last October, Pacquiao realizes that he's going to need to really go after Bradley if he's to get him to exchange with him.
Bradley isn't going to fight the same kind of fight that he did against Ruslan Provodnikov. That was one-time type of fight for Bradley, and he realized afterwards that he cannot fight that same way again if he wants to keep from getting knocked out cold.
Pacquiao looked confused unequipped to handle Bradley's movement in their first fight in June of 2012. Even with two bad feet, Bradley had Pacquiao thoroughly befuddled, and was able to easily avoid his attacks. For Bradley it doesn't make sense for him to change anything from their first fight if Pacquiao still hasn't proven that he knows how to deal with movement. Bob Arum, the promoter for Pacquiao, gave him an easy fight in his last bout against Brandon Rios. He stood directly in front of Pacquiao for 12 rounds looking like a punching bag for him. So we still don't know if Pacquiao can deal with movement.
"I do not think Bradley will fight toe-to-toe with me either, so I will have to hunt him down," Pacquiao said. "I am prepared for that. I am not going for a knockout, but if the opportunity presents itself I am going for it this time."
It's safe to say that Pacquiao won't be scoring a knockout in this fight, because it's pretty much impossible to knockout a guy who is going to be on his bike the entire time. Even if Bradley were to stand and trade, Pacquiao would still have problems trying to get a knockout because of his in and out style of fighting. Pacquiao really isn't a legit welterweight, and that's one of the reasons why he doesn't score knockouts.
Pacquiao is going to have to chase Bradley on Saturday night, and he's going to need to do it for the full 12 rounds of the fight. I'm not sure that he has the stamina to fight like that at his age. At 35, it's going to be all but impossible for Pacquiao to be following the younger Bradley. If anything, this could work against Pacquiao if he gasses out from chasing Bradley. We could see Bradley stop in his tracks and hurt Pacquiao. That would be a stunner but it's also quite possible.