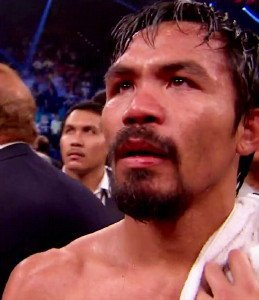 By Rob Smith: Top Rank promoter Bob Arum says that Manny Pacquiao could make decision about his December 8th fight as early as today, according to the LA Times. The field has been reduced to two fighters – Tim Bradley and Juan Manuel Marquez – after Miguel Cotto dropped out of the race to take a December 1st fight against WBA World junior middleweight champion Austin Trout.
It's unclear if Cotto was really ever a serious option because Arum and Pacquiao both wanted a catchweight of 150 lbs, and Cotto had already been the receiving end of one catchweight fight with Pacquiao in 2009. That one didn't go too well with Cotto. You can't blame him for not wanting to boil down a second time to accommodate Pacquiao on the weight requirement, especially after Floyd Mayweather Jr. agreed to fight Cotto at the full weight for the division last May.
Arum has all the important pay per view figures at hand and he's discovered that "60 percent of the pay per view households are Hispanic" in the United States, according to the LA Times. This obviously is going to help shape his decision to likely go with Marquez as the one to face Pacquiao on December 8th. In reading a lot of the comments that Arum has made in the past month, it seems that he's been dialed in towards a Pacquiao-Marquez rematch from the very start.
No doubt he's seen the potential money that can be netted after their last fight hauled in 1.25 million PPV buys last November. After having gotten much less than that in Pacquiao's recent loss to Bradley, Arum wants to get those numbers back up to where they once were. The PPV figures for the Pacquiao Bradley fight are between 700,000 to 850,000, with numbers tossed around. Who knows what the real totals are, but it's pretty clear that the Pacquiao vs. Bradley fight brought in disappointing numbers for Arum. In hindsight, Arum should have known that Bradley didn't have a large fan base when he signed up for Top Rank. Boxing fans already knew that a long time ago, and Arum made things worse by almost immediately putting Bradley in with Pacquiao rather than waiting until Bradley had built up a fan base by appearing on Pacquiao's undercards.
Putting Pacquiao back in with Marquez for a fourth fight might not bring the great numbers that they had in the past, because some boxing fans might be tired off the constant the rematches with Marquez not getting wins despite out-boxing Pacquiao each time. It's a fight that's been played out too many times and it just looks kind of obvious that the public is being milked with these constant rematches.