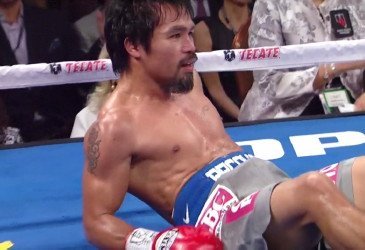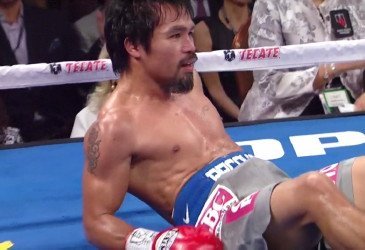 By Paul Strauss: For fear of being maudlin, there are plenty of us out there with feelings of sadness and regret. It's the kind of feeling we get when one of our hero's does something we thought impossible. They lose. It's often unexpected and painful. We knew all along it was possible, but still we refused to believe it. It's the kind of feeling that overwhelmed people when Gene Tunney beat Jack Dempsey, or when Rocky Marciano beat Joe Louis. "It can't be!" That is the thought that flashes across our mind's eye. It won't go away. It like the image is stuck on "play"! We want to awaken from the nightmare, but reality has just given us another smack up side the head.. There's no way to shake it off. Our hero is human after all.
Saturday night at the MGM Grand, Grand Garden Arena, Las Vegas, NV, Manny Pacquiao was the victim of a sensational kayo at the hands of Juan Manuel Marquez (JMM). It was a decisive finishing blow that ended a sensational fight. Referee Kenny Bayless saw no need to administer a count. Some so called experts thought the fight shouldn't occur. They boo hoo'd it, fearing it might prove to be less than thrilling. What foolishness. We can only hope they're ashamed of themselves for even thinking such thoughts…
The fourth and greatest of their fights was action packed from beginning to its dramatic conclusion. The end was in doubt right up until JMM's final punch landed. It was a powerful short right landing flush on the nose and chin of Pacman. Up until that point, the fight was a seesaw battle, first teetering toward Manny and then tottering back to JMM, with Pacman holding a slight edge. He took the first two rounds, but in the third, JMM landed a long-looping overhand right that put Pacman on the seat of his pants. It shocked everyone. It was a punch Manny didn't see until the last fraction of a second. Before impact, Manny was holding his left glove high, protecting the left side of his head, but the glove also obstructed his vision. When the oncoming punch was launched, Manny didn't see it. It wasn't yet in sight. Then he slightly lowered his glove, just in time to see what was coming. But, it was too late to avoid it, and the punch crashed into the left side of his face. Down he went to his surprise and that of everyone in attendance. The fact is it shouldn't have come as all that big of a surprise. After all, JMM has more knockouts than Pacman, even though Pacman has been considered the bigger puncher of the two, mainly because he has dropped JMM four times. So it was only logical to think he would be the one to continue the string.
Pacman almost gave cause for that way of thinking to continue. He turned the tables and dropped JMM. Now, his fans thought, all is right with the world. It was the usual punch, a straight left right up the middle. Manny set it up by using what HBO announcer Roy Jones, Jr called a "double pump". It was a right feint, followed by a right jab and then the left. The left was powerful enough to send JMM toward the canvas. He kept his body from hitting the canvas by bracing himself with his out-stretched left arm. It was ruled a knockdown because the glove touched canvas.
So, Pacman once again jumped into the lead, and he continued with his attack, but JMM proved cunning and treacherous, countering with hard shots, both to the head and body. Then in the fifth, Pacman nailed JMM with a right hook. This time JMM didn't see the shot and it shook him up all the way to his toes. Pacman looked eager to press his advantage and seemed to have JMM where he wanted him. JMM, as always, seems to be at his best when hurt. Few great fighters are like that. The ones who are actually become more dangerous when hurt. The fighter's god given instincts kicked in. Just when it appears he's on his way out, he reaches down and grabs something in his gut that gives him the strength and courage he needs to fight back and turn the tide.
The action continued to teeter in Manny's favor in the sixth. He had JMM retreating, or was he? It is common knowledge JMM is a master counter puncher. He knows how to set traps, and get his opponent positioned properly, so he can send over the damaging blow. He's done it repeatedly over his career, so much so that people seem to say, "Oh, oh!" when JMM has been knocked down or hurt. Fans know JMM is going to make whoever did it, pay. That, of course, is what happened with Pacman. Manny was very aggressive, obviously hoping to land another damaging shot. He wanted to get one more across that would bring an end to any questions about who was the better fighter.
Picture Manny pursuing JMM, with the two circling as Manny pressed forward and JMM kept pivoting and circling to his left. First, Manny had his back to the ropes. Then both made a quarter turn. Punches were flying from both men. A few more turns, and now JMM backed toward the ropes. Manny closed, but he moved in too close without punching. Just as he realized it and started loading up for a straight left, JMM started to carry out his plan. First, Manny raised his right elbow a bit, and then stepped forward, shifting all his body weight from tje back foot to the front. At the same time, JMM saw his chance. He dipped down and to his left, moving parallel to Manny, but in the opposite direction. JMM's move resulted in a maximum amount of torque to be applied to the short right headed punch headed straight to Manny's incoming face. Movements of the two were so close that Manny's up raised right elbow seemed to lightly graze JMM's right cheek. As a result of the collision course, JMM's punch was multiplied. Think of it as a short, straight right times two. The formula is (rt x's 2=kayo).
The unthinkable happened. Manny "Pacman" Pacquaio fell forward on to his face. It was damn frightening. It always is when a fighter falls forward like that. There's definitely an interruption of brain waves. Everyone witnessing it can only hope and pray that it a temporary "lights out". Thankfully that proved to be the case for Manny.
In defeat, Manny once again proved himself to be a real champion. Understandably, many fighters would have vacated the premises in great haste, but not Manny. Once Manny regained his senses and composure, he made his way over to congratulate JMM on his victory. He then provided Larry Merchant with a few humble words of explanation. It was a bit reminiscent of the great Jack Dempsey, who simply said, "I forgot to duck." after losing to Gene Tunney. Manny's version was, "I just got careless. That's boxing!"
One good thing about Manny's defeat is he was beaten by a class fighter in JMM, one who understands and appreciates the significance of his accomplishment. He too is humble concerning his achievements and he is cognizant of the fact things could easily have been reversed. As a result, he is respectful of his fallen foe, and just as Manny proved to be a good loser, JMM is proving to be a good winner. That might not have been the case in the event another, shall we say nameless fighter, might have been on the winning end. Swelled heads might have been the name of the game, and that would have left a very bad taste in the mouths of most boxing fans.
Both Manny and JMM are deserving of the admiration they receive from their respective country men and all level headed fans. To paraphrase a line from an old Clark Gable movie: They both are what every little boy dreams of being, and every old man wishes he had been. They are genuine role models for our children, as well as to us all. They are men whose examples of dedication, generosity, courage and humility should be emulated. It's important to think so, because our teachers and public speakers tell us young people most frequently chose sports stars as role models. Both Manny and JMM have demonstrated that anyone, even someone from humble beginnings, can be successful. That's a good example, but many athletes have proven that to be true. The real truth comes in how they deal with that success and of course failure. "Truth, like gold, is to be obtained not by its growth, but by washing away from it all that is not gold." – Leo Tolstoy In defeat, Manny has shone through even more. He once again reinforced those desirable traits, even though he is suffering. He remains an inspiration to us all, and a true treasure to boxing