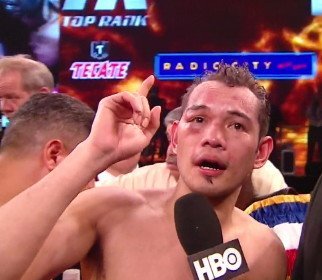 Top Rank's Bob Arum, claims that Nonito Donaire (35-3, 23ko) is determined to finish his multi-weight, world title winning, accolade filled career with some big fights, and claims the 'Filipino Flash' is deadly serious about knuckling down to achieve that in what are essentially his twilight years, signing a new deal that could set him on a collision course with fellow TR stars, Vasyl Lomachenko and/or Nicholas Walters.
Donaire, who turns 33 in 12 days time, has just signed a '1 year-plus' contract extension with his long-time promoter, and fights Mexico's Cesar Juarez in a Dec. 12 clash on truTV (US) that is likely to be for the WBO 122 lb title recently stripped from inactive and avoided Cuban, Guillermo Rigondeaux.
"I think Donaire is really serious now. He's a great fighter, and I don't count him out against anybody," Arum told ESPN.com.
The terms of the new contract, which haven't been fully disclosed, are said to include the potential of a rematch with Jamaica's Nicholas Walters, although now the 'Axe-Man' has moved up to 130, the difference in weight could prove to be problematic.
There does exist an opportunity however, for Donaire to fight Top Rank's avoided 126 lb WBO champion, Vasyl Lomachenko, who himself boxes little known Romulo Koasicha on Saturday's Bradley/Rios card.
"We want to fight the best fighters Top Rank has to offer, and it says in the [new] contract that Top Rank will try to make fights for me with the best available opponents, like Lomachenko and a rematch with Walters," Donaire said.
"Those fights are there for me, and I am happy about that and happy knowing I will get the opportunity for big fights. We're happy about the deal and the possibility of fighting the best fighters that Top Rank can make available to me."
"Lomachenko is a really good fighter and a really good test for me to see where I'm at. There's talk they want to come down [to junior featherweight], but if not, we'll go back up to featherweight," he added.
Twitter @undilutedpoison