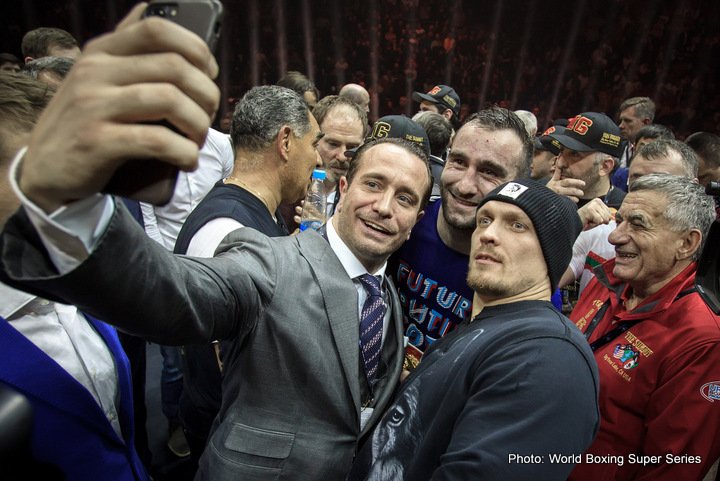 We have a final: Gassiev beats Dorticos to face Usyk in Jeddah
Russia's Murat Gassiev dropped Yunier Dorticos three times in the 12th round and dramatically stopped the previously unbeaten Cuban with just eight seconds remaining of a highly entertaining Ali Trophy semi-final at Bolshoy Ice Dome in Sochi, Russia.
The unbeaten champion retained his IBF cruiserweight title and won the WBA cruiserweight championship and proceeded to the final in Jeddah, Saudi Arabia where he faces Ukraine's Aleksandr Usyk in May.
"He did a great job," said Gassiev said of Dorticos. "He's a great champion. He's really a very hard hitter. I respect him a lot."
"There was big pressure on me in the fight. He has 21 knockouts. He has heart, and he is a warrior. He never gave up. He takes punches but continues fighting."
Said Dorticos:
"I gave my best, but Murat is a strong fighter. I think we made history with a spectacular fight. It is tough right now, but I promise I will come back strong."
Usyk was ringside and joined Gassiev in the ring for a face off after the fight.
"I want to say congratulations on your last fight. Great job," Gassiev told him. "I will do my best against you, and I hope we will make a good fight for all boxing fans."
Usyk unified the WBO and WBC cruiserweight titles January 27 by beating Mairis Briedis on points in Latvia.
Usyk said: "I want to congratulate Murat on his victory, and I expect a spectacular and beautiful fight in Jeddah."
Said Comosa's Chief Boxing Officer, Kalle Sauerland:
"I think we saw for a second week in a row the product you get when you put the best against the best. I think we saw an absolute action-packed battle. This fight was a great advert for the sport, the tournament and the cruiserweight division. People will talk about this fight for many years, especially in Russia."
The winner of Usyk vs. Gassiev will become the first cruiserweight to unify all the titles in the four-belt era.
https://www.youtube.com/watch?v=xgZFRF7psQI
Murat Gassiev – Yunier Dorticos
Weigh-In Results: Gassiev tips the scales at 90.35kg – 199,2 lbs – Dorticos officially weighs in at 90.7kg – 200 lbs
"Dorticos is a well-schooled fighter," said Gassiev. He has many amateur fights, good speed, and fast hands. He is a great opponent and I have prepared for 12 tough rounds."
Murat 'Iron' Gassiev, the Russian second seed, earned his spot in the semi-final when he blew away Polish Krzysztof Wlodarczyk with a powerful performance to produce a third-round KO.
"The World Boxing Super Series is a great tournament that gives me the opportunity to unify all the cruiserweight titles. On Saturday I am going to take another step towards that dream in front of my proud countrymen."
Cuban Dorticos has been oozing confidence in the built up for the fight:
"On a personal level I have no problems with Gassiev, but right now he has a problem. He has to find a defence against the missiles that are going to land on that big head of his. Gassiev will learn to respect 'The KO Doctor' on Saturday night."
Cuban Dorticos aka 'The KO Doctor', the tournament's fourth seed, impressed in his quarter-final with a devastating KO victory in the third round over Russian Dmitri Kudryashov.
"I will put on another show on Saturday for the fans in Russia and around the world. I have nothing to worry about. Gassiev has."
The cruiserweight final of the World Boxing Super Series will take place in Jeddah, Saudi Arabia in May 2018.