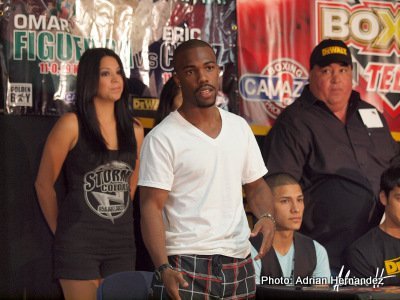 By Joseph Herron – After beginning his professional fight career with a perfect 20-0 record including 12 knock-outs, former Olympian Gary Russell Jr. feels that his ceiling for success in the sport of boxing is unlimited.
Despite stopping his last two opponents on HBO and Showtime respectively in dramatic and impressive fashion, the talented 24 year old fighter believes that his best effort has yet to be seen.
"My team is definitely planning on having a tremendous 2013," claims the talented Mr. Russell. "Although our expectations are high, we don't overlook any fighter and we go into each and every fight with the realistic view that any fighter can defeat anyone on any given night."
Tonight on a special "Olympic Edition" of ShoBox: The Next Generation, the hard punching southpaw will take on Robert Castaneda (20-2-1, 15 KOs) at the Fantasy Springs Resort & Casino in Indio, California in the ten round main event of the evening.
While most boxing pundits will view this bout as a "stay busy" fight for the highly touted Featherweight, Gary claims that his humble approach going into each and every contest is one of the many reasons for his success in the ring thus far.
"Every challenger is a legitimate threat to your record. This is boxing, where anything can happen in the ring. You have to prepare for every opponent meticulously to give yourself the best possible chance to be successful."
"I'm a true fighter and I like to study my opponents before we step in the ring. I like to see if I can identify his tendencies; his strengths and his flaws. I like to see if my opponent is bringing any bad habits in the ring so I can properly capitalize on them. How can you exploit an opponent's weaknesses if you've never watched footage on him?"
"We look for things like, which hand has Castaneda predominately scored his 15 knock-outs with? Is he evenly powered in both hands? We look for position, balance, footwork, and other tendencies that we can take advantage of on fight night."
"We're always 100% prepared going into each and every fight, and we always come up with a gameplan to defeat our opponent. Now it's up to me to execute that gameplan properly, and hopefully I can implement our strategy to come out victorious."
It's very easy to understand why Gary has reached a very high level at such a young age. But according the promising 24 year old fighter, he still feels that he has much to prove to the fight fans in America and abroad.
"In 2008 when I made the Olympic team and was actually one of the favorites to medal in my weight division, it really devastated me to suddenly become ill to the point where I couldn't compete. I really felt like I let my fans down. After that experience, I was even uncertain if I really wanted to box any longer."
Mr. Russell wasn't able to compete in the 2008 Olympic Games after mysteriously losing consciousness in his Olympic Village dorm room and missing the Olympic pre-competition weigh-in. His lifelong dream of wearing an Olympic medal for his country was dashed after passing out, more than likely, from the dehydration of trying to make the 119 pound Bantamweight limit.
"I had so many fans that were genuinely supportive leading up to the Olympic Games in Beijing. So when I wasn't able to compete, I really felt like all of their love and support was in vain. I really felt like I let everyone down and I was very depressed."
"So I feel like each and every fight as a professional is an opportunity to make it up to those fans who had supported me going into the Olympic Games. I want them to know that their support and love means everything to me and their efforts weren't in vain. So my goal is to become a world champion for them. Their support is my motivation to succeed and to compete at the highest level."
Gary's primary ambition has now turned towards capturing a world title in the talent enriched Featherweight division; a feat that Gary and his team believe is not too far off into the future.
"I really feel that 2013 will be my year, and I give all thanks and glory to God. I feel that the support and love that my great fans have shown me throughout my amateur and professional career will finally pay off when I eventually have my hand raised in victory as the new Featherweight Champion of the world."
"I believe it will happen for me in 2013."