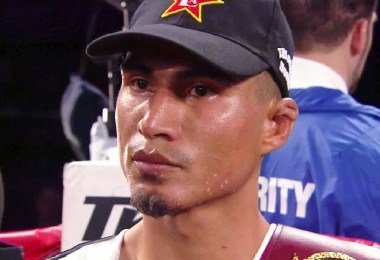 Miguel Angel "Mikey" Garcia 34-0-0 (KO 28) once again displayed excellent skills Saturday at MSG Theater when he dominated Juan Carlos Burgos 30-1-2 (KO 20) over twelve rounds to capture the WBO super featherweight. Burgos shook up Mikey once with a short left hook, causing Mikey's legs to buckle, but he quickly regained control. Mikey was surprised more than he was hurt. Later he returned the favor by nailing Burgos with a hard shot. It affected Burgos enough to cause him take a more defensively minded mode, making it difficult for Mikey to catch up to him. As a result, the fight became much less exciting, causing fans to boo here and there.
Burgos wanted to use his height and reach advantage by staying out of Mikey's range. Mikey tried to close in, but couldn't land the clean combinations he needed to put Burgos away. His affective pursuit was enough to win round after round and the fight, but the fight lacked the high level of excitement fans had hoped for. The pre-fight build up overshadowed the fight itself. Fight fans expected Mikey to demonstrate his worthiness as a future P4P fighter, but it's doubtful Saturday's display will be enough. Speculation about Mikey being a future challenger to Manny Pacquiao fizzled, even with the win. Yuriorkis Gamboa was in attendance at ringside seat, and when the cameras located him, the tv announcers immediately started conversing about a matchup between the great Cuban fighter and Mikey. The possible matchup causes considerable debate about who would win. Without question, Mikey is technically superior, but Gamboa is more explosive and unpredictable. The debate then centers on whether Mikey's skills will be sufficient to deal with Gamboa's speed and power?
Fight fans would love to see that matchup, but it's not likely to be a big draw with the general public. Mikey doesn't have the style or personality to draw fans from the general public like Manny or Floyd. Gamboa's promoter, Fifty Cent, will have his work cut out for him since Gamboa has been so inactive. He fought once in 2013, and once in 2012. Both fights went the distance. Hardly an incentive for casual fans to tune in.
Mikey has had good success, but he needs the right kind of fighter to display his mastery of precise counter punching. No question Mikey's style does not hold a candle to the seek and destroy style Manny "Pacman" Pacquiao employs. Equally important, Mikey does not possess the magnetism of Floyd Mayweather, Jr. Floyd, who learned from past greats, has created a public persona that has magnetism beyond the ordinary fight fan. He draws as many fans wanting to see him lose as he does those who want him to win. That means more buttocks parked in the seats. Mikey doesn't possess either of those distinctions. Therefore, Mikey needs a focal point on which he can attract attention. Promoters should dig into Mikey's persona in hopes of uncovering something of particular interest to the general public, a key to becoming a crossover sport's type personality.
Floyd, Jr. has his Father and Uncle to create outrageous headlines. One he started making some real money, he created Money and all the antics that went along with it.
Manny created excitement by imitating Jack the Giant Killer. He beat destroyers like Oscar De La Hoya, Ricky Hatton, Antonio Margarito, Miguel Cotto. Fans love his "It's business" attitude that keeps him from bad mouthing opponents. Instead he prays for them, and relaxes with a song on Jimmy Kimmel's tv show. Back home he has been voted into congress and elevated to the status of an idol.
Can something be uncovered in Mikey's persona that will crossover to the general public? Fight fans already know about his boxing abilities, and boxing family. But is there something of interest that will make Joe Public buy into him? If they can't find something, then maybe they need to create it, like all good promoters and PR men. Then they should repeat it often enough, so it is perceived as truth. It has to be something worthy of the tabloids, something that will get people talking. Mikey's team needs to get with it. Sell him, sell him and sell him. There's more to this game of boxing than leather and rosin.