Alycia Baumgardner (15-1, 7 KOs) retained her undisputed female super featherweight championship with a ten round unanimous decision win over Christina Linardatou (14-3, 6 KOs) in their long-awaited rematch on Saturday night at the Masonic Temple in Detroit, Michigan.
The 35-year-old Linardatou was the faster, busier, and more energetic fighter, but Baumgardner landed the harder punches that impressed the judges.
Still, it was hard not to notice how badly Baumgardner faded after round five. She was basically done at the midpoint and looked spent. Baumgardner was terrible tonight, but this wasn't the first time she gassed.
The scores were 99-91, 98-92, and 98-92.
Undercard results:
Making his pro debut, 2020 Olympic gold medalist Andy Cruz (1-0) outboxed the experienced veteran Juan Carlos Burgos (35-8-3, 21 KOs), winning a one-sided ten round unanimous decision.
Cruz used his hand speed advantage to hit the 35-year-old Burgos a will with punches, but he couldn't hurt him for lack of power. Burgos did a good job of covering up on the ropes during Cruz's barrages.
In the eighth round, Burgos appeared to hurt Cruz with a body shot when he was getting unloaded on against the ropes. Cruz, 28, wasn't ready for the bodyshot from Burgos, and hurt him.
The judges' scores were 100-90, 100-90, and 98-92. All in all, it was a good performance from Cruz, who showed that he's at least on the level of fringe-level contenders like Keyshawn Davis.
Andy Cruz looked beatable tonight
Cruz will need to make improvements for him to compete with Gervonta Davis, Shakur Stevenson, Devin Haney, and Vasily Lomachenko.
Right now, Cruz loses to all of those guys and possibly several other lightweights like Isaac Cruz, William Zepeda, Frank Martin, Keyshawn, and Raymond Muratalla.
Cruz's main problem is he can't punch, and his defense isn't good enough to keep from getting hit. Burgos was hitting Cruz a lot tonight, giving him issues with his body shots.
Heavyweight Jermaine Franklin (22-2, 14 KOs) went to war with Isaac Munoz (17-1-1, 14 KOs), hitting him with everything but the kitchen sink to win a ten round unanimous decision. The scores were 100-90, 100-90, and 99-91.
In rounds one through five, Franklin hit the 31-year-old Munoz at will with head & body shots, but he couldn't seriously hurt him.
In the third round, Franklin landed a wicked left uppercut that snapped Munoz's head back violently; moments later, Franklin hurt Munoz with a punch to his backside, causing him to wince in pain; he was then given a timeout by the referee to recover from the illegal shot.
Franklin faded after the fifth, allowing Munoz to come on and land some big shots. In rounds nine & ten, Franklin came back to dominate the action against aa tired Munoz.
In an entertaining fight, Super flyweight Ja'Rico O'Quinn (16-1-1, 8 KOs) beat Carlos Mujica (8-3, 2 KOs) by a ten round unanimous decision.  The scores were 100-90, 97-93, and 96-94.
Mujica pushed a withering pace, forcing O'Quinn to fight off the ropes and giving him a lot of problems. O'Quinn landed the cleaner shots down the stretch to get the victory.
Mujica had O'Quinn hurt in the final seconds of the fight after nailing him with a hard combination to the head.
Undefeated middleweight prospect Jermarco Holloway (6-0, 3 KO) blasted out Angelo Snow (9-5, 6 KOs) in round four to keep his unblemished record intact.
In the first fight of tonight's card, featherweight Cameran Pankey (8-0, 4 KOs) had an easy time beating an overmatched Miseal Reyes (4-5, 1 KOs) in a lopsided six round unanimous decision. The judges scored it 60-54, 60-54, and 58-56.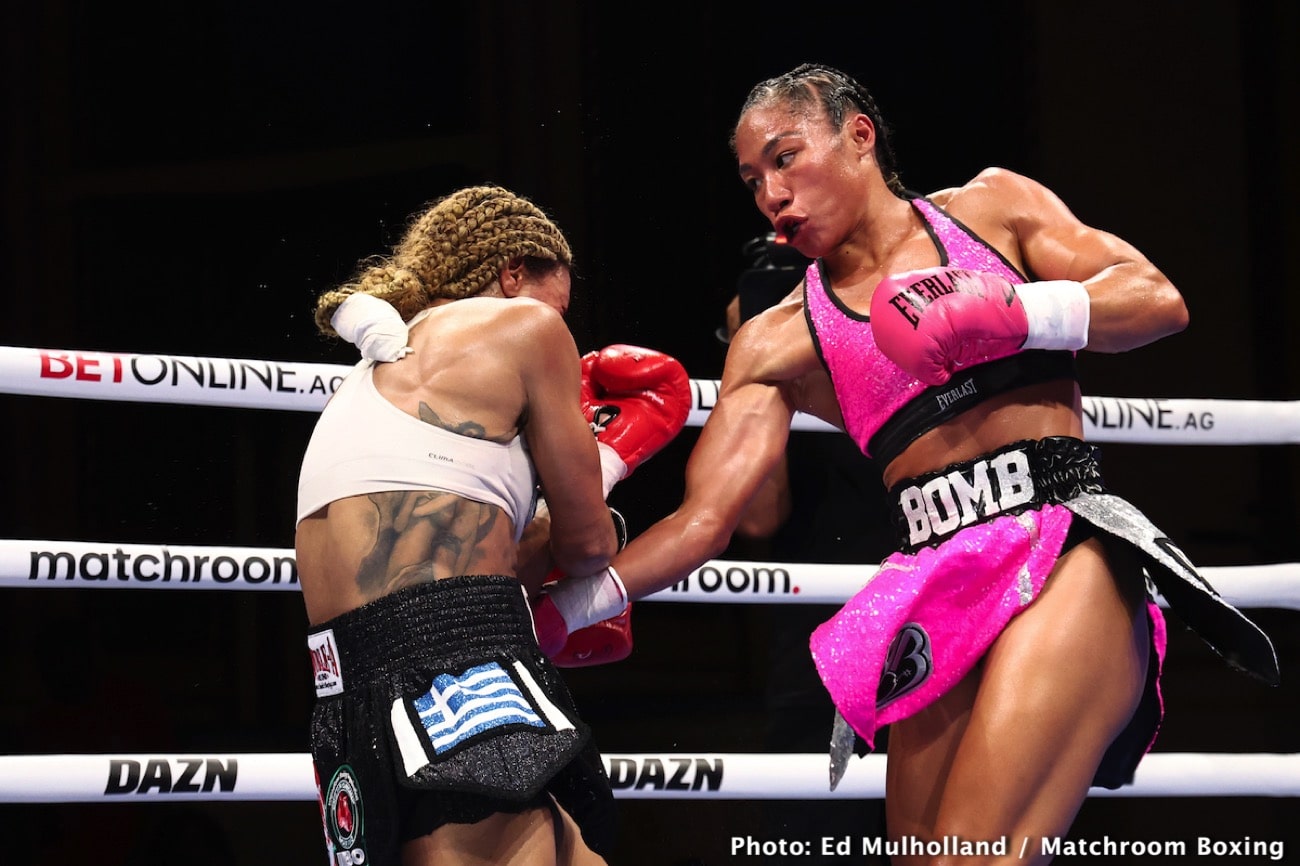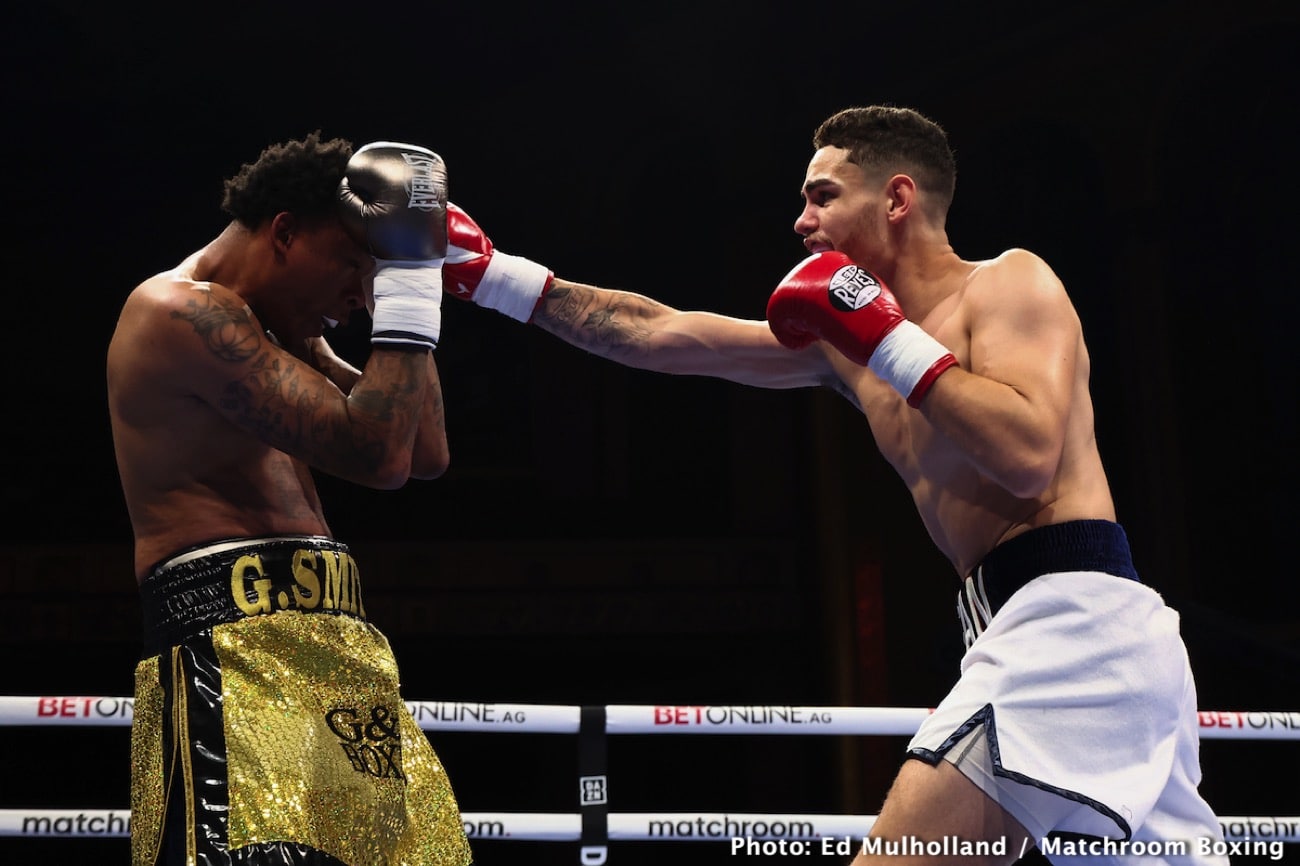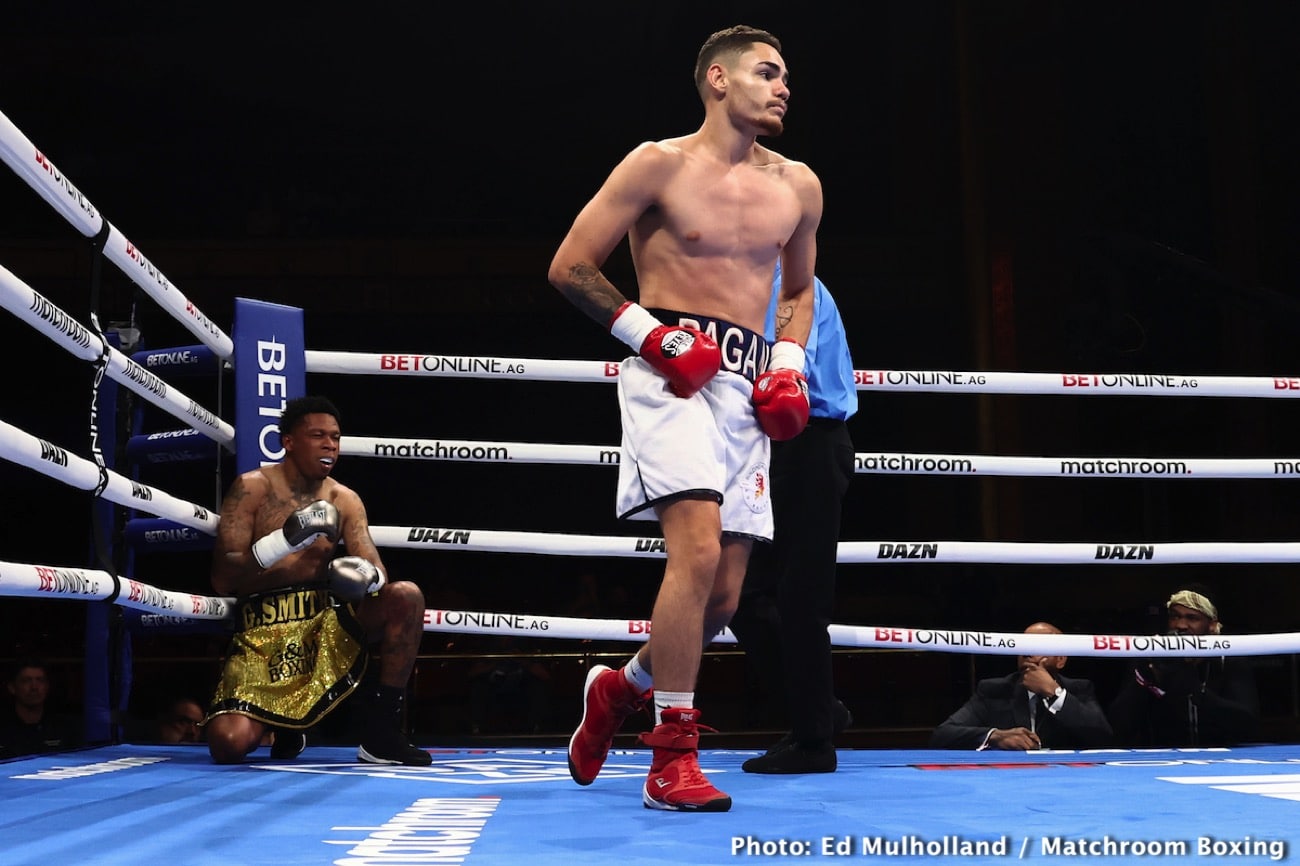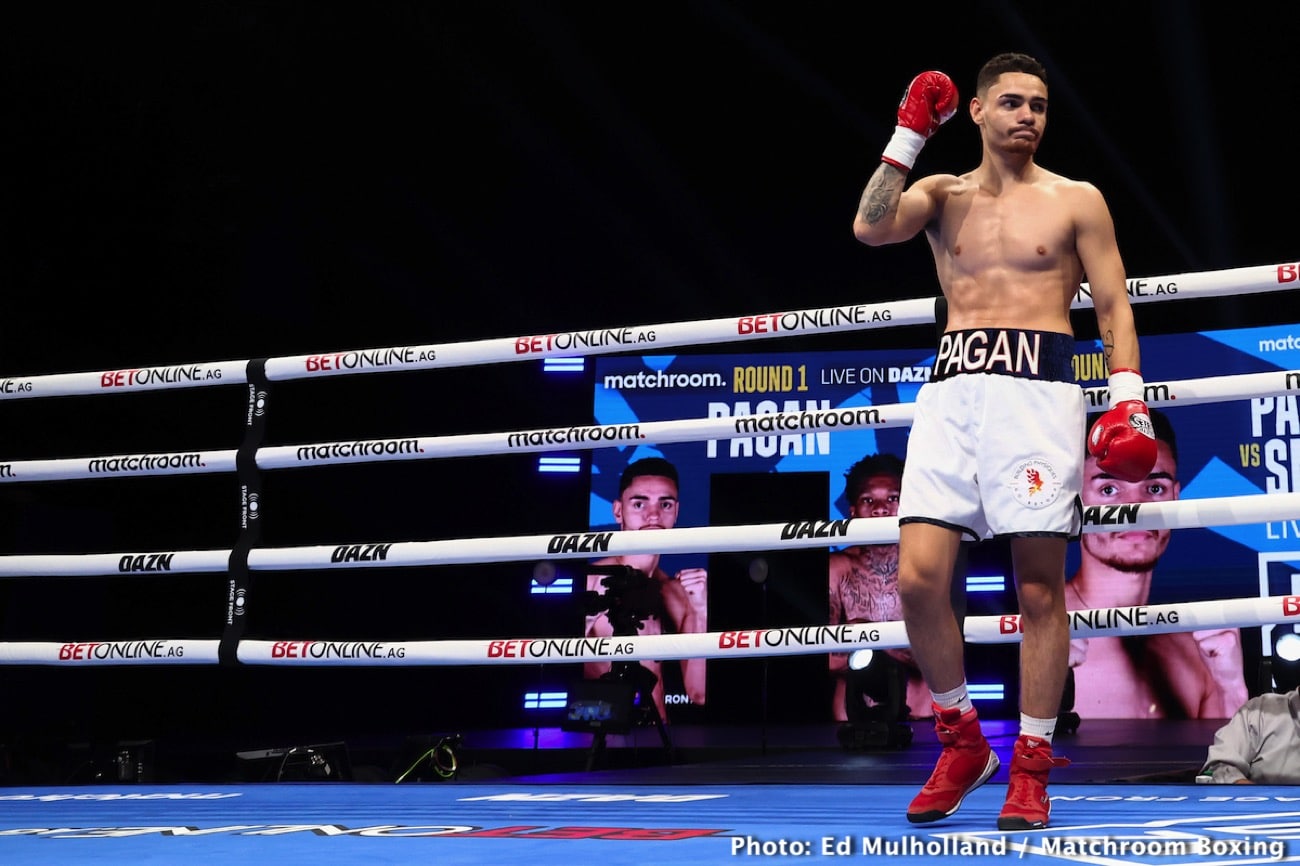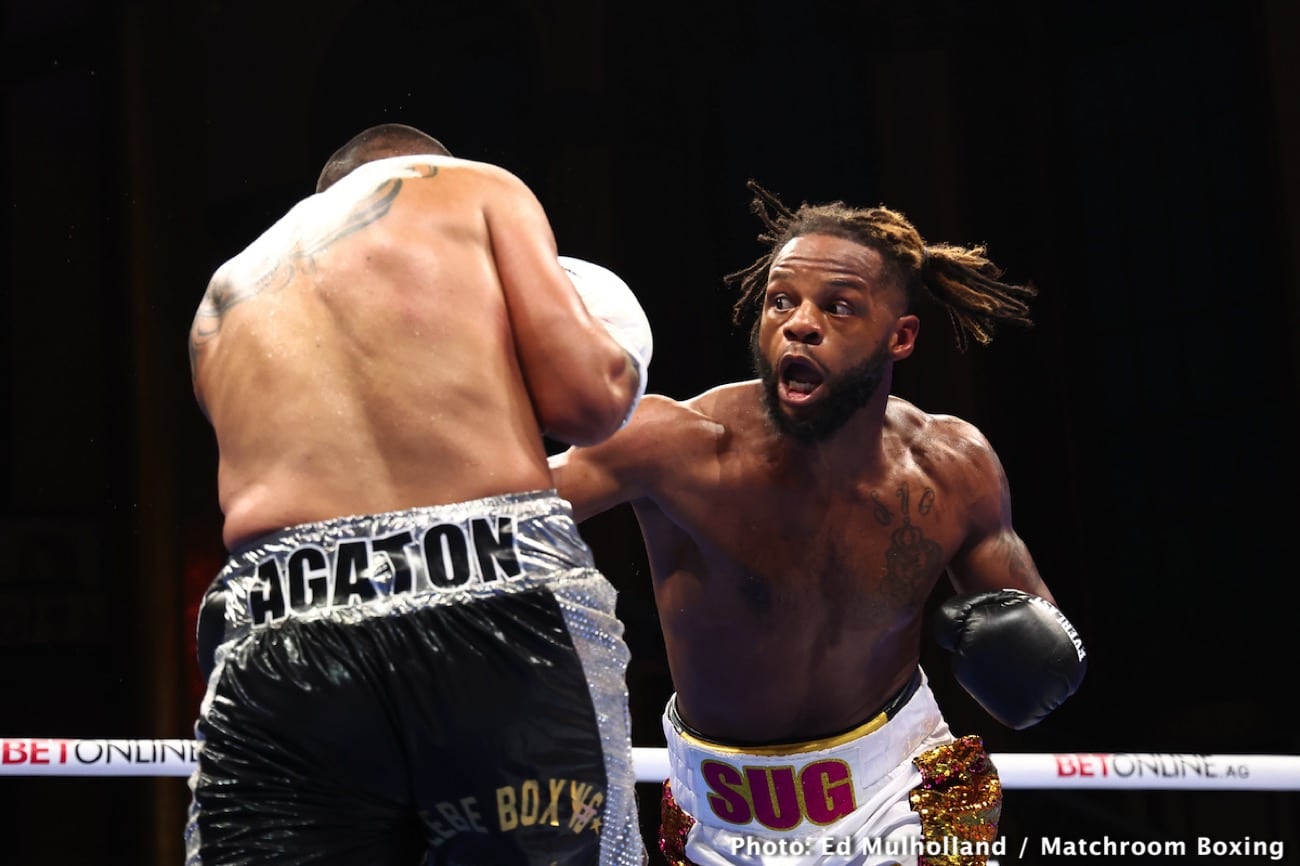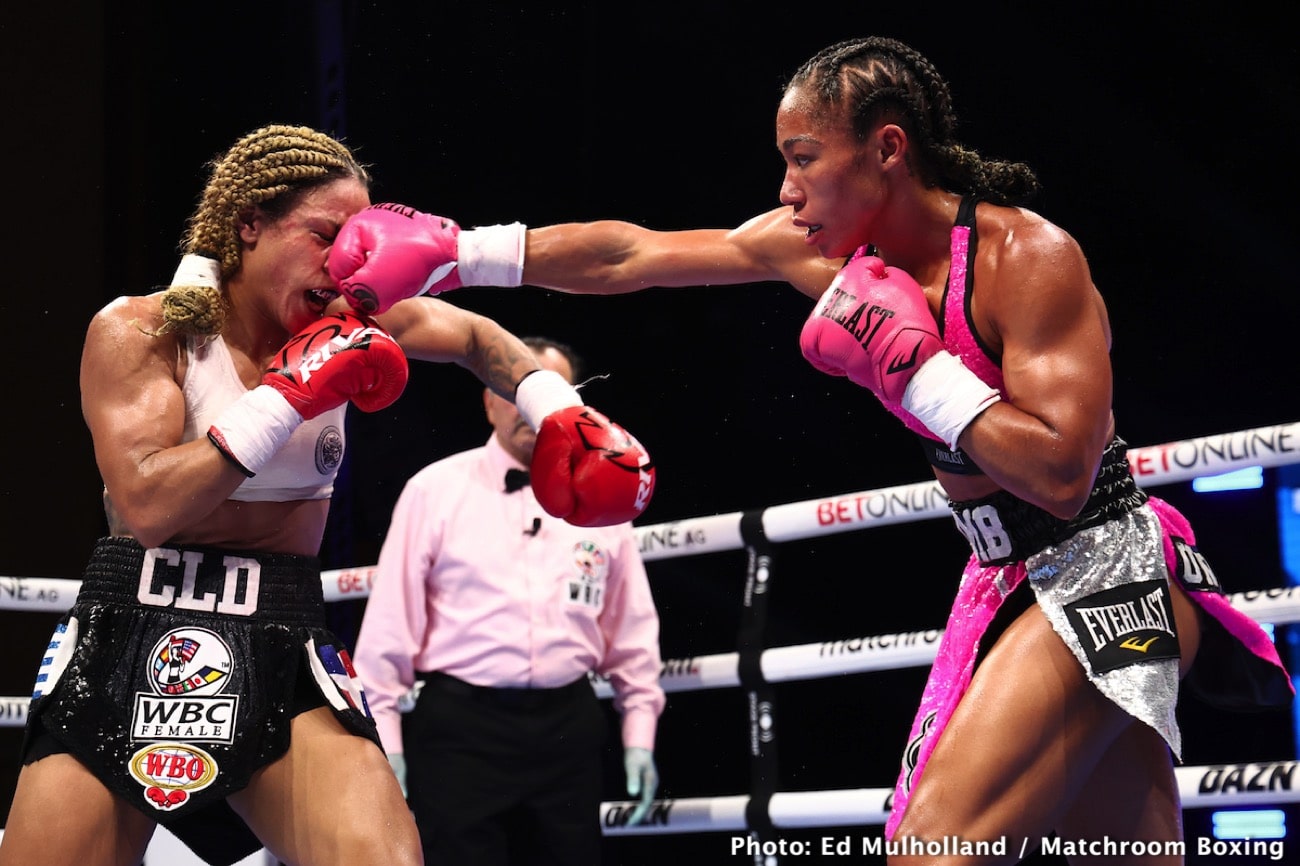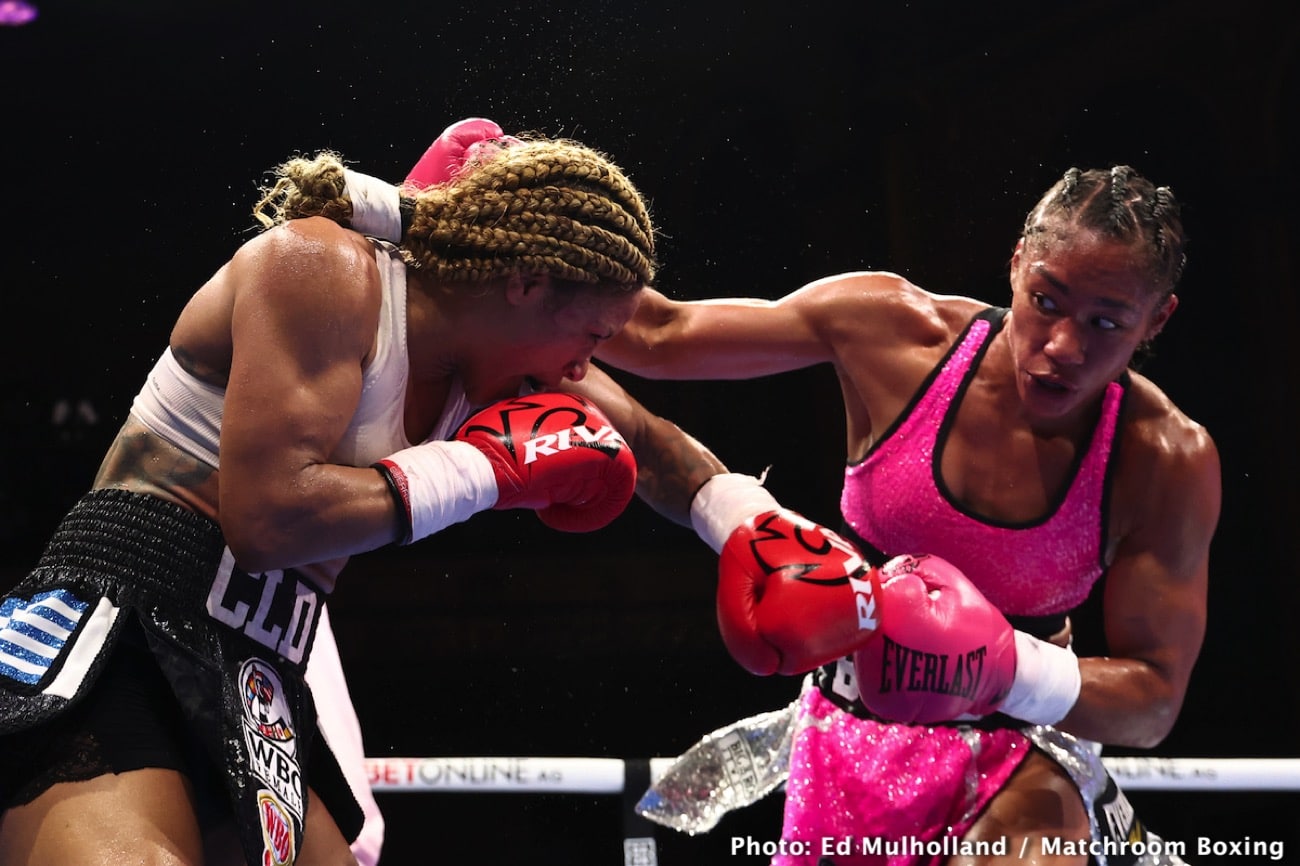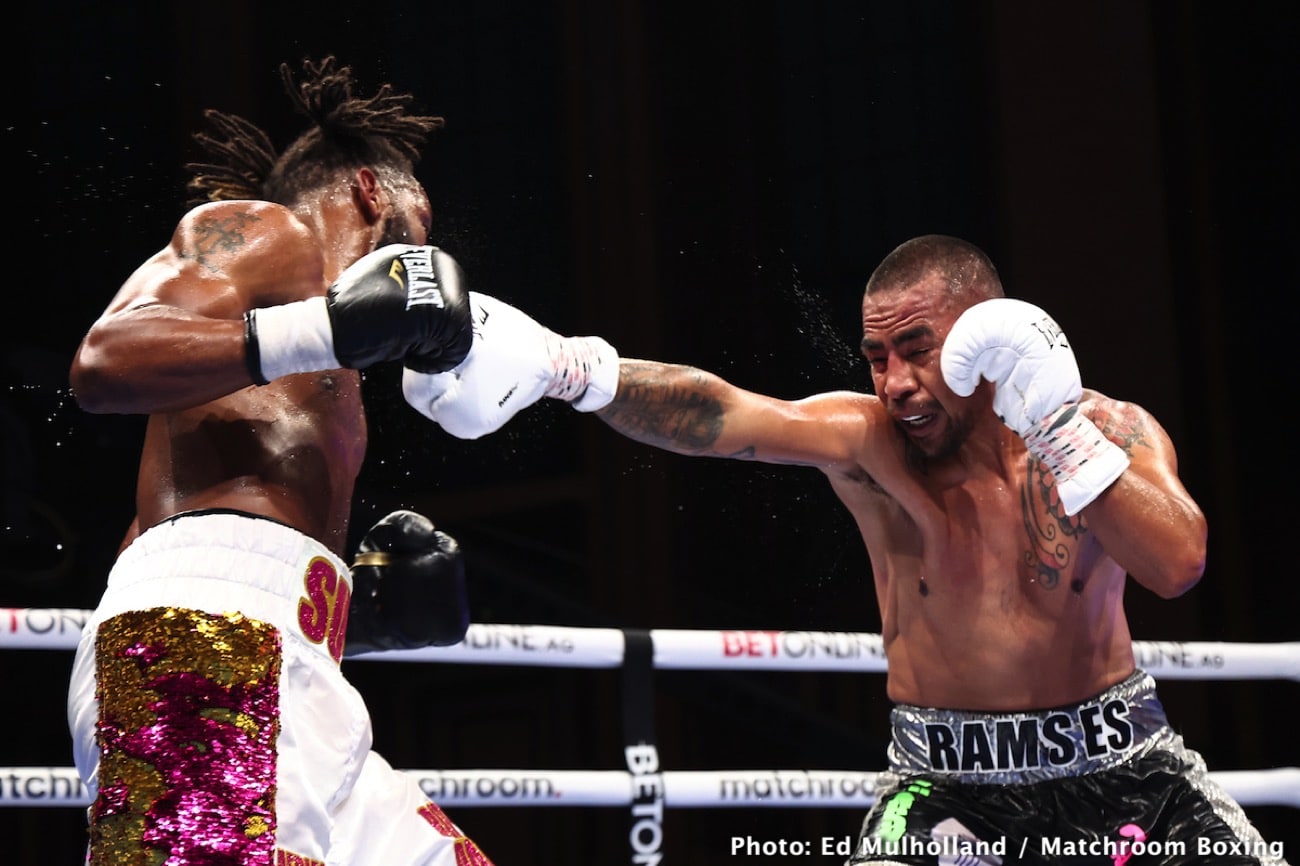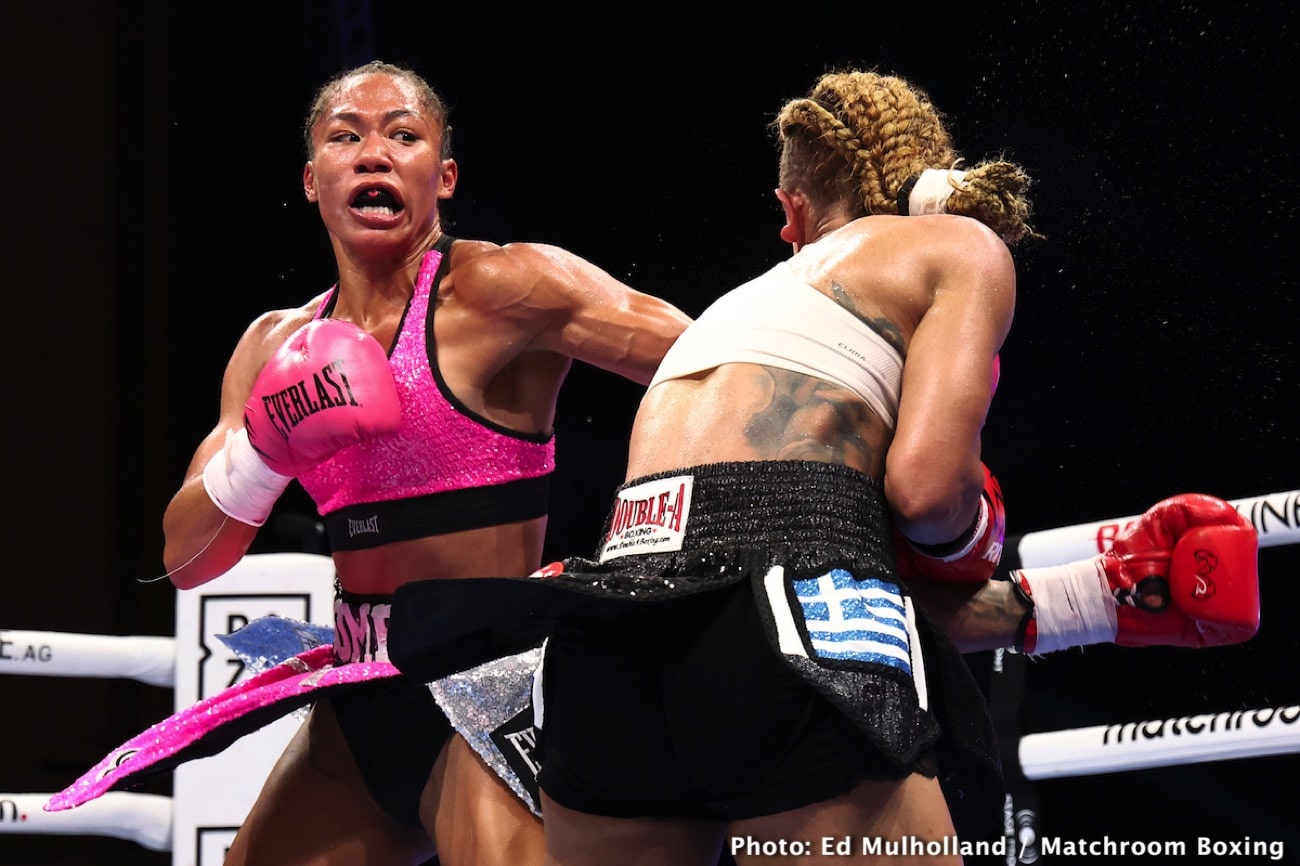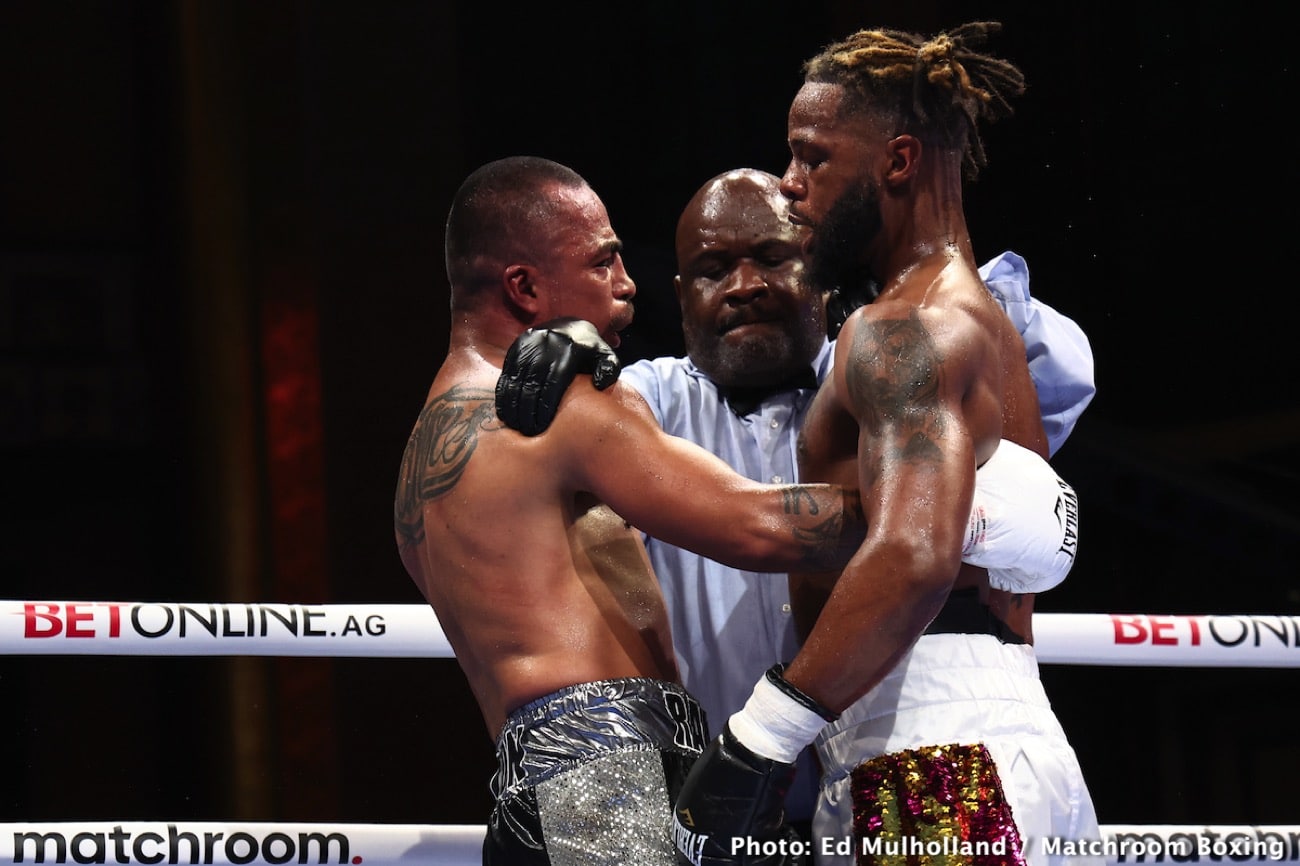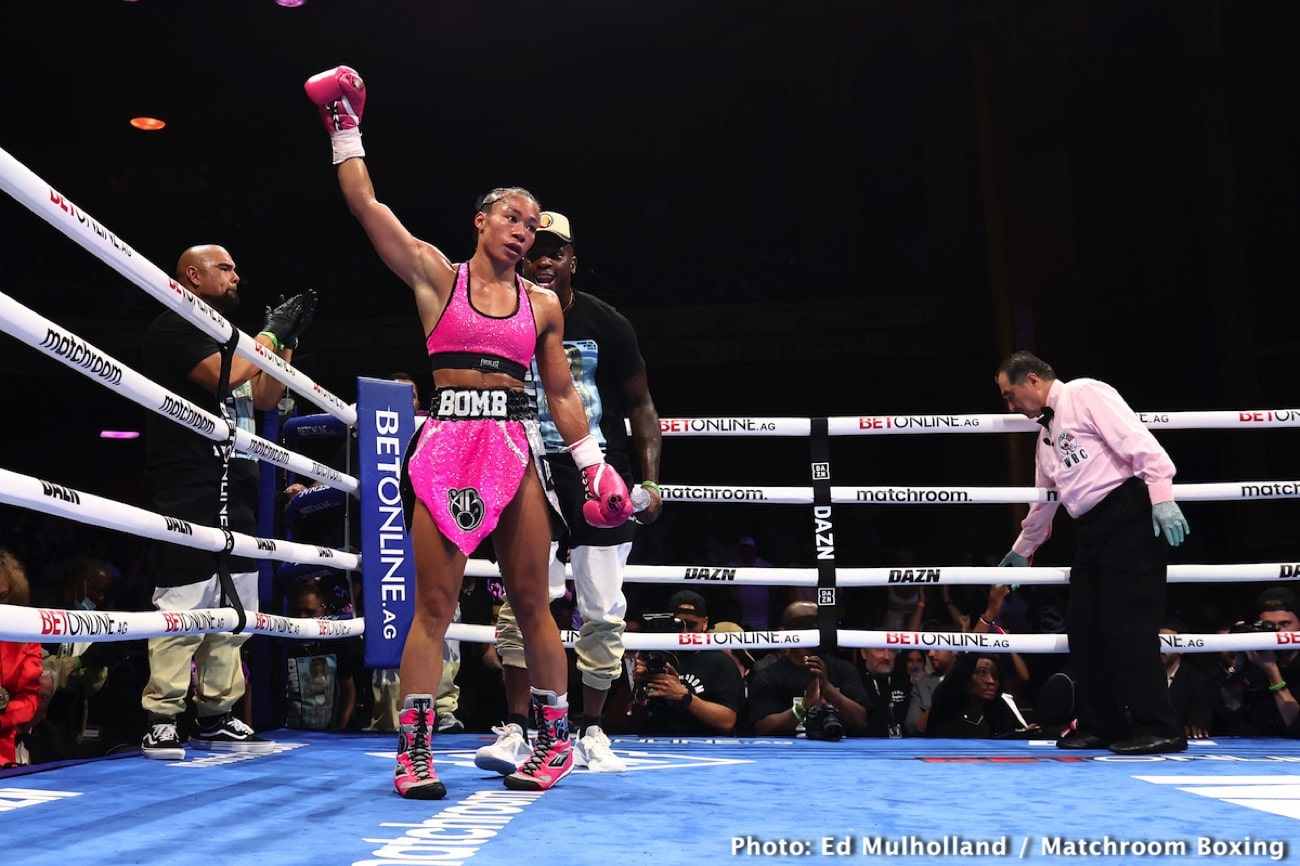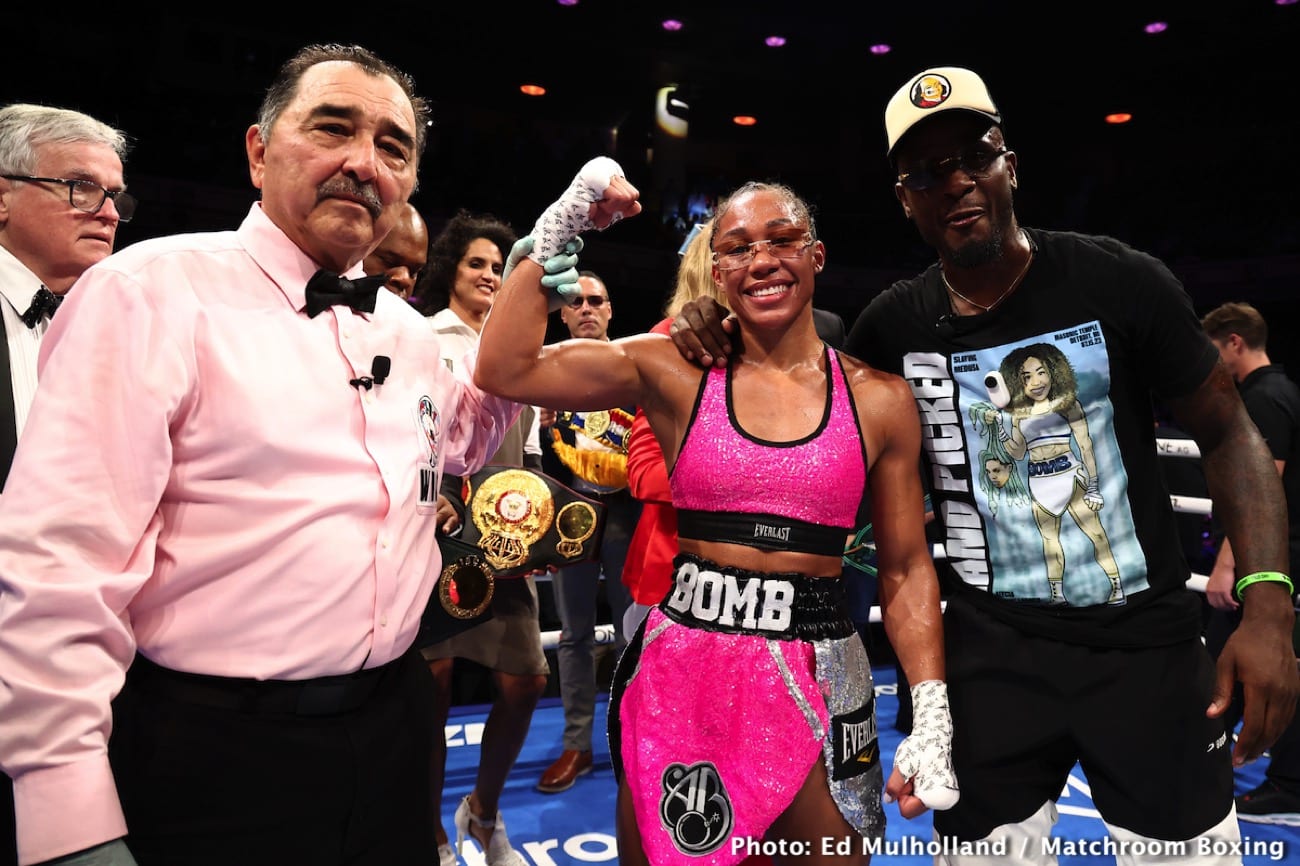 Undisputed 130-lb female champion Alycia Baumgardner has been stewing for the last five years over her loss to Christina Linardatou in 2018, and tonight she'll get the chance to avenge it when they meet in the main event of a 10-round contest at the Masonic Temple in Detroit. DAZN will be showing the card live beginning at 8 pm ET.
Lightweight prospect Andy Cruz meets Juan Carlos Burgos (35-7-3, 21 KO) in a 10 round chief support bout.
Cruz, 28, is the 2020 Olympic gold medalist that Eddie Hearn recently signed to his Matchroom stable. We'll find out if Hearn made the right decision by signing the pure boxer. If Cruz looks good, expect him to be headlining cards soon.
Heavyweight Jermaine Franklin (21-2, 14 KO) will face Isaac Munoz (17-0-1, 14 KO) in a ten round contest. This is a confidence booster for Franklin, who lost his last two fights against Anthony Joshua and Dillian Whyte.
Most would agree that Franklin was given the business against the popular British fighter Whyte, who clearly beat but was on the receiving end of an old-fashioned hometown decision last November in London, England.
Baumgardner vows to punish Linardatou
"I remember when I was in the ring that night, and her hand was raised. and I'm like, 'Damn, I got my first loss,' but I'm like, 'But I'm not done.' I instantly knew. I'm like, 'Okay, I got a loss. Who cares?'" said Baumgardner to Matchroom Boxing, reflecting on her eight round split decision defeat against Linardatou in 2018.
"It was needed for growth, and growth is important. I want people to really recognize what growth looks like. It's ugly, and it hurts, but there's light at the end of the tunnel, and there's success there as well.
"It tells a story. I wanted to show people that a loss wasn't a bad thing. I got to see at that given time what it would have looked like if I would have won because I saw her career.
"She became a world champion after that, and I'm like, 'Wow, that that could have been me,' but everything comes back full circle, and I'm happy everything played the way it was supposed to play.
"Now I'm back in position as the undisputed champion fighting her in my backyard. Listen, I keep thinking about how this fight is going to play out in my head over and over, and it will be spectacular.
"It's going to give me that like, but this is what I've been waiting for, and I'm going to punish her that's. That's how I feel. I want to punish her. I want her to know that she's in there with somebody who isn't the same fighter as I was five years ago, and I chose you.
"I could have chosen everyone, anybody else, for my homecoming fight, but I chose you, and this is the right girl for the job. She's a hungry fighter, as she should be. She's fought some great fighters. She's fought Katie [Taylor].
"She's already pumped that she beat me before, so that's what's driving her daily. I love that for her because she has no idea. In the first fight, she came up to me after [the fight] and said, 'Wow, you're the hardest fighter I ever fought.
"If you thought I hit hard then, just wait until you get this work now. I'm a 130-fighter. I'm like in there with a dog, and I'm going to punish you," said Baumgardner, still bitter about the loss to Linardatou.