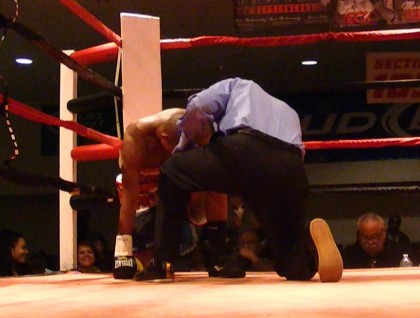 By Justin Jones – Fort Washington, DC — Mike "Indeed" Reed hasn't been as fortunate as some of his peers when it comes to getting signed by a major or even local promotional outfit upon turning pro, but that hasn't stopped the standout DMV prospect from obtaining his piece of the "attention pie."
Reed, a Waldorf, MD native, is similar to a small town star who is trying to catch the eye of his big time college coach for a walk-on opportunity, or a free agent trying to secure a new lucrative and long-term contract with a new team. Some would call Reed's workman-like approach of fighting every couple of months against the likes of other unbeaten competition, or at the very least fighters with the same or more fights under their belt –unlike some of the built up fighters you see today– the "hard way."
Whatever way or method you want to call it, Reed (9-0, 6 KOs) has been outworking, dominating, and frankly outclassing whoever has been put in front of him, and last night's main event bout vs. Regino Canles (6-5, 2 KOs) on the Keystone Boxing Promotion card at the Rosecroft Raceway was no different, as Reed badly battered Canales before the fight was stopped at the 2:59 mark of the fourth round.
"My team believes we are very close to signing with a promotional company and the hope is that over the next couple months we will be signed," Reed stated. "I am free-agent right now and I honestly have no preference as to who I sign with. Every fight we feel like we're moving in the right direction, so we'll see what happens."
Reed's body work was yet again amazing, as he dug into Canales' body constantly with hard left and right hooks to whatever openings Canales afforded him. He then worked combinations to the head off of his brilliant body work and was able to knockdown his Puerto Rican foe in the third round prior to the ringside doctor thankfully stopping the fight just before the final bell of the fourth round. While being evaluated by doctors, Canales suddenly dropped to the canvas and began to convulse and demonstrate seizure-like symptoms. EMT workers attended to him for nearly 20 minutes before whisking him away via ambulance after the episode. Some fans and fight staff even stayed around and prayed for Canales as the scary situation transpired right in front of their eyes.
"All camp we just worked a lot on the body attack and jabbing and punching off body punches. Last time out I didn't get the knockout, but tonight we were able to and that's due to the hard work in the gym. Unfortunately things like this are part of our sport and it could've been me lying on the canvas, so my thoughts and prayers are with [Regino] and his family. It only takes one punch to change a fight. I just hope he's okay," said Reed.
Although the ending wasn't a proverbial happy one due to Canales' state, it still didn't take away from Reed's masterful performance in the ring, and his true display of skill, defense, and commitment to the body. Reed does have a nice local following, the proof being some fans yelling out "We Love Reed," and others letting him know that they attend all his fight. Some even waited to take pictures with him after he was checked out by doctors following the fight.
The only question with Reed now is not if he will be signed, but simply when?
Note: It has been reported that Canales was treated at Prince George's County Hospital and released as of this morning.
Author Contact: Justin Jones: Justinjones2112@gmail.com, @jusjones29