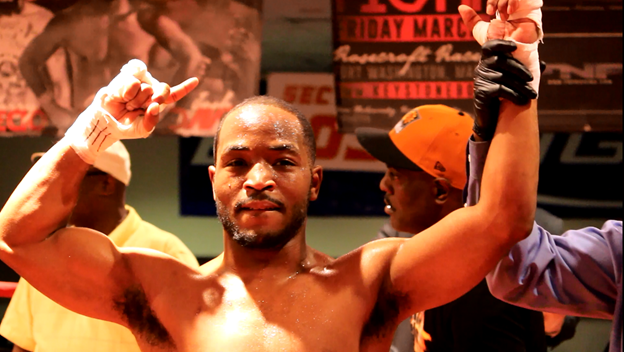 By Justin Jones & Paul "Paparazzi" Jones: Washington, DC – Unbeaten light welterweight Mike "Yes Indeed" Reed (13-0, 6 KOs) recorded his 13th consecutive victory on Saturday night's Keystone Boxing "Capital City" Card at the Sphinx Club in DC by seeking and destroying Edgardo "Eddie" Soto (12-9, 4 KOs), 38, in less than six minutes of work. Reed recorded his third and final knockdown – two knockdowns in the first – 2:10 into round two before the referee called a halt to the bout.
There's no other way to sum up Yes Indeed" Reed's intent and demeanor other than a man on a mission. As soon as the timekeeper sounded the opening bell, Reed began walking Soto down and landing power punches to the body and head. There was no slow start; no finesse; no feeling out his opponent; it was all business.
"To be honest, I've had a sour taste in my mouth ever since my last fight (November 29, 2014) on the Terrance Crawford (25-0, 17 KOs) undercard," Reed said. "I thought I had a C-minus performance in front of the HBO crew and I want to get back in front of them and the world to show everyone that I'm an A+ fighter. Tonight, I felt like I had that kind of performance."
Though Reed's stock continues to improve as a fighter, his win must be put into proper context given that Soto, of Pawtucket, Rhode Island by way of Puerto Rico, is somewhat of a trial horse with marginal whiskers who has now lost nine fights in a row after the Reed stoppage. Seven of these losses have come by stoppage including a knockout loss in May 2013 to fellow Washington DC up-and-comer, 20-year-old Dusty Hernandez Harrison (25-0, 13 KOs).
At 38, and despite only having 21 fights, Sotto must seriously consider whether to hang it up after nine consecutive losses.
Nevertheless, Reed is hoping for another great opportunity to show his skills and that he is a fan-friendly fighter, on either Terrance Crawford's undercard (April 18), or somewhere in the mix of the May 2nd festivities during the long-awaited showdown between Floyd Mayweather (47-0, 26 KOs) vs Manny Pacquiao (57-5-2, 38 KOs).
"Either card would be a great opportunity for my career at this point," said Reed. "Even though I fought at 147 tonight, I am a junior welterweight. I had probably my best camp as a pro and I was in great shape and could've easily made 140 the right way. I've met Terrance before and although we're both signed to Top Rank he kind of sized me up a bit. At some point if I want to be the best I'll have to fight guys like Terrance, and (Thomas) Dulorme (22-1, 14 KOs) – who's fighting Crawford on April 18 – and the top guys at 140."