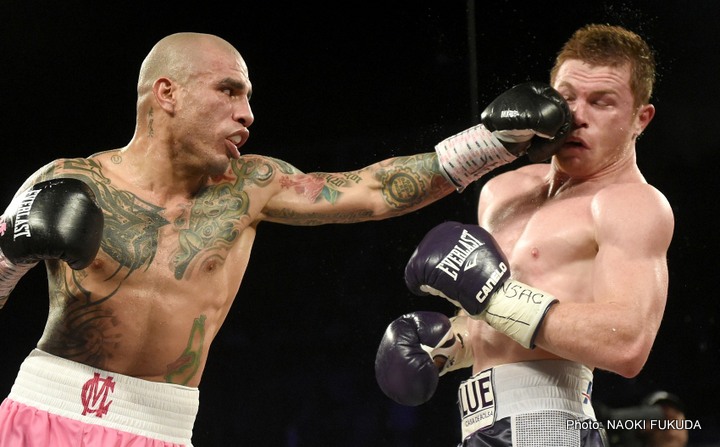 Puerto Rican great Miguel Cotto will fight again on June 18th at The Barclays Centre in Brooklyn, New York; the only question – quite a big one – is who will the former four-weight ruler face? There has been talk of Cotto facing everyone from Juan Manuel Marquez to Andy Lee, and the latest rumour circulating on a number of boxing web sites says Cotto, 40-5(33) and coming off a competitive points loss to the much bigger and younger Canelo Alvarez, will face Texan slugger James Kirkland in June.
While Kirkland, 32-2(28) may not be the best possible opponent for Cotto, he is an exciting fighter who hits very hard and is never in a dull fight win or lose. Kirkland, like Cotto, is coming off a loss to Canelo; the difference being, Kirkland was drilled to a one-sided three-round defeat when he met the Mexican star. Kirkland, never a fighter with a reliable chin, has also been let down by inactivity – the Canelo fight being just his second fight in three years. Now, if he faces Cotto with a further 13-months of rust on his body and reflexes, chances are good Kirkland will again find himself getting caught by punches not too long after the opening bell.
Kirkland may or may not have been hurt by not having his usual trainer, Anne Wolfe, working with him for the Canelo fight. The fight might – might – have been different if the no-nonsense Wolfe had been in the dangerous southpaw's corner. Maybe she will once again reunite with the former top-ranked 154-pound contender if the Cotto fight does actually happen. But whoever trains Kirkland, they will do nothing to prevent Cotto, a far superior boxer in a number of departments, from entering the bout as a significant favourite. But, and here's the one thing in Kirkland's favour that would help sell the fight: "The Mandingo Warrior" can punch like a mule kicks.
Add up the weapons and assets of both fighters, and the only thing in Kirkland's favour is punching power. Could Kirkland rush Cotto and test his chin, maybe even hurt Cotto before Cotto has a chance to hurt him? There is little doubt, this match-up, if it does happen, will be an exciting affair. But can Kirkland convince the fans he has a legit chance to win, to the extent that they will part with hard cash to watch the fight?
Kirkland, had he been far more active instead of going off track in March 2012 (when a shoulder injury hindered him both during and after his less than impressive DQ win over Carlos Molina) would be who knows where today. But Kirkland has wasted too much time during his career and he may not, at age 31 (32 on March 19th) be able to make up for it.
It's tough to see anything but a commanding Cotto win. Unless, unless, Kirkland can land a bomb early on.