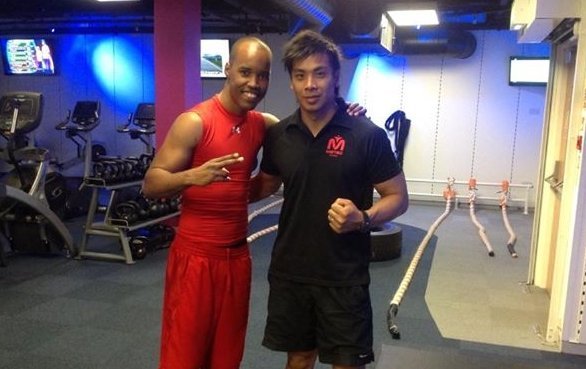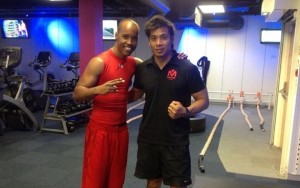 Photo by Reynaldo Sánchez / Iron Mike Productions — Everything is ready for the first defense of the current IBF superfeatherweight world champion, Argenis "The Thunderstorm" Mendez 21-2-0 (11 KO's). The Champ finished the last stage of their training camp in the UK, for his fight against Afghan-born Canadian Arash Usmanee 20-1-0 (10 KO's), at the Turning Stone Resort & Casino in Verona, New York on August 23.
Argenis Mendez snatched the world title from Mexican Juan Carlos Salgado on March 9th in Costa Mesa, California giving him a spectacular KO in the 4th round. Achieving the first world title for the former promoter Acquinity Sports, which now premieres as "Iron Mike Productions" after top executive Gary Jonas reach an agreement with the legendary "Iron" Mike Tyson to become the newest member of the new promotional company.
Mendez-Usmanee will be the debut of "Iron Mike Productions" and the first world title bout presented by the newly created company, they have other fighters on this team with great opportunity to get world title fights in the future before the end of 2013.
"I'm doing the best training camp of my life, this fight means a lot to me and my team. And now, we fight under the banner of a Legend as Mike Tyson, we feel we have an obligation to look impressive and with that in mind, we will go to New York to defend the crown against Arash Usmanee" Mendez said.
The new COO of Iron Mike Productions, Henry Rivalta said "ESPN gave us the opportunity to close the season with Mendez vs. Usmanee in NY for the IBF super featherweight title, we are grateful for this opportunity to present the boxing fans a great fight. This will be the first of many events we have in our plans. And from now on, we will see the best of Iron Mike Productions team" said COO Rivalta. A special thanks to Brian Kweder for having vision, he is exactly what ESPN needed for boxing.
"It is a world class event, we believe that boxing fans deserve to see this kind of fighting, we are focused on major events soon to come" concluded Henry Rivalta.
For more information, visit us online on www.ironmikeproductions.com and Facebook at www.facebook.com/AcquinitySports