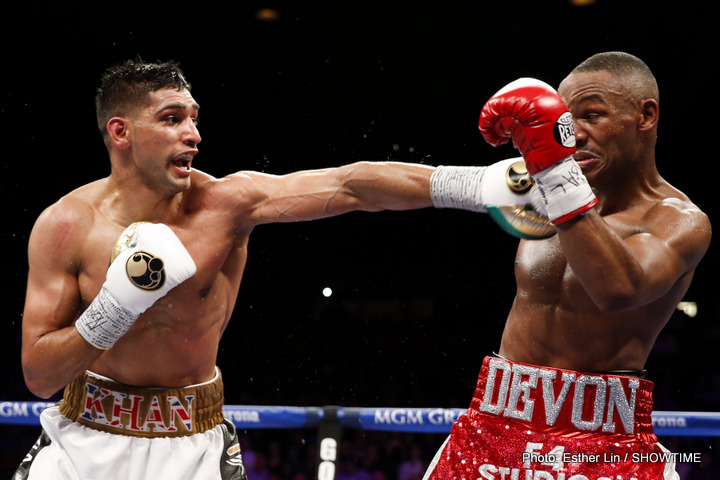 He has been chasing the Mayweather fight for two long years – and now – given Floyd's final fight in September, Amir Khan knows that the sand is running out of the timer and the fight he so longs for could be slipping out of his grasp for good.
Khan returns on Friday against Chris Algieri – the man floored 6 times by Manny Pacquiao in his last fight – and the belief is that he took this bout against the light-hitting American with Floyd still in the back of his mind.
He needed what's perceived as a "safe" fight – and with his lightning speed and world class footwork – there is little doubt among the fans that he will look good against the former 140lb champ Algieri in this welterweight (147lb) contest that comes courtesy of Al Haymon's PBC.
And despite recently insisting that he doesn't want to talk Floyd, Khan is already at it again – before Algieri – telling the Daily Mail;
"They (TMT) are hoping I have a bad performance. They are waiting for a bad fight from me so they can turn round and say 'we knew you were not good enough'."
"They're thinking Chris Algieri has a style which doesn't make people look good. Maybe with Amir Khan they're hoping he might cause me a few problems and make the fight look messy. That's the way they are thinking, because deep down they don't want the fight."
Referring to yourself in the 3rd person consistently, tells me Khan is deluded enough to believe this. He should have been fighting Kell Brook in a massive fight on the May 30th date the Sheffield man now fights Frankie Gavin on.
He knows it – and he knows the fans demanded it.
It made sense in every way. A domestic world title shot in a massive stadium at Wembley. It's as big – if not bigger – than Froch v Groves – yet Amir tried to tread carefully and keep desperately clinging on to the possibility of Floyd and the big money – rather than face anybody remotely dangerous in the interim – especially in the power department.
None of his last few opponents carried much of a dig and as Brook stated in ring after his last fight "he's delicate around the whiskers".
Despite taking risks against guys who could bang in the past – and surviving some heavy punishment – most notably against Maidana – it's obvious all of his opponents as of late have a distinct feel of "cherry picking" about them – tailored to make Khan look good.
Not one of them could punch. From Carlos Molina and the blown up lightweight Julio Diaz onwards – it's been painfully obvious. Basically ever since Danny Garcia knocked him out almost 3 years ago.
Hence his comment about the Mayweather's thinking Algieri could be tricky and make him look bad being utter bulls***.
And it's done him no favours with the fans either. Or the networks. This Algieri fight has been so negatively received it's been picked up by Spike tv in the US after major player Showtime passed on it – and it's been shifted to a Friday night slot after the initial Saturday 30th date.
It will be aired on Boxnation in the UK, but expect a routine decision from a Khan who will look absolutely sensational as he did last time against Devon Alexander with his lightning fast hand speed and movement in and out of range.
Just remember it's all been engineered that way…
Thanks for reading
Twitter @Undilutedpoison