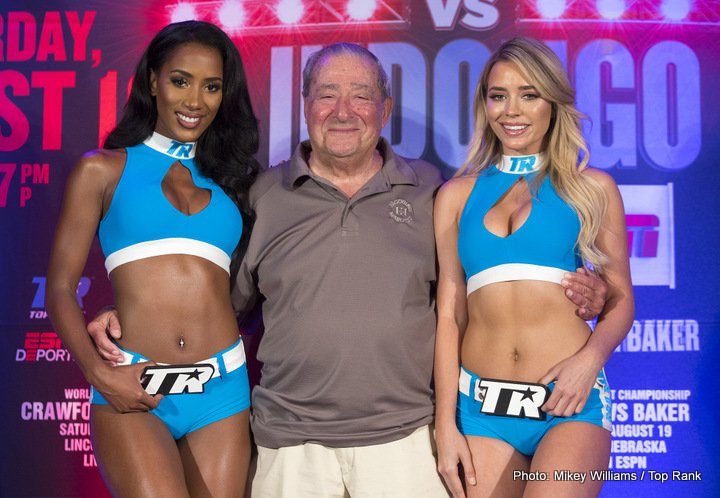 Hall of Fame promoter Bob Arum is, it's fair to say, less than enthused over the idea of a Floyd Mayweather-Manny Pacquiao rematch taking place. Now a free agent (according to a piece via CBS Sports, Pacquiao's contract with Arum's Top Rank outfit has expired, though this news was not initially made public), Pac Man will not have Arum's help or assistance in promoting the fight, should it actually happen.
Arum, speaking with CBS Sports, said he feels the sequel to the so-called "Fight of The Century" will indeed happen, but he suspects it will take place next year, not here in 2018. Either way, Arum, 86, says he will in no way get involved, that he doesn't have time to waste on a fight between two "old men." Arum says his remaining years in the sport will be dedicated to promoting "young guys who are in their prime."
"Listen to me. I will not be involved in that fight, period. At all," Arum stated unequivocally. "Let other people do it. God love them, let them make money. It's not for me. I want to devote my time and effort to guys who are in the prime of their careers like [Vasily] Lomachenko, [Terence] Crawford, Jose Ramirez, Oscar Valdez; I ain't got time for that s**t. With Manny, it's about the money and the problem is they have to get a good place outside the United States because otherwise it's a problem with the IRS. I think with Floyd it's all about money. I can't see them doing the fight this year, they will probably do it next year."
If this particular part-two does happen, chances are it will do big numbers and make a pile of money (though not as much as the first fight, which smashed all boxing pay-per-view records at a staggering 4.4 million buys) and Arum could very easily have got involved and picked up a share of the bounty. But now, Arum wants out, or in fact, he was never in in the first place.
The big question is, will the fans buy into a Mayweather-Pacquiao II? The first fight basically sucked, big time, with little to no action or drama to speak of. Would a rematch be any different? Arum clearly feels it would not. Also using the "S" word to describe the possible return is Top Rank president Todd duBoef, who has also taken one big pass on this possible fight:
"I'm not going to chase that s**t. Who needs it? I've done that s**t before. I gave up on that s**t a long time ago," duBoef said.
Does Mayweather need it, as in the money? Or is the chance to make another $100 million – money he does not need – simply too much for Mayweather to pass up? As for Pacquiao, it's no secret he does need the cash. But will fans be willing to pay anything approaching $100 for the match-up this time around?
To quote one ESB poster, 'fool me once, shame on them; fool me twice, shame on me.'