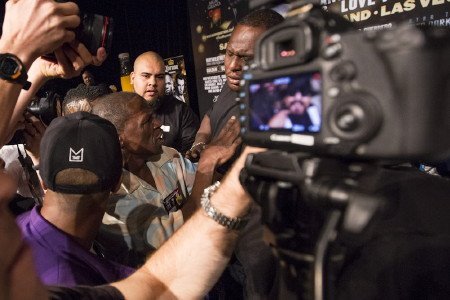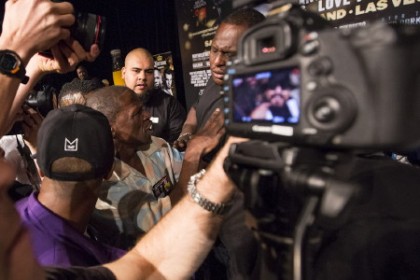 (Photo credit: Esther Lin) By Robert Jackson: As the long awaited return to the ring of Floyd "Money" Mayweather is upon us it's once again time to discuss the pros and cons that each fighter brings to the ring. For this edition of 'just the facts', training, trainers, conditioning, mental and physical make up are some of the topics that will be discussed so keep reading.
In one corner we have the reigning and defending WBC Welterweight Champion 43-0, Floyd Joy Mayweather Jr, in the other corner we have the Interim WBC 147lb Champion 31-1-1, Robert 'The Ghost' Guerrero.
Training
Money Mayweather has alwyas been recognized as one of the hardest training fighters in the busines. At times training straight thru a 2 hour session non-stop.
But at age 36, pace and rest may be the what's needed as prevention to being overtrained,
Robert Guerrero, since his 2 division jump has up his own efforts to accilmate himself to the higher wieght class, his father saying now he's grown into the division and is a true welterweight.
Advantage Mayweather
Conditioning
Floyd Mayweather has also been recognized as one of the most highly conditioned athletes in the GAME, never tired always able to draw from a vast reserve of stamina to go the distance.
The Ghost has been highly conditioned and never runs out of gas during a fight, but with limted experience at the 147lb weight-class there's still questions to be answered.
Advantage: Mayweather
Physical Strength and durabilty
Floyd Mayweather was hit more during his last fight against Miguel Cotto at 154lbs than during most of his career and he held up pretty well against a guy who outweighed him by 12lbs. Floyd was as physically strong as Cotto and never allowed him to bully him around the ring.
Robert Guerrero has showed fortitude in facing 2 bigger stronger fighers in Selcuk Aydin and Andre Berto as his first ventures into the 147lb weight class and showed a great chin and durability.
Advantage Even
Mindset
Floyd Mayweather has a winners mindest having never lost a professional fight and that's his approach to this fight as well. Having a flexible mind, Floyd adjusts to whatever his opponent does and is known to 'fight up', not down, with his foe bringing out the best in him.
Robert Guerrero's personal story is one of mental toughness and determination which he also brings to the ring.
Advantage: Even
Intangibles
Floyd bringing his father back into his camp says a lot, as stated before he was hit a lot during his fight against Migule Cotto and needed to revamp his defensive skills, thats why Floyd Sr is back in his corner. Also a good strategist Floyd Sr. will oversee the gameplan that could see Money Mayweather victorious in this bout. Every fighter since Genaro Hernandez believes that Floyd Mayweather is a fake and a fraud – a guy who has scammed his way to where he's at. Many of those guys question his heart and abilites at the same time looking down at him. I'm here to tell you Mayweather is no punk. Guerrero's determination and confidence will be his badge of honor as he climbs into the ring Saturday with the 'Buster Douglas' mentality of David having to defeat Goliath.
Prediction
Money Mayweather, will be super sharp and beat Guerrero to the punch throughout the fight while not getting hit himself. floyd will TKO 'The Ghost' around the 8th round of this one becoming the recognized WBC and Ring 147lb champion.