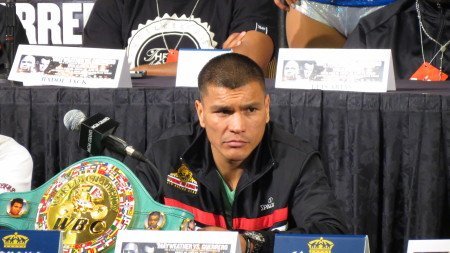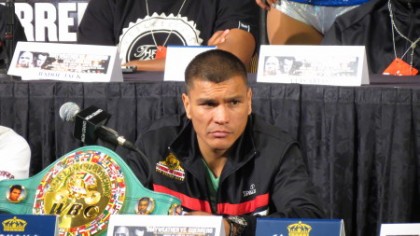 As the Mayweather-Guerrero Welterweight showdown looms, a special final press conference was held for all of the televised undercard fighters. Abner Mares, Daniel Ponce de Leon, Leo Santa Cruz, Alexander Munoz, Gabriel Rosado and J'Leon Love all took the podium to provide final comments and predictions for their respective bouts.
The Abner Mares VS. Daniel Ponce de Leon Featherweight title match headlines the undercard. This fight alone can arguably be a main event of its own on an independent card. However, Golden Boy Promotions wanted to make this Cinco de Mayo boxing weekend a special one. Stephen Espinoza from Showtime Sports deems this whole televised boxing card as one of the best, top to bottom, in recent years:
Floyd Mayweather, Jr. VS. Robert Guerrero (WBC & VACANT RIGHT MAGAZINE WELTERWEIGHT TITLES)
Abner Mares VS. Daniel Ponce de Leon (WBC FEATHERWEIGHT TITLE)
Leo Santa Cruz VS. Alexander Munoz (VACANT USBA JR. FEATHERWEIGHT TITLE)
J'Leon Love VS. Gabriel Rosado (VACANT NABF MIDDLEWEIGHT TITLE)
Each fighter, of course, promised victory on Saturday. Unlike Wednesday's press conference that included Ruben Guerrero's verbal outburst, this press conference was more uniform while promoting a competitive ambiance. Even though J'Leon Love and Gabriel Rosado had a verbal scuffle on Tuesday's fighter grand arrivals at the MGM Grand main lobby, they both showed respect for one another. A sign that both fighters will do their talking in the ring.
The most witty and clever comment that was spoken surely belonged to Abner Mares. He hinted at a new implementation he added to his training camp: the Mexican "YouDo. " Read on to see what the Mexican "YouDo" (rather than the traditional fighting style of 'judo') is all about.
MAYDAY fight week continues on Friday for the official weigh in of all the fighters. Here are some images and notable quotes from the undercard press conference. More coverage to come!
STEPHEN ESPINOZA (SHOWTIME SPORTS)
"A world-class fight, like Mayweather VS. Guerrero, deserves a world-class undercard."
"These aren't filler fights. These aren't no-name fighters. These are name fighters. Tough, meaningful matchups."
GABRIEL ROSADO
"J'Leon, I know he's going to bring his A-game. He's 15-0. But I don't think he has the experience that I have."
"I'm hungry. I'm determined. I had a great training camp."
J'LEON LOVE
"Much love and respect for Team Rosado. There's no bad blood."
"There's two young guys ready to put everything on the line."
"He came up short in his last fight, but he put on a good show. Showed a lot of heart and determination."
"Here's the thing: a lot of people think this is a big step up for me and things like that…I don't have the experience. I'm a fighter, man. I've been fighting all my life. This is what I do. It's no step up for me."
"I'm ready to fight. God blessed me with the skill and I know how to use it."
ALEXANDER MUNOZ
"I'm excited to be here for the second time in Las Vegas for a great fight."
"We know he's undefeated. He's prepared just like I am."
"I want to make my countrymen in Venezuela proud."
LEO SANTA CRUZ
"I want to thank Al Haymon, my manager. Ever since I signed with him, I've been getting better things. I'm happy."
"Thanks to him, I was able to get my mom her first house that she always wanted."
"I want to repay him by trying my best going out there on Saturday and show the world who Leo Santa Cruz is."
ABNER MARES
"You've got two main events in one card."
"My father suffered, about a month ago, a stroke. He's feeling better now, so I dedicate this fight to him."
"I actually added something different to my training camp. It's called the Mexican YouDo. It's YouDon'tKnow if I'm going to box, YouDon'tKnow if I'm going to brawl, but YOU DO KNOW that I'm going to win!"
DANIEL PONCE DE LEON
"The people want to see something good, that's what I prepared myself."
"I've fought many times at this casino. I feel very well."