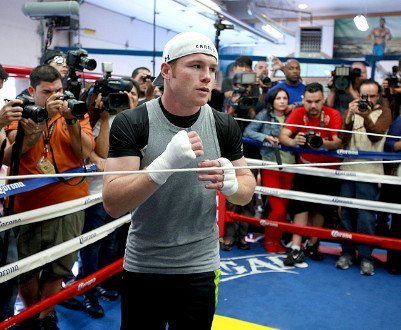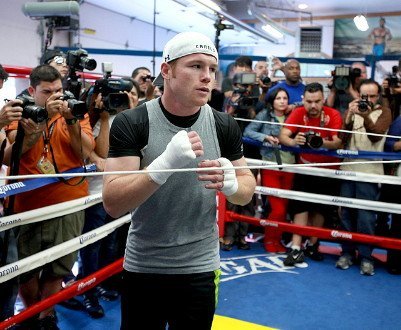 (Hogan Photos) WBA/WBC junior middleweight champion Saul "Canelo" Alvarez (42-0-1, 30 KO's) isn't really known for having super-fast hands. Instead of having quick hands, Canelo is more known for being big for the junior middleweight division, his good power, and for his counter punching.
For this season it seems a little peculiar that Canelo's trainer Chepo Reynoso is pointing towards Canelo's hand speed as being a huge factor for him beating Floyd Mayweather Jr. (44-0, 26 KO's) next month on September 14th at the MGM Grand in Las Vegas, Nevada.
Reynoso said to RingTV "Mayweather is expecting the bull, but he's not going to see him…when Mayweather gets in against Canelo it's going to show that he's also got speed, Canelo is going to be a ghost to him."
If I didn't know that Reynoso was being serious, I'd think he was telling a joke. Canelo has never been hard to hit except when he went into the defensive mode in his last fight against Austin Trout after finding out the wide scores the judges had given him in the open scoring fight. Before that fight, Canelo never fought in a defensive manner because he couldn't afford to without knowing what the judges scores were.
Against Mayweather, Canelo will have to fight aggressively to win, because if he fights defensively like he did against Trout, he'll get picked apart by Mayweather. This is a much different fight than the Trout fight, and Canelo won't have the open scoring. He'll have to fight hard in this fight to win, and he won't just have rounds given to him based on a low work rate.
Canelo is fast for a 170+ fighter, but he's not nearly as fast as the 150 lb. Mayweather. Canelo can make up for his lack of hand speed if he throws a lot of punches, but there are major questions whether he'll be able to do that.
If Canelo is drained from dropping 18 pounds of water weight to get down to the 152 lb. catch-weight, then he's not going to be able to fight hard for 3 minutes of every round. That's obviously a big part of why Canelo has stamina problems. He's artificially keeping himself fighting in a weight class that he should have moved out of over a year ago by dehydrating himself, and the struggles of losing that weight is hurting his performance in the ring.
Canelo can solve those problems if he moved up to middleweight or super middleweight so that he doesn't have to drop nearly 20 pounds every time he fights. Canelo's situation is almost identical to fellow Mexican fighter Julio Cesar Chavez Jr., who also has a habit of draining down huge amounts of weight to fight against lighter fighters. Chavez Jr. is finally fighting at a higher weight.
I think we'll be seeing that with Canelo sooner or later, and he'll be a lot better for it. But Reynoso is delusional if he really thinks Mayweather will have trouble with Canelo's hand speed. I don't see why he would. Canelo is slower than Victor Ortiz, and Mayweather Jr. had no problems with his hand speed.