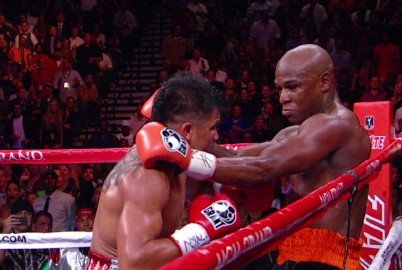 By Rob Smith: Floyd Mayweather Jr. and Manny Pacquiao have reach an undisclosed out of court settlement to resolve Pacquiao's defamation lawsuit against Mayweather. The terms are confidential, according to AP. Each party will pay for their own attorney fees for the case.
The lawsuit came about from alleged comments made by Mayweather and his father Floyd Mayweather Sr. that Pacquiao had used banned substances to accomplish his feats. Last week, Mayweather was ordered to pay $114,000 after failing to show up for the Pacquiao case.
With this case behind them this could be the last impediment to putting together a Mayweather-Pacquiao blockbuster pay per view bout in early 2013. Mayweather wants the fight, Pacquiao wants the fight, and the boxing public badly wants to see them fight. Although it might be a little late in the game for the fight to be put together, it's better late than never.
Pacquiao can't afford to wait because he's clearly lost a step and isn't the same fighter he was three years ago. He lost his last fight to Tim Bradley, and he perhaps should have lost his fight before that against Juan Manuel Marquez. Mayweather too is slowing down, and didn't look spectacular in his last bout against Miguel Cotto last May. You can give Mayweather a slight pass because he moved up in weight to take the fight at 154, and chose to fight Cotto toe-to-toe instead of using movement to box his way to a decision. But Mayweather has been looking stationary for his last three fights, and that's a clear sign of age.
With young guys like Saul Alvarez breathing down his neck and pushing hard for a fight, Mayweather needs to take the Pacquiao as soon as possible because Mayweather could lose if he faces Alvarez before Pacquiao. Besides that, there's not a lot of options for Mayweather right now unless he takes the dangerous Alvarez fight. It's either fight Alvarez or fight Pacquiao. At least against Pacquiao, Mayweather would have the size advantage and wouldn't have to worry about taking on a guy that is stronger, younger and bigger than him like he would if he faced Alvarez.
Mayweather needs to make the Pacquiao fight happen before Pacquiao gets beat again. We've seen pretty clearly in Pacquiao's last two fights that he can no longer fight hard for three minutes of every round, and he can't handle movement anymore. He moves around the ring not like a welterweight, but more like heavyweight that's lost his legs. Pacquiao is going to suffer additional losses in the near future if his promoter Bob Arum keeps putting him in with quality opposition.
Pacquiao might not even get past Juan Manuel Marquez this December. A loss for Pacquiao will pretty much ruin any chance there was of a true Pacquiao-Mayweather mega fight. The can still be made after that, but it'll have lost the luster that it could have had if they had only agreed to fight two years ago in 2010. This is why Mayweather needs to get Pacquiao in the ring before someone defeats him again.