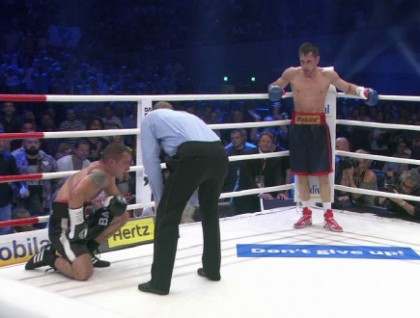 Showing an impressive body attack, middleweight Felix Sturm (38-3-2, 17 KO's) defeated Predrag Radosevic (27-1, 9 KO's) by a 4th round TKO tonight at the Westfalenhalle, Dortmund, Nordrhein-Westfalen, Germany. Sturm knocked Radosevic down twice in the 4th round with hard body shots.
After the second knockdown the fight was stopped. Sturm also knocked Radosevic in the third with a scorching left to the body that caused Radosevic to backup several steps and take a knee.
Radosevic looked a lot shorter and lighter than Sturm. It was like watching a small junior middleweight fighting a middleweight. Radosevic didn't have the size or the firepower to compete and he was getting hit with hard jabs, body and head shots for the entire fight.
Sturm's body shots were the telling factor in this fight. He seems to have put on more muscle in his arms since his last fight against Sam Moliman, and that made his body punching even more devastating than it was before. Radosevic was able to take Sturm's shots to the head without too many problems, but the body shots quickly took their toll on him by the 3rd round after getting dropped from a left hand to the midsection.
Sturm then put his main focus on going back to the body again and again. Sturm surprisingly didn't go after Radosevic immediately after hurting him. He took his time in a way that a fighter does when he knows he has someone that shouldn't be in the ring with him in the first place. Sturm methodically took Radosevic in the remainder of the 3rd and then finished him off with two powerful knockdowns from body shots in the 4th round.
Sturm will now likely fight the winner of the August 17th title fight between IBF middleweight champion Daniel Geale and Darren Barker.
—
Other boxing action on the card:
Maurice Weber TKO 1 Aliaksandr Abramenka
Alex Born UD 4 Dzianis Makar
Marco Cattikas UD 4 Mazen Girke
Mike Keta UD 6 Florian Wildenhof
Konni Konrad MD 12 Bernard Donfack
Susi Kentikian UD 10 Carina Moreno