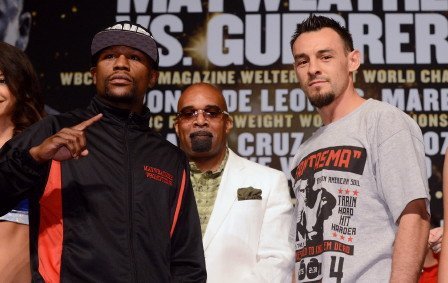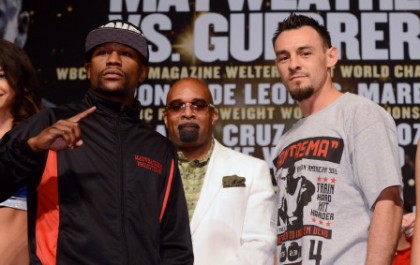 (Photo credit: Naoki Fakuda) by Robert Uzzell and Chip Mitchell: On Saturday May 4, 2013, Showtime PPV presents the return of Floyd "Money" Mayweather, Jr. as he takes on Robert "The Ghost" Guerrero for the WBC welterweight and RING welterweight title. This will be Mayweather's first fight on Showtime pay-per view.
Tale of The Tape
Age: Floyd Mayweather, Jr. 36, Robert Guerrero 30
Current Status: Floyd Mayweather – WBA and RING Champion,
Robert Guerrero – WBA Interim Champion
Professional Record: Floyd Mayweather – 43-0-0, 26 KOs, Robert Guerrero – 31-1-1, 18 KOs
Height: Floyd Mayweather – 5 foot 7, Robert Guerrero 5 foot 8
Knockout Percentage: Floyd Mayweather – 60%, Robert Guerrero – 51%
Previous Fight: Mayweather 05/05/2012, Guerrero 11/24/2012
Common Opponents: None of Note
Floyd "Money" Mayweather
Floyd Mayweather, Jr. will defend his WBC welterweight title that he won by defeating Victor Ortiz in 2010. His game is to hit and not be hit. It all starts with defense, mixes in speed and accuracy, and ends with defense. He's a first ballot Hall of Famer. What more can we say? As KRS-ONE once said, "If you don't know me by now, I'll doubt you'll ever know me".
Credentials
Floyd Mayweather, Jr is an eight-time world champion in six weight classes. Floyd has wins over Genaro Hernandez, Diego Corrales, Jesus Chavez, Jose Luis Castillo (2), DeMarcus Corley, Zab Judah, Ricky Hatton, Oscar De la Hoya, Shane Mosley, Juan Manuel Marquez, Victor Ortiz, and Miguel Cotto.
Advantages
Floyd has significant advantages in hand speed and footwork. We'd once again have to give him nod in the essentials of defense. The strength advantage is a push here, because Floyd is deceptively strong and so is Guerrero. If some in-fighting and pushing are allowed by the referee, it will be very interesting as to how it plays out.
Disadvantages
Inactivity and father time are two issues that could come into play. Floyd is 36 years old. He doesn't have those "Baldomir fight" legs anymore. Instead, Floyd exercises a Winky Wright style of standing in the pocket, using hip and shoulder movement to make you miss or parry punches, and then countering. Consequently, more shots from opponents have recently landed. Unlike Bernard Hopkins, Floyd relies much more on reflexes. We would make him more comparable to Roy Jones, Jr in that respect.
Robert "The Ghost" Guerrero
Robert Guerrero is currently the interim WBC Welterweight Champion. A southpaw, Guerrero has the desire and ring acumen which has earned him a shot at the pound-for-pound champion of the world. The Gilroy, California native uses the abilities he was taught by his trainer/father Rubin and employs different styles to defeat opposition.
Credentials
Robert Guerrero is a six-time champion in four weight classes. Let's say it again loudly. Robert Guerrero is a SIX-TIME CHAMPION IN FOUR WEIGHT CLASSES. We hope that sinks in with fans because most don't know it. What makes the accomplishment more noteworthy is that he skipped two weight classes. Robert has wins over Gamaliel Diaz, Eric Aiken, Jason Litzau, Joel Cassamayor, Vicente Escobedo, Michael Katsidis, Selcuk Aydin, and Andre Berto.
Advantages
Robert has the age advantage. He just turned 30, to Floyd's 36. Robert appears slightly taller and has a more rangy type of build that could play in his favor. Mayweather always has the mental edge in fights, but Guerrero is one opponent who may be on equal ground. We were prepared to give him a slight edge because of Floyd's inactivity and prison time served. However, the gun incident in New York makes this a push. Nevertheless, Guerrero is a very mentally strong fighter. Guerrero's punch volume and activity make him the more active fighter in the ring. The hunger edge goes to Guerrero. He has waited a few years for this one and he's more "up" for Floyd than Floyd is for him.
Disadvantages
Guerrero doesn't have the fastest hands in the world. He ain't exactly Pernell Whitaker on defense either. Robert is easy to hit and you can see his punches coming. Andre Berto may disagree with that last statement but…. Guerrero can't win the footwork battle either. The power category is a push as both guys have a little pop, but not concussive knockout power.
The Verdict
Robert Uzzell: Floyd Mayweather has a big edge in experience. He's been to the mountain top and Guerrero is still climbing. He's been through things that Guerrero may not ever see in his career. On the flip side, Guerrero has experienced things outside of the ring that serve as his driving force not only in this fight, but in at least the past 10. One thing I know is that win, lose, or draw Robert Guerrero makes sure you know you were in a fight.
I'm not sure how well the styles will mesh. If Guerrero attacks early like he did Berto then we could have a good one. I will go out on a limb and say it, Floyd Mayweather could be in a candidate for fight of the year. You can call me crazy. Go ahead. But here is how I see it- Floyd can't move like he used to. Therefore, he is standing in the pocket more and been hit more. Mosley rocked him twice. Ortiz buzzed him a couple of times. Cotto busted him up, especially to the body, not to mention the bloody nose. Guerrero is going to bring that same pressure. The result is a 36 year old man will have to fend him off as much as a 29 year old (Berto) had to do. Can Floyd still do that over 12 rounds? Hmm. On the flipside, Guerrero isn't elusive defensively. So if they do go toe-to-toe as Floyd promised he would, Robert is gonna get hit with uppercuts and hooks to the body.
So this could be an interesting fight if Robert brings it and Floyd's legs betray him. If that happens then speed and accuracy become the main factor. If Robert Guerrero's chin holds up as it always has, Floyd may have some problems on his hand.
The best way I can describe it is for fans to go to this YouTube link:
Part 1 http://youtu.be/qMUtiU_benI
Part 2 http://youtu.be/yjGI753K8iU
If you don't want to watch the entire video, just watch the last 1:30 of Round 9. I believe Floyd has enough offense to still give a similar performance like he did against Jesus Chavez.
Robert Uzzell Prediction: Guerrero is too slow and flatfooted to beat Floyd. Floyd's next few fights are a victory tour. Icing on the cake. Floyd Mayweather by 10th Round stoppage, possibly on cuts.
Chip Mitchell: I think we are headed for a different pattern in this fight. Instead of Floyd, Jr giving early rounds away, I think he's actually going to win the first few rounds. I do, however, think that Guerrero will bank some rounds also based on boxing Floyd in the middle of the ring. People are underestimating Guerrero's boxing ability. His best way to win is to stand in the center of the ring and box. That's right, try to box with the best boxer in the world. Now before you call me crazy, hear me out. I truly believe that he is going to try to keep the fight in the middle of the ring, at least for the early-to-middle rounds. Here is why:
I hear a lot of fans and media say that Floyd, Jr can't use his legs like he used to. I believe that statement to be true. So if Guerrero is the younger fighter, with fresher legs, what should he do? Use his legs, right? Right?
Here is where Floyd usually outsmarts people. Everyone thinks Guerrero is going to rush Floyd as he did with Andre Berto. You may think he's going to force Floyd back to the ropes and pound away. However, if he does that, he basically takes one of his most important weapons away (his legs), while allowing Floyd to simultaneously rest his legs. You follow me? The rope action that Floyd uses (that Berto failed at) allows Floyd to rest and preserve his legs while opponents expend energy by hitting his arms and shoulders. Robert needs to use his legs while forcing Floyd to use his if he wants to increase his chance of winning. He can't do that if Floyd is resting on the ropes and Robert is just standing there. I think the Guerrero camp knows this and they will try to box.
Now fans, there is a difference between standing in the middle of the ring and actually boxing like Robert will attempt. If you take a look at his fight with Michael Katsidis, Robert Guerrero employs a bit of an awkward style. He's a lefty and he circles left against the orthodox stance, but all the while he keeps his left foot outside of the opponents left foot. I'm not sure how good Robert's right hook is at 147 but I think he's going to consciously attempt to sneak it in, sometimes as a looping shot to keep Floyd off and other times as a power shot. Give Floyd a robust taste of Gilroy garlic, as they say.
Floyd's plan will be to be as accurate as possible in the middle of the ring and to play the ropes often and look to seriously hurt Guerrero with the uppercut. I'm intrigued with this fight because Robert, in my opinion, is one of the few boxers that can play on the same chess board as Floyd Mayweather, Jr. I believe it because Guerrero has used multiple styles to beat different men over the years. As entertaining as it may be, I just don't see Guerrero attacking Floyd as he did with Berto. At least not without getting busted up and possibly stopped. Mayweather will lick his chops if that happens. I don't think it will. Mayweather will also look to make Guerrero expend as much energy as he can (once again, the ropes will come into play). When they do fight in the middle of the ring, watch for the Mayweather jab to the body and right hands the left side of the body. Call it sweat equity in case the fight goes into the later rounds.
Chip Mitchell Prediction: Very few people have called out dominant opponents with the obsession that Antonio Tarver did with Roy Jones or Holyfield with Tyson or Hopkins with Trinidad. Unlike past opponents looking for their biggest payday, Robert Guerrero believes he's going to win this fight.
I think Guerrero is coming to party. I look past the slow, flat-footed, lack of power qualities that define him. It's the PASSION you have to pay attention to. The DESIRE. The BELIEF! I think those attributes offset his deficiencies in other areas. With that in mind, I think this is a close fight. My pick is Floyd Mayweather, Jr. by close but unanimous decision. Maybe like a 115-113 or 115-112 verdict. Call me crazy…