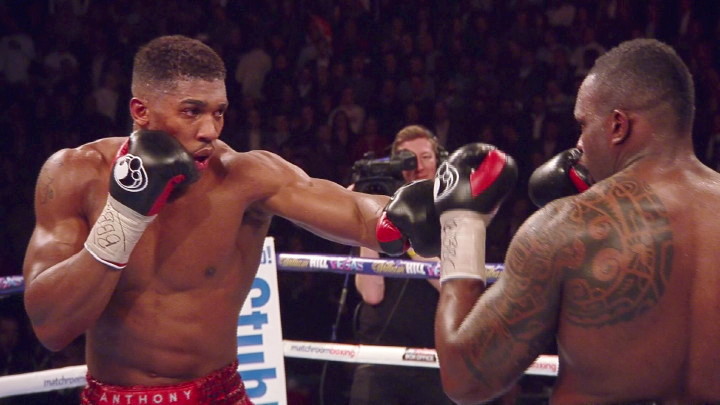 Anthony Joshua (15-0) will challenge Charles Martin (23-0-1) for his IBF heavyweight title this Saturday. Tyson Fury was stripped of the title after he refused to fight the mandatory challenger Vyacheslav Glazkov due to his contractual obligation to fight Klitcshko and Charles Martin fought Glazkov for the vacant strap. Glazkov quit with a leg injury and Martin was awarded a TKO win.
Charles Martin was not a popular name and most fans heard of him for the first time when he somehow ended up as a heavyweight champion of the world. He started boxing at the age of 22 and turned pro four years later. He is a late starter and it shows in everything he does in the ring. His technical limitations and bad habits are so numerous that he hardly looks like a boxer sometimes.To name just a few, he holds his head high above his gloves, his footwork is a riddle as he keeps his feet in awkward positions and drags his heels on the canvas. His sole defense is his height and length. When he throws a shot, he drops the other hand, then raises both hands below his chin and repeats the procedure. He manages to keep his chin exposed at all times. His stance and balance allow him to throw mainly arm punches. He manages a power punch sometimes when he throws a hook because he loses his balance and falls into the punch.
https://www.youtube.com/watch?v=Gs0XVUKM5Ug
So how did Martin get so far if he is so limited? He is big and strong, he is athletic and fit to some extent, uses his range and height but mainly he hasn't fought a serious opponent so far. Glazkov was his best challenge and he retired after 3 uneventful rounds which were not in Martin's favor.
Anthony Joshua is an Olympic gold medalist and his boxing technique is of far superior quality. His road to the mount of Olympus was steep and slippery. His first fight was against Erislandy Savon from Cuba and Joshua was promptly outclassed by the Cuban. The final computerized score of 17:16 was not a result that anybody took seriously but AIBA does not have to answer to anybody. They have a history of producing bizarre results to suit their policy. In the second stage Joshua beat Zhang Zhiley from China and that remained his only clear win in the campaign. His third fight against Ivan Dychko from Kazakhstan could have gone either way and the final fight with Roberto Camarelle was scored 18:18. It turned out to be 18:18 in favor of Joshua. He was Britain's hope in the London Olympics and he and AIBA delivered.
https://www.youtube.com/watch?v=fVZPBM8Ybrs
Joshua's four Olympic amateur fights trump all the boxing experience Charles Martin has ever had. Joshua has better skills and fundamentals than Martin but like his foe, the British boxer is a late starter in boxing and it shows. He is a fraction slower than real boxers and deliberate, sometimes naively obvious with his moves. He has some non-boxing muscle mass that slows him down initially and becomes a burden with fatigue in later rounds. Even Martin has picked up on this as he explained he will jump on Joshua after round 5 when he gets tired as usual. How does he plan to get that far he cares little to explain.
https://www.youtube.com/watch?v=PXrMlU5N3Yw
The fight will probably be good to watch anyway as it promises some action. Joshua's predictable but powerful assault and Martin's limited ability to defend his chin should provide entertainment. If Martin can find the right range and use his natural hand speed in a coherent fashion, he can turn this mismatch into a fight. All Joshua needs to do is box without haste and one of his one- twos will require a count.