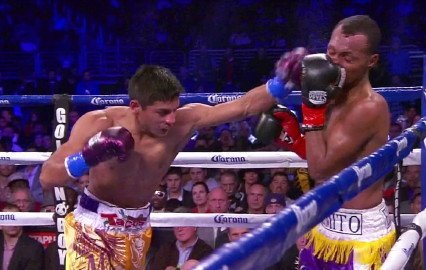 By Jeff Sorby: Frank Espinosa, the manager for unbeaten WBC super bantamweight champion Abner Mares (25-0-1, 13 KO's) is reportedly working with Top Rank promoter to put together an April 13th fight between Mares and WBO super bantamweight champion Nonito Donaire.
This is the big money fight that Donaire and Mares both want and Espinosa is the contact person for Arum in trying to work a deal with Mares' promoters at Golden Boy Promotions
According to the LA Times, they'll know whether the fight can be put together within the next couple of weeks.
Part of the deal will be that Donaire gets a little more money than Mares, but if Mares defeats Donaire, then in a rematch Mares will be the one that gets the bigger purse. Richard Schaefer, the CEO of Golden Boy Promotions, doubts that Arum will agree to this deal because Schaefer feels that Arum suspects that Donaire will lose the fight.
It's something where if you have a lot of faith in your fighter then you'll agree to those terms. However, Donaire is the bigger draw in this fight, and it would seem kind of odd to see him taking the smaller money in a rematch even if he losses to Mares. The guys that make the most money in the sport aren't always the best fighter in their weight classes.
They're just more popular because they have a lot of fans. In Donaire's case, he has a built in Filipino fan base which gives him a big advantage over other fighters. He's also proven himself in several weight classes to be a good fighter. He's not yet faced the best at super bantamweight, but if he can get the Mares fight and then possibly a fight against WBA champ Guillermo Rigondeaux, then Donaire will be able to prove that he's truly the best at 122.