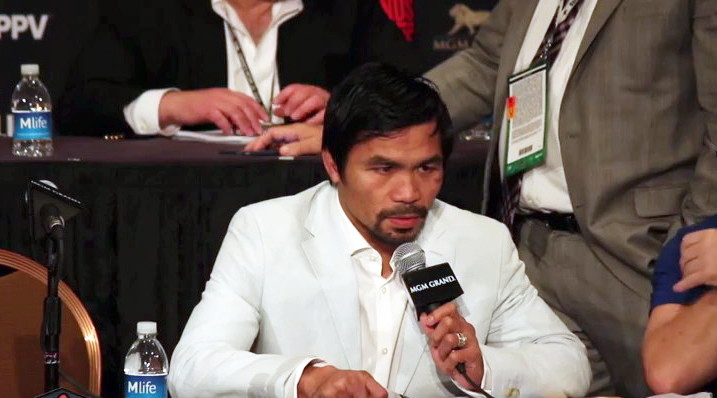 …either Mayweather Or Someone Else
As fight fans know, superstar Floyd Mayweather made quite a stir when he "announced" his rematch with Manny Pacquiao was on for December. The fight, though reportedly close to being made and a very real possibility, is not a done deal and Pacquiao, in speaking with the media in Manila and quoted by ABS CBN News, said there are other names in the frame for in case the Mayweather rematch does not get done.
There are two possible dates being mentioned for the return fight should it go down: December 1st and December 8th, and the venue would, as expected, be Las Vegas. Pac Man also said how Buboy Fernandez, not Freddie Roach, will train him for his next fight (Manny having been trained and cornered by Fernandez for his comeback win over Lucas Matthysse).
But if it's not Mayweather next for Pacquiao then who might it be?
"We will finalise the [next] fight this week," Pacquiao said. "Either Mayweather or somebody else, where and when, what date. Amir Khan, Terence Crawford, Adrien Broner [are possibilities]."
Khan will no doubt be pleased to hear how Pacquiao has mentioned his name and Khan will likely be hoping the Mayweather fight does not get made. As for Crawford, he seems extremely unlikely to fight Pacquiao next as he is fighting Jose Benavidez in October, and it would be a quick return less than two months later. And Broner is reported to be facing Omar Figueroa next; though it's possible that if the Pacquiao fight were offered to him, Broner would take that instead.
It seems we can look forward to another Pacquiao fight before the end of the year, though, whoever the opponent might be. A rematch with Mayweather would of course be huge – if not as huge as the first fight was back in May of 2015 – and Pacquiao has craved another shot at "Money" ever since dropping a clear decision to him that Manny insists he actually won.
With two fully fit and healthy shoulders, maybe Pacquiao will be able to do a far better job against the so-called "T.B.E," or maybe not. Both men are in their forties (or will be by the time the December fight rolls around, should it do so) and neither boxer is the special talent he once was. But this aside, a sequel between the two greatest fighters of their generation would generate big interest.
Of the four possibilities Pacquiao mentioned for his next fight: Mayweather, Crawford, Khan and Broner, who would you prefer to see the southpaw dynamo face?