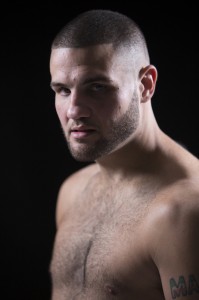 The former International Boxing Organization and North America Boxing Federation Champion, Peter "The Pride of Providence" Manfredo, Jr. scored an eight round technical knockout victory over Richard Gingras, as referee, Joey Lupino stopped the bout with 1:33 left in the round after Manfredo landed more than ten powerful unanswered shots on Gingras who was stumbling towards the ropes and on the verge of being stopped.
"This was a great victory for me tonight because I earned my 40th win which not a lot of fighters achieve in their pro career, but more importantly, I was able to dedicate this victory to my close friend, light welterweight boxer, Gary Balleto who`s paralyzed from the waist down from an accident he suffered in July," said Manfredo, Jr.
The fight card event entitled "Pride and Power" was sponsored by Jimmy Burchfield`s Classic Entertainment and Sports at the Twin River Casino in Lincoln, Rhode Island.
This was a great all out action packed first four rounds where both orthodox super middleweight pugilists had their momentums and landed strong punches on the other fighter. Manfredo had the slight edge in the first two rounds before Gingras stunned Manfredo in the third round with a right hook that had him in significant trouble. He pinned Manfredo on the ropes and landed several powerful shots, yet Manfredo escaped the round.
Manfredo regained control of the fight in the fourth round by landing more effective punches and opened up two cuts above Gingras` left eye that bleed for the rest of the bout. Manfredo continued to display a relentless offensive attack that Gingras didn`t have an answer for in the second half of the fight. Manfredo demonstrated a great jab that set up his extremely accurate combinations in particular to the body that wore Gingras down as the bout progressed. He really took over in the sixth round and for here on out, Manfredo continuously pressed the action and landed numerous powerful shots that stumbled Gingras, who couldn`t offer any effective offense in return.
"Gingras is a extremely tough boxer and he really hurt in the third round; however, I showed my toughness and fortitude as I weathered the storm and came back much stronger in the second half of the fight," said Manfredo, Jr. a runner up on Season One of the Contender. "I wore my heart on my sleeve tonight and was able to finish the fight the way I wanted with the knockout."
The Pride of Providence improved his record to 40-7, 21KOs. He has won his last three bouts since coming out of a yearlong retirement in November of 2012 following his lost to Julio Cesar Chavez, Jr. for the World Boxing Council Title. He has won nine of his last ten fights and recorded his first knockout victory since 2010.
Gingras from Pawtucket, Rhode Island and a season four contestant on the Contender, fell to 13-4-1, 8KOs and ended his three bout unbeaten streak. He has nothing to be ashamed of in the defeat because he fought well, especially in the first couple of rounds and still tried to press the action late in the fight, but was overmatched by a more skilled and experience boxer.
"I don`t know what`s next for me," said Manfredo, Jr. "I can always use additional money for my family especially with my wife in school and I`m trying to support her and my three kids on one income, so I might fight a couple of more times, however, on the other hand, I`m a lot older at 33, a little past my prime and I can`t dedicate as much time as I use to nor get as motivated as I was when I was younger because I work a full time job, thus I might call it a career and have this be my last fight."
Former four time world champion, "Hurricane" Jaime Clampitt made a triumphant return to the ring after being out of the sport for the last three years, as she earned a six round unanimous decision over Dominga Olivo with one scorecard of 59-55 and two scorecards of 58-56. Clampitt from Warwick, Rhode Island upped her record to 22-5-1, 7KOs while Olivo of Brooklyn, New York fell to 8-9-1 in this six round light welterweight fight. Clampitt controlled the bout as she continuously pressed the action, landed the sharper and crisper punches throughout and outworked and out landed Olivo who fought well but couldn`t get any suitable offense going. Clampitt said after the fight that this was her farewell bout because she wanted to end her career on a winning note after she suffered a defeat to Holly Holm in her last outing, as she attempted to claim another world title.
Jesse Barboza, a three time New England Golden Glove Champion, scored a technical knockout with 1:15 left in the second round over "The Armenian Assassin" Arthur Saribekian, curtsey of a perfectly timed left hook. The referee stopped this heavyweight fight as Saribekian struggled to get up from the punch. Barboza dominated the first round as he had Saribekian pinned on the ropes as he landed several powerful shots on The American Assassin who offered no offense and just covered up. Barboza from Hyannis, Massachusetts, improved to 7-1-1, 5KOs while Saribekian from Cranston, Rhode Island, dropped to 23-5-1, 18KOs, in his first fight in a decade.
KJ Harrison – Lombardi kept his undefeated record intact as he improved to 4-0-1 while Mike Rodriquez from Springfield, Massachusetts, who was making his professional debut, dropped to 0-1. Harrison – Lombardi from Providence, Rhode Island garnered the unanimous decision with two scorecards of 39-36 and one scorecard of 38-37 in this super middleweight bout. KJ was the busier fighter and landed the much harder punches in the fight. Rodriquez lost a point in the fourth round for repeatedly holding. Harrison – Lombardi, with the victory avenged his lost to Rodriquez, in the amateurs.
Despite losing his father the day before the fight, Publio Pena remained focused as he defeated Antonio Marrero in this competitive, back and forth light middleweight bout, but one that he landed the more effective punches. Pena from Providence, Rhode Island improved to 2-0,1KO as he garnered the split decision with two scorecards in his favor, 38-37, with one scorecard, 38-37 for Hartford, Connecticut`s, Marrero, who fell to 0-2. Pena lost a point in the third round for multiple low blows.