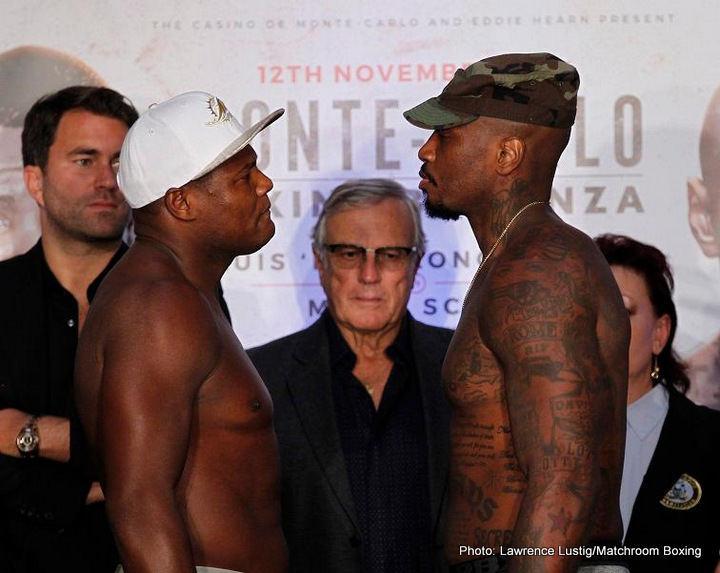 Go back a few months, and Cuban heavyweight Luis Ortiz could scarcely get himself an opponent, let alone a big name or a reigning champion. But, having signed with Matchroom, the big, powerful and previously avoided southpaw is closer than ever to the big, big fights his talents deserve. This doesn't mean Ortiz will get all he wants – he must first get past Malik Scott tomorrow night in Monaco – but the likes of Deontay Wilder and Anthony Joshua are at least possibilities now.
And "King Kong," unbeaten at 25-0(22) told Sky Sports that his top choice of opponent for the coming 12 months would be WBC champ Wilder.
"Over the next 12 months, on my list first would be Deontay Wilder, he's talking [expletive]," Ortiz said. "Other than that, the big names – Fury, Joshua, anybody who has a belt. I definitely don't do a lot of talking, it's not what I do. What I do is box. I don't like to talk. On fight night, I just like to come and fight."
Ortiz has shown his stuff in compiling his unbeaten record but, like the man himself, fans are eager to see Ortiz tested against the very best. An Ortiz-Wilder fight would really be something, and the biggest test for both unbeaten punchers. Ortiz-Joshua – a fight Eddie Hearn says is a real possibility for next year – would also be a potential thriller.
How good is Ortiz? Many good judges rate the Cuban (one of the rare Cuban exile fighters who has not let the good life of the US take away his hunger) as, potentially, the best heavyweight in the world today. Wins over Wilder, Joshua, etc would prove this thinking to be correct.
First comes the skilled Scott though. And Malik is talking a great fight, convinced as he is that Ortiz will "gas out" after a few rounds. Most people seem to disagree with Scott, 38-2-1(13) stating how they think Ortiz will score his 23rd KO win tomorrow night. Anything other than an impressive stoppage win by Ortiz will disappoint. Wilder and Joshua are sure to be tuning in to tomorrow's fight in Monaco.
https://www.youtube.com/watch?v=w8szwJ0vAsM