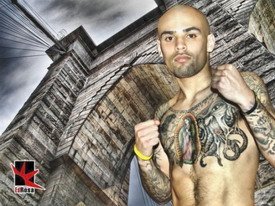 Labor Day, the first Monday in September, has always paid homage to the American worker and served as a tribute to the contribution he or she has made to the strength, opulence, and welfare of the United States.
On a day that celebrates the worker's fortitude and commitment to success, it seems only fitting that one of the more determined and resilient fighters in boxing gets another opportunity to "punch the clock" on network television.
Former WBA Welterweight Champion Luis Collazo (33-5, 17 KOs) will compete in the main event of the evening on Fox Sports One's newest boxing series, "Monday Night Fights", from San Antonio, Texas, against 22 year old prospect Alan Sanchez (12-2-1, 6 KOs) of Fairfax, California.
The perennial contender is excited to be a headliner on the Golden Boy/Leija Battah Promotions fight card.
"I can't wait to get in the ring and give the fight fans what they want," states the thirteen year fight veteran.  "They deserve to see a great fight and a memorable performance, and that's what I plan to give the fight fans in attendance, as well as those who will be watching on Fox Sports One."
The slick southpaw from Brooklyn is no stranger to great fights and memorable performances.
The last time Collazo was featured in a main event on network TV, the tough New Yorker went toe to toe for twelve entertaining rounds against two-time Welterweight champion Andre Berto in a breathtaking "fight of the year" candidate.  Although the crafty boxer/puncher didn't leave the ring with Berto's WBA title that evening, he did manage to win the drama of the event, as well as the admiration of every spectator who witnessed the fan friendly scrap.
The tremendous effort on HBO marked the last time Luis competed for a major world title.
Unfortunately for the dedicated ex-champ, that was over four years ago.
Since that time, Collazo has only been featured in five non-televised bouts, and has experienced difficulty in getting the big money match-ups that an athlete of his talent and experience so richly deserves. While most hard working people would justifiably become discouraged when faced with similar scenarios in their respective fields, the talented NYC native remains hopeful that he will one day receive another opportunity to fight for a major world title.
"By the grace of God, everything falls into place in due time. I have a great team that has continuously stood beside me through the good and the bad…and when you have great people around you, who push you and guide you in a positive direction, there are no limits to what you can accomplish in life."
Luis Collazo truly believes that an impressive performance tonight will put him on the road to one more shot at the Welterweight Championship.
"Everyone will see that Collazo is back," insists the former WBA champ.  "I know I've been in the dark for a while, but that's when a star shines brightest.  I want everyone watching live or on Fox Sports One to know that I still possess the ability to become a world champion."
Although Collazo has the determination and drive to achieve his goals within the sport of boxing, big opportunities are hard to come by…especially when most camps view the slick fighter to be "too much risk for the reward".
But there is always a light at the end of the tunnel.
Another fighter within the talent enriched Welterweight division who is currently having a hard time finding an able and willing dance partner is interim WBA Welterweight Champion Keith "One Time" Thurman.
Since putting on an impressive display of power and skill, knocking out previously undefeated title holder Diego Chaves a little over a month ago in San Antonio, Texas, very few notable contenders have been eager to step in the ring with the hard punching interim champ.
Luis Collazo is not only eager, but enthusiastic about the idea of facing the undefeated young champion.  If he looks impressive tonight on Fox Sports One, the 32 year old fighter could possibly join the very short list of potential challengers for Thurman's interim WBA Welterweight title.
"I would love the opportunity to face Keith Thurman for his title," states the hungry pugilist.  "I'm an old school fighter who is willing to face anybody, anytime.  I've always been that way and I'll never change.  The fight fans want to see great fights, and I think a fight between me and Keith Thurman would truly be a great fight."
"Monday Night Fights: Collazo versus Sanchez" will be aired on the new Fox Sports One, live from San Antonio, Texas, with a start time of 9PM EST/6PM PST.  The event will be presented by Leija-Battah Promotions and Golden Boy Promotions and will also feature former Olympian Raus'hee Warren and San Antonio native Raul Martinez.