YouTuber Logan Paul wants people to stop doubting his younger brother Jake Paul because he's for real as a boxer, and he's got a right hand that no one can survive when he lands it.
The fans saw how real the 24-year-old Jake's punching power is when he dropped former UFC star, Ben Askren with a scorching right hand to the head last Saturday night in their main event on Triller PPV at the Mercedes-Benz Stadium, Atlanta.
Upon getting hit with Jake's right, Askren fell as if he'd been shot. When he got up, his legs were gone, and that's why the referee wisely stopped the contest. If you watch a slow-motion replay of Askren walking towards the referee after he rose to his feet, his legs weren't there.
Askren was still out of it and would have been defenseless if the referee had let the fight continue.
"What the f*** did y'all expect?" a proud Logan said to MMA Junkie on Jake's knockout victory. "Stop doubting Jake. Every fight, I'm like, 'Ehhhh.' Stop doubting Jake."
The power that Jake possesses is undeniable. He's got world-class stopping power, but he doesn't have the experience needed for him to be taken seriously.
Right now, Jake is just a celebrity boxer. If he wants to be seen as the real deal by fans, he'll need to start taking risks against boxers.
Unfortunately, the fans will likely continue to doubt the 24-year-old YouTuber Jake until he starts fighting actual boxers and starts showing what he can do against them.
It's one thing for Jake to be obliterating basketball players, YouTubers, and fat former MMA fighters, but it's a different story for him to do the same thing against talented boxers.
It's like deciding you want to be an expert chess player, but instead of playing other chess players, you take on checker players in chess. Then you brag about how you were able to beat them after.
For Jake, he needs to start fighting career-long boxers instead of aiming for the lowest common denominator.
Boxing fans are starting to suspect that Jake is hustling them by picking out weak opposition than any boxer would beat.
If Jake wants to be taken seriously by fans, he needs to break his pattern of cherry-picking and start fighting contenders from the cruiserweight division.
Earlier today, Jake was called out by Tommy Fury. That would be an excellent fight for Jake to show the fans that he's for real as a boxer.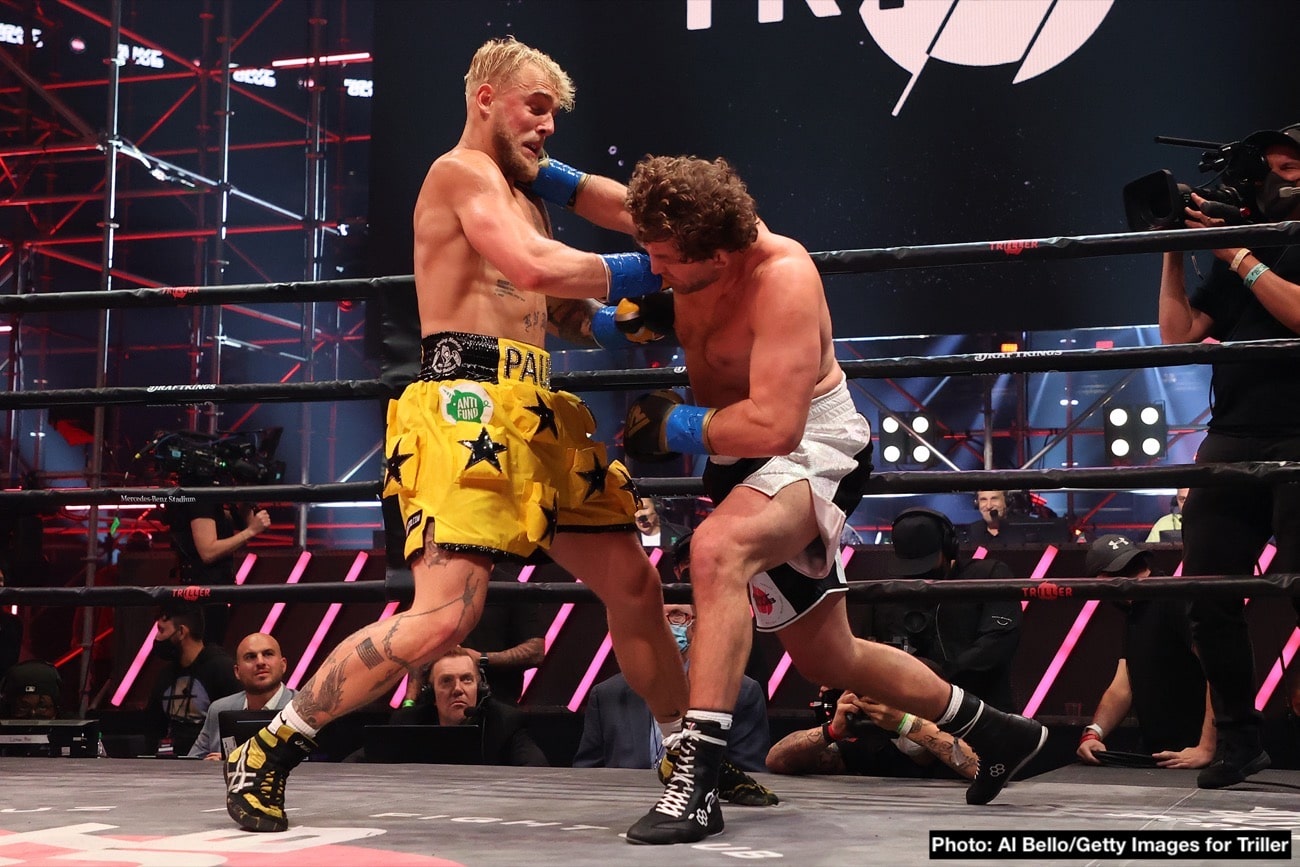 "He's not who you think he is. He's not the YouTube kid anymore," Logan said about Jake. "He's a f***ing bad mother ***er with a heavy right hand. There's a reason … no one can survive those. No one has. And he's gonna continue doing so. Doubt him all you want, but you're gonna be wrong every time."