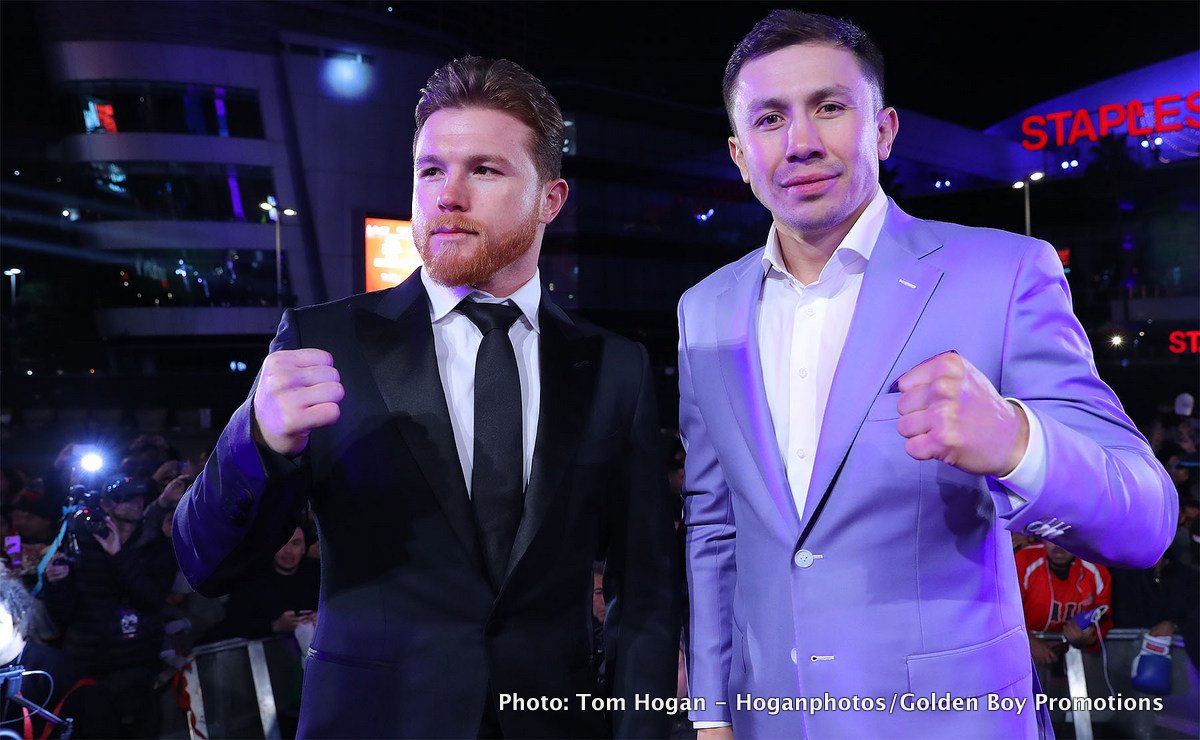 Gennady Golovkin's promoter Tom Loeffler is still working on a deal to make the rematch with Saul Canelo Alvarez happen for September, and he's hopeful the fight can get made for the good of boxing. The two sides are entrenched, believing that they deserve a certain percentage split of what could be a $70 million pot of gold for their HBO PPV fight.
Canelo took most of the money the last time he fought Golovkin in getting a 70-30 split, which is said to have given him a $50 million payday. Canelo's promoters at Golden Boy were able to get Loeffler to agree to a 65-35 split for the May 5 rematch. It was a better deal for Golovkin, but not by much obviously. Things have now changed. Canelo has tested positive a couple of times for clenbuterol, and he also pulled out of the May 5 fight.
Golovkin wants a much better deal now from Golden Boy in asking for a 50-50 percentage split. Is what Golovkin asking for realistic currently? That percentage split will be realistic once Canelo loses to some of the other middleweights in the division, but right now, he's still viewed as one of the best fighters in the 160lb weight division.
Golden Boy will likely make sure that Canelo doesn't lose if the rematch with Golovkin fails to take place, because they have Gary 'Spike' O'Sullivan sitting on the sidelines waiting to get the call to face Canelo on September 15. Canelo-O'Sullivan would be an awful fight, it's true, but it would make a lot of money for Canelo and Golden Boy, because the casual boxing fans would still purchase the fight in high numbers due Alvarez's popularity.
"I'm still in discussions with HBO and with [Golden Boy President] Eric Gomez," Loeffler said to RingTV.com. "Whatever posturing there is from both sides right now, this is still the biggest fight for HBO, for Canelo and GGG, and for boxing."
Golovkin wants the Canelo fight to be his next bout, but he also wants a better deal than the 65-35 purse split that was agreed on by his promoter last May. Unfortunately, that deal is too close to the original 70-30 purse split for the first fight last September. That fight was scored a controversial 12 round draw at the T-Mobile Arena in Las Vegas, Nevada. Golovkin looked to be the better fighter in 8 or 9 of the 12 rounds, but the scoring by the Nevada Commission assigned judges didn't reflect that. One judge though Canelo deserved the win by 10 rounds to 2 score. Golovkin failed to get the win, but he was still viewed as the winner by the public, who ignored the scoring by the three Nevada judges and saw it as a clear win for Golovkin.
"GGG originally agreed to an unfair purse split for the rematch," Loeffler said. "After Canelo tested positive twice and got suspended, GGG asked for a better split. He wants, and deserves, more than 35%. But he wants the fight."
This is going to be a real test of character for Team Golovkin to see if they're willing to stick to their guns and insist on getting the 50-50 deal. They were willing to accept much lower percentages for the Canelo fight in the past, so you much assume they'll fold quickly during the negotiations and agree to far less than a 50-50 deal. Golovkin is set for life from the money he made for the first fight, and course Canelo is financially set as well.
For the unbeaten Golovkin's perspective, taking less money than his challenger Canelo has got to be tough for him to handle. However, if Golovkin realizes that boxing isn't like normal sports where you get more for being a champion, then he'll understand why Canelo should make more money. In some ways, boxing is like professional wrestling as far as the more popular fighter getting the big money. Canelo might not be as talented as Golovkin, but he has a large fan base in the U.S and nearby Mexico, and that lets him get more money than arguably more talented fighters like GGG.