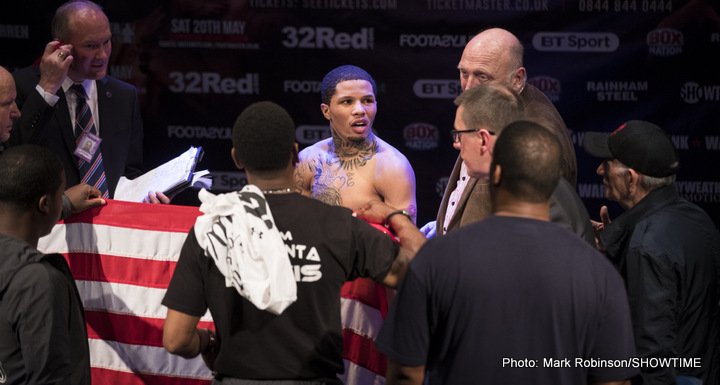 America's youngest world champion, Gervonta Davis, and undefeated No. 1 contender Liam Walsh both tipped the scale at the 130-pound limit during Friday's official weigh-in at the 133-year-old Theatre Royal Stratford East for Saturday's IBF Junior Lightweight World Championship on SHOWTIME.
On Saturday at the sold-out Copper Box Arena in London, the 22-year-old "Tank" Davis (17-0, 16 KOs) will attempt to become the first American to successfully defend his title on British soil in nearly a decade. The 30-year-old Walsh (21-0, 14 KOs) will aim to dethrone a man labeled by Davis promoter Floyd Mayweather as "the future of boxing" in the first defense of his IBF crown.
The referee for Davis vs. Walsh is Michael Alexander, and the judges are Howard Foster (England), Robin Taylor (United States) and Deon Dwarte (South Africa).
With fans chanting "Walsh is gonna get you" as Davis stepped on the scale, the Baltimore native narrowly missed the 130-pound limit by two ounces. Per IBF rules, Davis was given two hours to shed the extra ounces and successfully made weight approximately 90 minutes later.
"I feel good," Davis said. "I'm ready."
After the weigh-in, Walsh downplayed the tense stare down and words exchanged during the faceoff.
"Tomorrow we'll lay hands on each other for real and the best man will come on top. I'm gonna win. I'm going to give every last ounce of what I've got."
Davis vs. Walsh is part of a split-site, four-fight SHOWTME CHAMPIONSHIP BOXING telecast that begins on Saturday, May 20, at 6 p.m. ET/3 p.m. PT. In the main event, Gary Russell Jr. will make his second featherweight title defense and long-awaited homecoming against mandatory challenger Oscar Escandon live from MGM National Harbor just outside of Washington, D.C.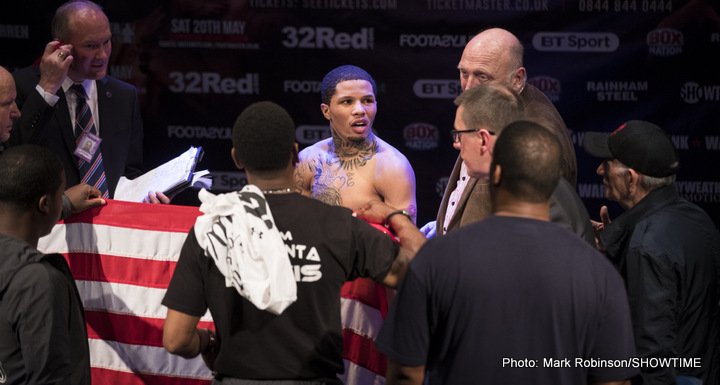 Undefeated Cromer hero Liam Walsh believes his long-awaited World Title shot against IBF Champion Gervonta Davis has come at the perfect time. Floyd Mayweather protege Davis makes the first defence of his World Title against mandatory challenger Walsh at London's Copper Box Arena on Saturday 20th May, live on BT Sport and BoxNation.
Walsh's date with destiny has been a long time in the making. A car crash forced the Graham Everett-trained slickster to withdraw from his WBO Lightweight World Title fight against Ricky Burns back in 2012.
But now the 21-0 Super-Featherweight is ready to seize his opportunity and dethrone the man many are calling boxing's next superstar.
"I'm now fighting 'the man' in World boxing, or so they say," said Walsh. "It has been a hard journey to get myself back in place for another World Title shot. There was times when I thought to myself 'is it ever going to happen?'.
"That's what makes Champions – that defiance and will to keep on coming back from set back after set back and not be denied. That's why I am here now. I have the desire and the will to push through and reach the top.
"The wait has definitely been worth it. I feel I sometimes box within myself because of the opponents that have been put in front of me but I know I'm ready for this World Title shot. This is perfect timing for me."
An action-packed undercard features Light-Heavyweight knockout artist Anthony Yarde taking on Southern Area Champion Chris Hobbs for his first professional title; teenage Heavyweight monster Daniel Dubois goes in search of another big knockout; plus Southampton's Joe Pigford and Barking's Aaron Morgan put their unbeaten records on the line in a potential barn burner.
Local talent including Harrow's Mitchell Smith; Hornchurch Super-Welterweight 'Hammer' Sammy McNess; Sikh sensation Sanjeev Singh Sahota;Chingford Super-Featherweight Boy Jones Jnr; Ilford Super-Bantamweight Lucien Reid; New Malden Super-Middleweight Lerrone Richards; Welling Super-Featherweight Archie Sharp; Chelmsford Super-Middleweight Billy Long; Croydon Flyweight Sunny Edwards; and Wycombe Ben Smith complete an unmissable card.
All floor seating at the Copper Box Arena has SOLD OUT.
Remaining tickets priced £40 and £50 are available from www.seetickets.com and www.ticketmaster.co.uk
DAVIS V WALSH WEIGHTS AND RUNNING ORDER
Doors open 16.00
Fight # 1 16.30
6 X 3 Minute Rounds International Super-Middleweight Contest
LERRONE RICHARDS 171lbs V ANTHONY FOX 174lbs
Fight # 2
6 X 3 Minute Rounds Featherweight Contest
LUCIEN REID V MICHAEL MOONEY
Fight # 3
4 X 3 Minute Rounds Super-Lightweight Contest
BEN SMITH V YOUSEF AL HAMIDI
Fight # 4
6 X 3 Minute Rounds International Super-Featherweight Contest
BOY JONES JNR 132lbs V NORBERT KALUCSA 130lbs
Fight # 5
6 X 3 Minute Rounds Lightweight Contest
MITCHELL SMITH 139lbs V LEE CONNELLY 138lbs
Fight # 6
6 X 3 Minute Rounds International Super-Featherweight Contest
ARCHIE SHARP 131lbs V TAMAS LASKA 131lbs
Fight # 7
THE BRITISH FEATHERWEIGHT CHAMPIONSHIP
12 X 3 Minute Rounds
RYAN WALSH 126lbs V MARCO McCULLOUGH 126lbs
Fight # 8
8 X 3 Minute Rounds Super-Welterweight Contest
JOE PIGFORD 155lbs V AARON MORGAN 154lbs
Fight # 9
4 X 3 Minute Rounds Heavyweight Contest
DANIEL DUBOIS 234lbs V DAVE HOWE 256lbs
Fight # 10
THE SOUTHERN AREA LIGHT-HEAVYWEIGHT CHAMPIONSHIP
10 X 3 Minute Rounds
CHRIS HOBBS 175lbs V ANTHONY YARDE 175lbs
Fight # 11 LIVE SWING
6 X 3 Minute Rounds International Super-Welterweight Contest
SAM McNESS 155lbs V ZAURS SADIHOVS 154lbs
Fight # 12
THE IBF WORLD JUNIOR LIGHTWEIGHT CHAMPIONSHIP
12 X 3 Minute Rounds
GERVONTA DAVIS 130lbs V LIAM WALSH 130lbs
Fight # 13 TV FLOATER 1
4 X 3 Minute Rounds Flyweight Contest
SUNNY EDWARDS 115lbs V GYULA DODU 113lbs
Fight # 14 FLOTER 2
6 X 3 Minute Rounds Super-Lightweight Contest
SANJEEV SAHOTA 142lbs V STEVE BACKHOUSE 143lbs
All floor seating at the Copper Box Arena has SOLD OUT.
Remaining tickets priced £40 and £50 are available from www.seetickets.com and www.ticketmaster.co.uk