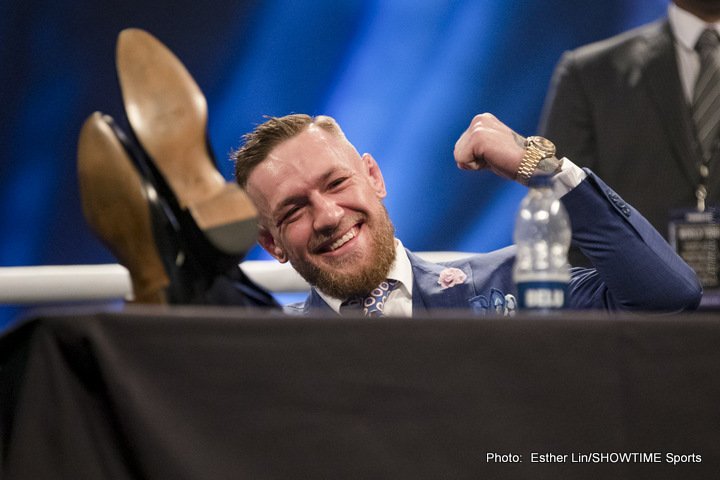 Heavyweight great Lennox Lewis, who occasionally works as a guest commentator now that his own boxing career has ended, is not looking forward to this Saturday's big, heavily hyped Floyd Mayweather-Conor McGregor crossover fight. In fact, in speaking with BBC Sport, Lewis referred to the fight as "a farce."
Lewis said he will not be travelling to Las Vegas to watch the fight "unless they pay me to commentate on it." Lewis, however, did say there is some mystery to the fight – "everybody wants to know what's going to happen," he said.
"There is tremendous build-up and hype but I don't really take it as a serious fight," the all-time great said. "I wouldn't count a fight like this as a 'fight.' He's basically a boxing guy that is a UFC fighter and not a boxer. Everybody wants to know what's going to happen. Is he going to throw a kick because, obviously when he resorts to boxing and realises he is no match for Mayweather, what will he do? How will he get around that?"
This is a valid question, and some people have wondered if McGregor, in a moment of blind rage or frustration, might throw a kick or attempt some other MMA move he has had drilled into him as sheer fighting instinct over the years. Some people have even predicted McGregor will purposely do something that will get him disqualified.
The intrigue, then, is there – but for all the wrong reasons. If McGregor does play by the rules and boxes Floyd, he surely faces a tough, possibly embarrassing, possibly long night on Saturday. The only other question surrounding this fight (apart from whether a win by Mayweather will really, deservedly see Floyd break the legendary Rocky Marciano's 49-0 record) is will "Money" score a rare KO?
Lewis says he won't pay money to find out. Will you? At $100 in the US (in hi-def) and £20 in the UK, such a decision will not be made lightly. There are also, according to reports, some unsold seats on offer inside The T-Mobile Arena.