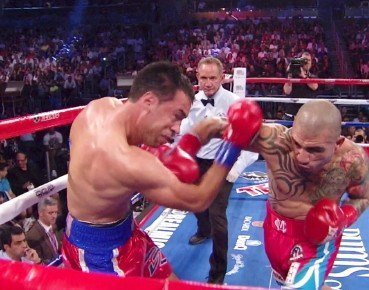 Jesus Q. (Brooklyn, NYC): Last Saturday night was a great night of action for Puerto Rico in the world of Boxing. How did you rate the performances of Miguel Cotto and Felix Verdejo?
Vivek W. (ESB): I watched Cotto's domination with a very strong enthusiasm for what I felt was a solid performance. I thought he showed aggression on a level some didn't know still existed, and I thought his dedication to the double jab and body work were a thing of beauty. That being said, I'd quickly caution anyone out there who even thinks for a second that this was even a remote indication of what we can expect from him on a higher level. If you want to rate his opponent with any accuracy, ask yourself how many "benchmark" fights take place on the elite level with men who enter the ring with more than 3 career losses? It happens, but very rarely at the elite level, and practically none in fighters under the age of 33.
I have great respect for Cotto, but the biggest question mark I had coming into the evening was not how quick he could win? It centered more around whether or not he could find a way to, if tested. This was an opponent who only landed 7 punches in 3 rounds. And that came against a fighter who has never been known for a spectacular defense. Cotto is very hittable. But he was facing a man who felt his power and folded early. Trout, Mayweather, and Pacquiao each felt his power, yet found other ways to nullify it and win. On paper, Rodriguez presented a great challenge. This was our reminder that paper burns. Bottom line: Cotto looked great! But we learned absolutely nothing about his ability to stand tall amongst the best in the business. His current pursuit is a fight at 160lbs to become the first Puerto Rican Champion to win a title in 4 different weight divisions.
Even against a hurt and returning Sergio Martinez, this is a tall order. And if Martinez shakes the rust well, his power, durability, and slippery style will be far too much for Cotto. And he won't fold. The best Cotto has looked in recent years came against Floyd Mayweather. But we know styles make fights. The same Cotto that walked through Delvin Rodriguez had no answer for Trout. The same Canelo that defeated Trout had no answer for the Floyd Mayweather who defeated Trout, who soundly defeated Cotto. Cotto is a very good fighter and future Hall of Famer. But at 160lbs, even an older Sergio Martinez is a bit too much. So in short, Cotto lived to die another day; but this was no indication of what to expect at the top of the food chain.
Regarding Verdejo, I like the kid! I like him a lot! At 5'9″ with a 72inch reach, and good speed, he has Mayweather-esque dimensions. The biggest chink in his armor from my seat is defense. We've seen a ton of fighters in the sport use great attributes to make themselves look great. But when you can be hit by someone with better skills and poise, it all changes. Particularly when you can't hit them. I see a ton of upside in the kid, and he could be the one to eventually carry the Puerto Rican torch, but he'll need to dedicate equal time to defense as he has to excitement, or he'll be another Puerto Rican phenom who has no answer to a skilled opponent.
Trinidad and Cotto have been the marquee fighters on the P.R. landscape. Calderon was incredibly skilled but didn't have the power. Cotto and Trinidad had the power. Neither had the defense, and their only clear-cut (non-questioned/non-controversial) losses came to men they had no answer for (Hopkins and Mayweather). JuanMa never reached the level of greatness many felt he was capable of for the same reason. The great Mexican nation finally turned the corner on this challenge in recent years with the evolution of fighters like Morales, Marquez, and now Canelo, whom all carried the vintage Mexican style, yet implemented fundamental skills as well. If Puerto Rico doesn't do this, they will remain in search of "the next".
Carlos N. (Miami, FL): I've read various reports online about Miguel Cotto. Is it true that he has entered another agreement with Top Rank? And what is the most likely fight to take place next in his career?
Vivek W. (ESB): In doing a little bit of research, although many have attempted to say it, no one has actually seen any evidence of a joint contractual agreement between Top Rank and/or Miguel Cotto. That isn't to say it doesn't exist. But if it does, there are not exclusive rights involved, as was the case earlier in Cotto's career, because he has his own promotional banner, similar to Mayweather with Mayweather Promotions. All that withstanding, Cotto has made it clear that he will be working with Top Rank, and in his own words, "Goldenboy Promotions would have to sit down and talk to Bob Arum and Top Rank if they have any plans to produce a fight" between he and Canelo or anyone on the Goldenboy roster.
Relative to his future, the only true certainty is that he has in fact severed all ties with Goldenboy Promotions, and instead aligned his services with Arum and Top Rank. Many question this move, but the first thing I like to remind them of is the fact that his tenure with Goldenboy Promotions was not a good one on any level. It's no secret that he began working with them for the sole purpose of landing a few marquee fights. Trout was supposed to be the stepping stone for Canelo. That was derailed. And it happened after he had already lost to Mayweather. So, for Cotto, this was a partnership that had seen him take two consecutive losses.
His leverage of getting a decent payday with Canelo after two consecutive losses was greatly compromised, particularly when you consider the way Canelo is being pushed from a marketing standpoint. At its best, you have Bob Arum (Top Rank) guaranteeing Cotto a certain set of numbers that bear no consideration of his recent two consecutive defeats. Then you have Goldenboy Promotions who would potentially use the budding star power of their young lion to get him a more lucrative deal than Cotto (in a potential showdown) on the strength of Canelo defeating the man Cotto couldn't defeat. For Cotto, this was a business decision that could pay off in the end. It certainly "looks" to be the best deal, but the course he'll have to chart will be far more difficult.
When we look his options, the ONLY option that Arum could really deal him would be a showdown with Argentinean, Sergio Martinez. New trainer Freddie Roach has endorsed the match, so has Arum and DiBella. The really interesting element is that Arum, DiBella, and Roach are all intent on doing the fight at 160lbs. Cotto has had some very poor choices throughout his career, and I think we can chalk this one up as another! Apparently he forgot that he left Arum before under the concern that the promoter didn't have his best interest at heart. When I think of a fighter who has lost to every elite opponent at 154, and has carried very little of his power to the weight class, why would I allow him to go to 160 against a natural middleweight who walks around closer to 180lbs?
Recent comments from Bob Arum and Freddie Roach talk down on catchweights in a major way, stating that Cotto should fight at the "legitimate weight level "instead; yet both made a living explaining why catchweights are not such an issue when defending Pacquiao in the past. This same Bob Arum supported Antonio Margarito (who cheated on Cotto previously) by jumping through hoops around the country, getting him licensed with the only governing body as crooked as he is. Cotto has one option for a big fight under Top Rank (Martinez); and multiple under Goldenboy Promotions (Canelo, Mayweather rematch, Trout rematch, and Martinez as well). If he can't see that this move has zero benefit for him, may that same blindness play a role as the catalyst to usher him into retirement sooner.
This type of blind ignorance is what has hurt Cotto throughout his entire career. He developed rapport with certain trainers, only to abruptly change. He leaves the promoter for not having his best interest at heart. He returns for less guarantee than he left for in the first place. It really makes no sense. And at the end of the day, it's a pure reflection on what I feel is a very confused fighter, with a team around him who is even more confused. The best way I can sum up this reunion is "Big Payday, Little Reward, Zero Honor".
Marion G. (London, UK): I've grown tired of the "dominance" of the Klitschko era. I don't find them entertaining and I don't find them as skilled as many think. How do you rate the recent performance and legacy of Wladimir Klitschko?
Vivek W. (ESB): I'll start by saying that I'm an absolute fan of Vitali. Vitali has been nothing short of amazing, and nothing short of deadly when at his best. But, to put it very mildly, in watching Wladimir recently, I found myself absolutely disgusted! Absolutely disgusted! I've always said that the only true gauge for these guys would be in a "Super" Heavyweight division. A setting that would offer a group of men who stand as tall as they do, who nullify each of the non-conventional attributes that they carry. This fight was a perfect example of such a thing. When you have a guy as skilled and talented as Povetkin, who has no chance because the referee allows the much bigger opponent to clinch after every punch landed, clinch before every (Povetkin) punch, and lean on him while placing him in a headlock after every close call, I can't give a fighter credit for that.
How this isn't considered illegal and absolutely banned is beyond me. I don't find any skill to what he does, and I don't find any excitement. I would even go a step further in saying this doesn't add to the sport as much as it greatly subtracts from it. I spoke to a few fight fans who happened to tune in Saturday night, and the random ones who rarely follow the sport closely each messaged me saying almost in one accord "this is why I can't get in to Boxing today". I think it's absolutely damaging to the sport on every level. Clinching more than two times in any given round should be warned. If it happens more than 4 times in any given round, points should be deducted. Period.
In this case, the pure heavyweight (Povetkin) had no chance, and it was all for reasons beyond his control. Against anyone his size or close, this is a fighter who would have easily won rounds, and potentially the bout itself. I have no respect for Wladimir's style and think his legacy will stand only on paper. There's nothing about his ability that suggest he would have been competitive against great in history, or anyone in present who enters the ring with enough size and style to stop him from wrapping up and hurt him when he tries. I was just very disgusted, and I'll go on record in stating that even as a scribe in the sport, I won't be watching any more of his fights.
(Vivek "Vito" Wallace can be reached at Twitter (@vivekwallace747), InstaGram (ViveksView), and Facebook).