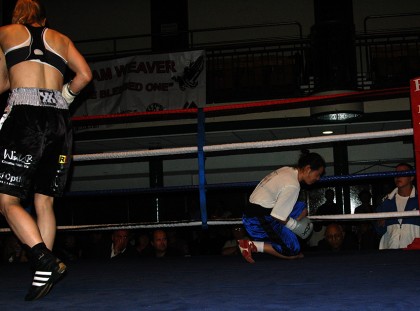 On Friday night at York Hall in London, TRAD TKO Gym's Marianne Marston made very short work of her fight with Katalina Lazar, stopping the Romanian late replacement in just sixty seven seconds of the first round.
In front of a highly partisan crowd, that included a large contingent of fans from her favourite football team, Arsenal, Marianne put on yet another sensational performance.
From the off Marianne and Katalina exchanged stiff jabs, then around the twenty second mark Marianne switched focus to the body, letting rip with a vicious hook to the body, with the wind knocked out of her Katalina had no option but to take to one knee.
Katalina managed to make it to her feet just as referee Ken Curtis reached the nine count.
Right from the restart Marianne went back to throwing stiff jabs, forcing Katalina to adopt a high guard, which played right into the South Londoner's hands, who first shoots out a solid right hand jab, quickly followed by a left cross to the body, which was enough to send Katalina back to the canvas, this time though she failed to make the count.
The first round knockout was officially timed at just sixty seven seconds, Marianne's record now stands at two fights, two wins, both by first round stoppage.
Earlier today Marianne spoke briefly of the fight, as well as hinting at a possible title shot later this year.
"I don't really know what to say about it actually.
I'm pleased it was easy and disappointed it was easy at the same time, obviously I would have liked the opportunity to show off a little bit.
I'm sure there's going to be some point, somewhere in my career, where I'm going to dream about having fights as easy as that, but right now I would rather have a little more of a challenge, so people can see what I can do.
Obviously if my original opponent, Masa Bacanov, hadn't broke her hand I think it would have been a different fight, I would have still won, but it would have been a different fight.
Saying that, I can't thank Katalina enough for taking the fight at such short notice, the details weren't finalized until late on Thursday, I don't think we even got hold of her manager until five or six o'clock and the details weren't finalized until three minutes past midnight.
I don't think either of us had a particularly good night that night, she had to travel three hundred kilometers from where she lived to get to the airport in the morning.
Yeah, I'm happy to get another win under my belt as there's a possible title fight coming up later this year.
I have been told I am due to fight for the WBF Super Bantamweight International title, it was supposed to be on November 30th at York Hall, but with the big Frank Warren show at the Copper Box on the same day, this may now be changed to a later date.
Obviously if it does go ahead in November or December, I'm going to have to get my rounds in during sparring, although I had hoped to get to do more rounds in the fight
Karina Kopinska, the girl I'll be fighting is number one in Poland. I'm assuming she's going to be a little tougher, so I'm going to have to make sure I'm a lot tougher.
I can't thank my coach Brian O'Shaughnessy and sparring partner Ian Napa enough, they really put me through my paces to prepare for the fight and I know they'll have me even more prepared, as well a teach me some new tricks, for my next fight.
I'd like to say a big thank you to my sponsors BoxFit, Optimax, Winkball and TRAD TKO Gym, for their incredible support, sorry you didn't get much ring exposure as it was another short one.
I'd also like to say a big, big thank you to all those wonderful people that turned out to support me, I was really so taken aback by the level of support I now have, there was even a group of Arsenal supporters that came along to support me, a fellow Gooner.
I really can't thank every single one of you enough for the wonderful support you showed me on Friday night, it was so special, thank you.
Hopefully see you all again when I next fight."
Follow Marianne 'Golden Girl' Marston, for updates and schedule go to: Web: www.mariannemarston.com – Twitter: @MarianneMarston and Facebook: www.facebook.com/marianne.marston