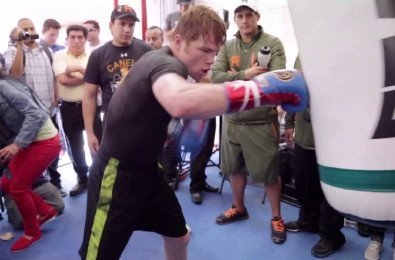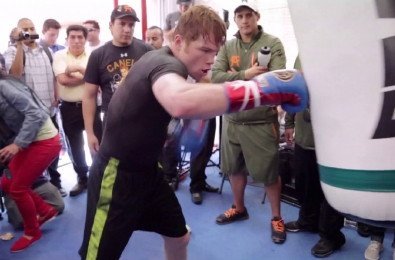 Chauncey N. (Oakland Park, FL): The last couple weeks you've given your thoughts on "All Access" Mayweather vs Alvarez. Since you went light on the Social Media this week, I'd like to know what your thoughts were on this recent episode and what stood out to you most between the two camps?
Vivek (ESB): I think the first and second episodes were classic. From the music selection to the production angles, I thought they were both very solid pieces of work. While there were a few things that stood out to me in this recent episode, overall, to be quite frank, I could have done without it. I never really felt the fight needed much effort to sell, but suddenly, it's being somewhat oversold. The Mayweather car collection was fab, the ladies were fly, and Canelo's Big Bear mountain shots over sizzlin' Churrassco steak after the wind sprints were cool; but we fell in love with these men after seeing them fight. Let's just say that I'm ready to see them fight!
The story-lines have gotten familiar and the only new news that could possibly break at this stage is who will emerge after a scheduled 12rd showdown! That reality aside, one element that I have recently found humor in – both in the show and away from it – is the growing infatuation with solving the puzzle called Floyd Mayweather. From past fighters, to present fighters, to fans, to critics; just listening to everyone take a stab at how they think you should approach a fight with Floyd. "Just bang his body and the head will fall"……."every time he throws that lead right, follow it up with a counter and a flurry of combinations"! You name it, someone has offered it as the formula. For years there was a buzz, but now it's an intense mission, formed with an obsession of cracking this "code" to take his "0".
One side of me wants to think it's the effects of the whole "villain" element. But a deeper perspective gives way to a far more believable angle. That angle is the fact that this is a man who has mastered his craft to such an elevated level of perfection that people can't help but wonder whether or not it truly can be broken. That's a very dynamic effect when you look at it closely. With Mike Tyson, Michael Jordan, and others, their support was so strong that few really wanted to actually know or see if they could be defeated. With the villainous role of Mayweather, there seems to be a collective effort to figure out the way to stop him. Aside from LeBron James of the NBA's Miami Heat, Mayweather is pretty much the first mega athletes of this social media era to experience the true depths of this overall exalting and often humbling effect of their own popularity (as it relates to social media).
These guys have become larger than life on the American sports landscape. What makes Canelo very intriguing is that right before our eyes, especially in his native country of Mexico, he has received such strong support that one can't help but wonder if he could be the next! I don't see their card breaking the old PPV record, but the promotion for this fight has been magical. And "All Access" has chronicled that element nicely. Canelo firmly understands that his time has come and it's his chance to dance. That subplot is what stands out to me the most in the buildup of this fight. With two men both undefeated…..one will be humbled….one will be exalted. Both are prepared to exalted….both have refused to be humbled…..but in the end….only one can win! Saturday night can't come quick enough! Get your popcorn ready, ladies & gents!
Alex B. (Houston, TX): I know everyone's judgment is clouded because of his recent losses, but if you took the Manny Pacquiao we saw who faced Margarito two years ago and put him in the ring against the Saul "Canelo" Alvarez we see today, who wins (in your opinion)?
Vivek W. (ESB): Without hesitation, I think the Manny Pacquiao we saw back in 2010 would defeat, if not stop Canelo! Keep in mind that endorsement says far more about Pacquiao's worth at the time than Canelo's lack thereof at this time. This opinion may shock many who have heard me say that Canelo is a nail-biter fight for Mayweather whom he'll face in just a few days. But I defend that opinion on the strength of that oldschool moniker we love that reminds us how much "styles make fights".
Floyd is dangerous, but in very cerebral way and his ONLY challenge is either a flush shot landed or an opponent who nearly masters his own skills-based approach. This is why guys like Judah and Cotto did fairly well against him, yet guys like Hatton didn't. When you look at the approach of Canelo, he's a stalker, yet a very measured one. He picks his spots, and he has enough speed and power to do damage when he connects. Someone out there is probably saying to themselves that same power would allow him to stop the smaller Pacquiao. But I think in many ways against a fighter who mounts an aggressive attack like Pacquiao it would be more detrimental to him, as Pacquiao's blades would cut him to bits every time he attempted to penetrate that space.
I just really believe that Pacquiao's speed and angles would be an absolute nightmare for a fighter like Canelo who would have his reach advantage nullified as a result of him having to engage on a much closer target than typical that he can't seem to catch before getting caught. When we look at this triangle of fighters, it's one of the better examples I can think of to support the whole "styles make fights" scenario; as Canelo would be a tough fight for Floyd, while Pacquiao could conceivably defeat Canelo, yet Floyd's elusiveness and precision punching would arguably get him the nod over the less skilled and easier to hit Pacquiao – despite his own speed and relative power.
Unfortunately, we may never know. The only way we'll possibly ever find out is a Mayweather loss. No other act in the sport could potentially end this current promotional cold-war. A Mayweather loss would level the playing field for a bout between he and Pacquiao, as there would be no bigger fight for either fighter or promotional banner beyond that. Doubtful we ever see it, but Canelo could very well have last say in this matter in just a few days. Stay tuned!
Javier H. (Northridge, CA): I'm a huge Chris Arreola fan. Do you think this victory and his recent dedication to conditioning himself is a sign of bigger things to come for him?
Vivek W. (ESB): I think the only one who can truly answer that question is Chris Arreola. I was a very strong supporter at one stage of his career. That hasn't totally changed, but I'd be lying if I didn't say that it bothers me to see how he pretty much ate himself out of a once budding career. Right now he appears to be very aware of his previous lack in conditioning, but is it too late? That's what we should all learn here pretty soon. From the beginning, I loved his heart. The guy has no fear, and he comes to fight. He lands big shots and he takes big shots. Unfortunately for him, it takes a bit more than that to stand amongst the elite in this sport.
He started out a very determined talent. Somewhere along that line he chose to deviate from that path. I think the recent conditioning should serve him well and I hope he's serious about this level of commitment. If he is, I think he could be a top contender in the sport. His level of commitment will probably have more to do with whether or not his success comes during this Klitschko era or potentially after it. The Stiverne loss and a few other lackluster performances proved that even away from the Klitschko's, he may not quite stand atop the mountain any time soon. I was happy to see him openly state that he wants to avenge that loss, but I'm just not so sure he wins that fight. He doesn't appear to want a clash with Wilder. To me that was pretty telling, as well. I'd love to see him in the thick of things again. Soon enough he'll get his second chance to dance. I look forward to the journey!
(Vivek "Vito" Wallace can be heard every TUESDAY NIGHT at 9ET/6PT on "Left-Hook Lounge Radio". Also, he can be reached at 954.300.5692. Facebook, Twitter (@vivekwallace747), & Instagram (ViveksView).