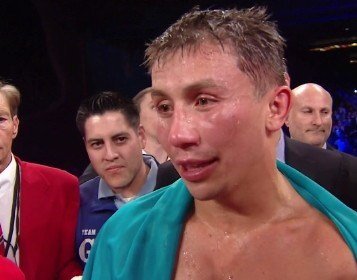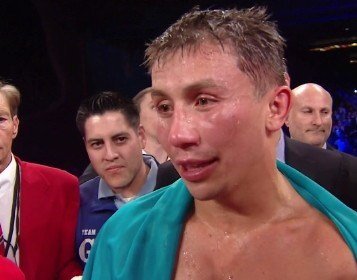 Kevin H. (Cincinnatti, OH): Golovkin has impressed me more than any fighter in the sport today. I just don't see anyone stopping this guy, but I can see him stopping whoever they put in front of him! What are your thoughts about him and who do you want to see him face?
Vivek W. (ESB):I'll start by saying that as much as I support him for the sport, I don't think I'm ready to go out on that limb that you and others have quickly jumped too! I say that in light humor, but to be very clear, I won't be part of that 'pendulum' swinging we see every time a fighter does something of this nature. I can remember this rhetoric after Donaire's KO victory over Darchinyan, Pavlik's KO victory over Taylor, and so forth! When we look at all of the men who stunned us with KO performances in fights we didn't anticipate a KO, they each have one thing in common: they fell flat against a man with the skills to out-think them, and the toughness to outlast them.
Golovkin has very underrated skills and his ability to cut the ring off make him a tough cookie to crumble. That being said, we still have to remember that this is a fighter who has never quite faced a top-tier opponent. I always caution fight fans to consider the source. Not only the new found KO artist, but also the man he stops. When Macklin went public, only days before the fight in stating that he "would have liked to take another fight before facing Golovkin" I knew he was in for what I affectionately dub a "long-short night"! Nerves were apparent from the opening bell. At one point he began to come out of his nervous shell and attempted to make it a fight. Trouble is, it was already too late.
For those that observed closely, there was an interesting point in the fight that left me with a lot to ponder. Two times I saw Macklin land shots that temporarily stopped Golovkin's momentum and one of those times he was clearly buzzed. He didn't telegraph it in a major way and he recovered fast, but without a doubt, there were two landed punches that stopped him dead in his track and caused him to temporarily abandon his aggression. That reality proved my point earlier. We can celebrate his KO's as much as we want. But until we see him do this against an opponent who truly stands at the elite level, questions remain. I'm as big of a supporter as he has now, but without question, it's cautious support.
Everyone has raved about his punching power, but consider this: Hopkins has never been known as a KO artist, yet he dropped Oscar with the very same punch. What does that say? It piggybacks off another point I've routinely tried to make over the years: (Example) – If you grabbed an axe and took 1000 rapid-fire hacks at a huge log, after the final hack you'll have visible damage all over the target but the log will probably still remain in tact. Flipside to that equation is that you can take that same axe and rip only 500 well placed chops in one central spot, or one monstrous hack at the weakest spot of that same log, and you'll get far more results. Why? Precision punching does far more damage. This explains why Hopkins stopped a fighter (Oscar) with one shot that Trinidad and Mosley couldn't.
This is also why Cotto spoke about Mayweather's "deceptive" punching power in the aftermath of their showdown. Some fighters are very precise. Others are simply very powerful. Precision punchers are able to break down even the decent defenders far easier than a fighter with power that isn't precise. Which is Golovkin? More powerful or more precise? I ask that because his power has worked well for him to this stage. But against the likes of an Andre Ward type opponent who isn't as easy to hit, does a different reality surface? And can he take the punch of Martinez who is durable enough to take his punches, and powerful enough to land one to stop him as well. Those are the men I want to see him face next with Canelo off the board; and those are the questions I want answered before giving full endorsement of him.
Hector O. (Ft. Worth, TX): Within the last year or so we have seen the emergence of Lucas Matthysse, Keith Thurman, Golovkin, Adonis Stevenson, and many other KO artist. What do you make of this in our sport?
Vivek W. (ESB): I probably need to start this question by quoting Uncle Roger (Mayweather), as every time I hear people say the sport is dying it tells me that they "don't know s*** about Boxing"! That's what comes to mind first! When we look around the sport, literally, from the bantamweight through the Super Middleweight division, you can take the top 6-8 men and you literally would have no idea who would be the last man standing. There's strong talent in both power punchers, as well as fundamental skills fighters. On the fundamental skills side, there's still a major gap in talent once you get beyond Mayweather, Rigondeaux, Hopkins and Ward; but there are guys in that second tier like Marquez, Broner, Lara, Trout, and others who definitely bring solid skill play into ring, too.
I think it's an amazing time to be a fan. Seeing all of these young men establish themselves in the sport tells me that the future of our sport will be as rich as the past. And just to think, this is all being accomplished with Arum and Oscar at the helm. Years down the road when the frozen relationships between these men thaw out, or when they're simply no longer around, the new crop of promoters who are watching this stuff will probably make wiser decisions and work better together. I really love what I see around the sport.
As it relates to the KO power of these men, I'm a fan of the KO like the next man. But when it comes to what I like best, I think in very unequivocal terms. A good power puncher will always have his work cut out for him against a man who is just as conditioned, just as durable, just as active, and just as driven. So as these skills fighters go to war with these power punchers of the sport, all I can do is sit back as media and a fan, and simply bask in the glow! It's a beautiful thing and right now, and I'm having a blast watching.
Andres B. (Covina, CA): What do you think of Golovkin pursuing Mayweather for what he termed a "dream fight"?
Vivek W. (ESB): . Honestly, there's a certain level of comedy to it, in the sense that not only is he a bit off the radar as a potential opponent, but also because he doesn't carry the fan power to even be considered so I know for a fact this isn't a fight Mayweather would take, for obvious reason. In one breath, you acknowledge that Golovkin entered the ring at 170, which is less than the 172lbs Mayweather's next opponent (Canelo) most recently entered the ring at. So logic says, "if he's facing Canelo, why wouldn't he face Golovkin at 154? That's where I drop the hammer and ask people to take a closer look.
Guys like Golovkin, Martinez, Canelo, etc., fight at 154lbs after having to drop down from their walk around weight, which typically falls somewhere between 175lbs and greater. Mayweather fights at 147lbs, has flirted with 154 for mega fights, but could actually drop down and fight at a more natural 140lbs if he truly needed to! When Oscar, Tyson, Pacquiao and others held the "cash cow" spot, they called the shots and there was nothing to contest. In the case of Pacquiao, he prohibited Hatton from collecting PPV monies from his very own country, prevented the Champion Miguel Cotto from entering the ring at his comfortable weight, and made the bigger Margarito come down. For Mayweather, there's a sentiment that he should buck this trend and give in.
This is when I get major flack for speaking up on the obvious. I've called Floyd out a countless amount of times, but right is right, and wrong is wrong. Bottomline, I think any businessman would endorse a risk like Canelo over one like Golovkin any day. Why? Canelo may be a little bigger, (if you really want to believe that???), but the crowd he will attract on fight night is as well, which means "cha-ching"! We may not like it, but it's all relative. If I'm a fighter and I make a calculated risk, that's the one I'm taking. Not one that I have to carry the promotion and the card itself.
What I don't get is this: why are so many people even talking about Golovkin getting a shot at Mayweather when Mayweather has a dangerous opponent already lined up who he can't overlook, and Golovkin has a ton of talent in his own weight range to sort out? Quillin, Martinez, and Chavez Jr. in a decent money making fight are all fights he should be targeting. He said he "needs more time before facing Ward", which is a more natural opponent for him. Some will say that for Mayweather, he shouldn't make a business decision by pursuing the money fights; yet they will support guys like Golovkin who aren't eligible based on accomplishment, who also pursue him for a money fight. It's a joke. I like Golovkin, but no….not now, and probably not ever….if he can't become a household name.
(Vivek "Vito" Wallace can be heard every Monday night on "Left-Hook Lounge Radio" from 9ET/6PT. He can also be reached at Twitter (@vivekwallace747), Instagram (ViveksView), & Facebook).