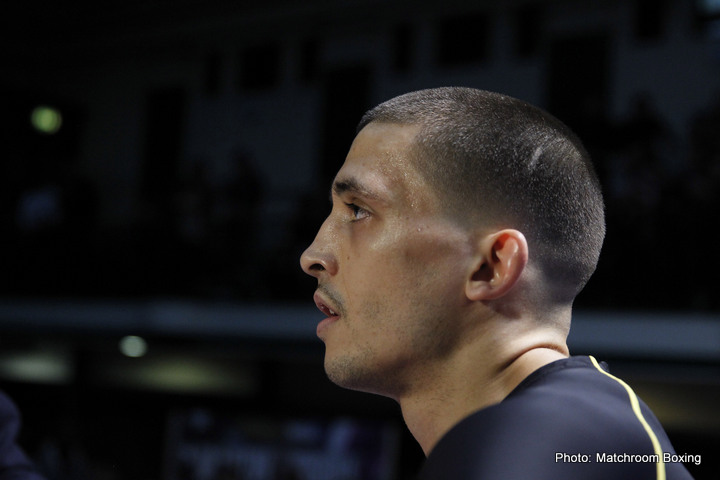 Tonight in London, the big O2 crowd saw what, so far, was the fight of the night as IBF featherweight champion Lee Selby got off the floor to widely out-point classy Philadelphian challenger Eric Hunter. Welshman Selby, making the second defence of his title, was decked heavily in the 2nd-round yet he got back up and came back very well. The final scores were 115-111 116-110, 116-110 and Selby is now 23-1(8). Hunter, who looked great in patches, falls to 21-4(11).
Hunter came out in confident fashion and it was clear from the start he is a talented fighter. But although the challenger looked great in spots, picking some classy punches, he didn't do enough work overall. In the 2nd-round, it looked like he might not have to though. A superb left hook to the head sent Selby down heavily and though the champion got back up quite quickly, he was buzzed. But Hunter let his big chance pass.
Selby, possessing fast hands and a great engine and work ethic, came back to win the next six rounds. Hunter was always dangerous and he landed some eye-catching work in each round, but Selby simply wanted it more and worked accordingly. Hunter, who has been DQ'd twice in his career, came close to being thrown out again tonight. Warned for low blows in the 7th-round, Hunter had a point taken off in the 8th – a round in which he came out positively and was winning until the foul. Hunter had tested Selby's chin with his right hand, as he did a number of times in the exciting fight, but the infringement cost him. Then, in the 9th, Hunter was given his final warning for low blows from referee Marcus McDonnell.
Becoming increasingly irritated and frustrated, Hunter was not winning over either the fans or the judges. This is a shame because Hunter, who switched to southpaw a few times, but not as often as he has in past fights, is a class act with real talent. This talent was shown in the 10th, a good round by the challenger, who put his punches together well to head and body. By now though, it was far too late. Hunter needed a KO and he was unable to get one. Selby, marked a little below both eyes, was well ahead and he knew it.
After the win, Selby claimed he was never hurt tonight and he also called out the likes of Leo Santa Cruz. A good fighter who might be entering his prime at age 29, Selby earned himself a good win over a tricky and dangerous opponent and he showed heart in surviving the knockdown. Hunter though, may not get another big opportunity for some time.