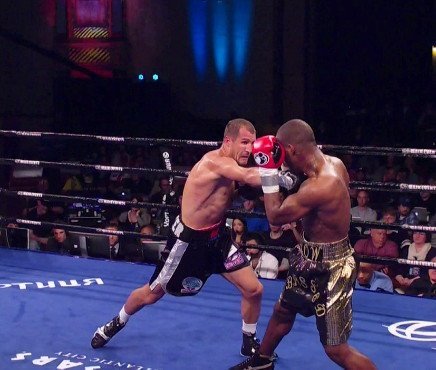 Share the post "Kovalev plans on taking Hopkins' scalp to make history on November 8th"
WBO light heavyweight champion Sergey Kovalev (25-0-1, 23 KOs) plans on adding 49-year-old Bernard Hopkins' scalp to his resume on November 8th in what he feels will make history for him and put his name up there with the other top fighters in the sport of boxing. In addition, Kovalev will capture Hopkins' IBF and WBA 175lb titles, and that would give Kovalev 3 of the 4 world titles at light heavyweight.
"I'm happier I'm going to be fighting Bernard Hopkins there [Atlantic City] because that's going to put my name into the history of boxing," Kovalev said via RingTV.com. "Most likely, also, I'm going to be making history in boxing by winning against Bernard Hopkins. That's going to put me in the top tier," Kovalev said.
Kovalev remains very confident that he's going to beat the 49-year-old Hopkins on November 8th. Kovalev appears to be immune to the mind tricks that Hopkins has already started using to cause him to doubt himself.
Hopkins will likely continue to use intimidation tactics as the fight gets closer in order to try and get an edge against Kovalev before they get in the ring. I'm not sure that it's going to work in this case because Kovalev doesn't have anything to fear from Hopkins because he hasn't beaten anyone good since his win over Jean Pascal, and even that win wasn't that special given the flaws in Pascal's game.
Hopkins was beaten by Chad Dawson in 2012, and you can make a good argument that Dawson would beat Hopkins again if they were to face each other this year. Dawson clearly had Hopkins' number.
Hopkins has won his last three fights since the loss to Dawson in beating Tavoris Cloud, Karo Murat and Beibut Shumenov, but none of those fighters are high quality fighters. If not for the sport having 4 titles up for grabs in each division, you'd likely never have seen Shumenov and Cloud holding titles.
With a win over Hopkins on November 8th, the only strap that would be out of Kovalev's grasp would be the WBC belt held by champion Adonis Stevenson. That's a title that Kovalev will likely never get a chance to win due to Stevenson moving to Showtime earlier this year.
Stevenson had a chance to fight Kovalev when both fighters were with HBO, but Stevenson moved over to HBO without taking the fight. There's not much that Kovalev can do about Stevenson, because as long as he's with Showtime, it's unlikely that a fight between them can take place.
The Kovalev-Hopkins fight will be taking place at the Boardwalk Hall in Atlantic City, New Jersey.