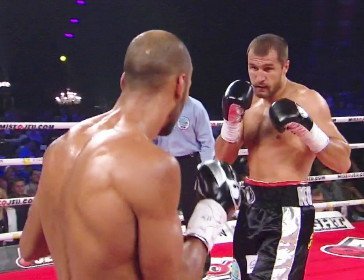 WBO light heavyweight champion Sergey Kovalev (25-0-1, 23 KOs) says he's going to bring a lot of pain next Saturday night in his long awaited unification fight against IBF/WBA champ Bernard Hopkins (55-6-2, 32 KOs) at the Boardwalk Hall in Atlantic City, New Jersey. Kovalev thinks Hopkins sees him as a fighter who will run out of gas early after he expends his energy trying to score a quick knockout, but Kovalev says he's going to be able to keep throwing with power for the entire fight for as long as it lasts.
"I always have bullets in my arsenal. My hands are my weapons. It's my weapon in the ring. Hopkins thinks that I only have two bullets but I will bring some more," Kovalev said.
Kovalev needs to fight at the same pace that he's fought his previous bouts if he wants this fight to go well for him, because Hopkins will likely win a decision if he can slow the pace of the fight to a crawl. Hopkins has the better hand speed, and he'll be able to get the better of Kovalev if he can limit his work rate.
If you look at Hopkins' last fight against Beibut Shumenov, Hopkins was able to dominate the fight by throwing single pot shots. Shumenov waited too long to let his punches go, and this allowed Hopkins to get his punches off first to win rounds.
"I want to get some experience from this fight that can make me better for another fight," Kovalev said. "I am not going to finish my career after this fight. There will be other fighters that will also be tough and very talented and very hard like a punch machine. I should be ready for everyone in the ring and in life too."
If Kovalev can fight the right fight and not get tricked into Hopkins' style of fighting, then it's quite possible that Kovalev will win this fight. It'll be a great learning fight for Kovalev, because if he can stick to his game plan to defeat a wily old veteran like Hopkins then it'll help him down the road when he faces the likes of Adonis Stevenson and Artur Beterbiev.
When asked if he thinks it's possible to knockout Hopkins, Kovalev said "If it will be possible, yes. If not, it will be 12 rounds for decision. For me it doesn't matter."