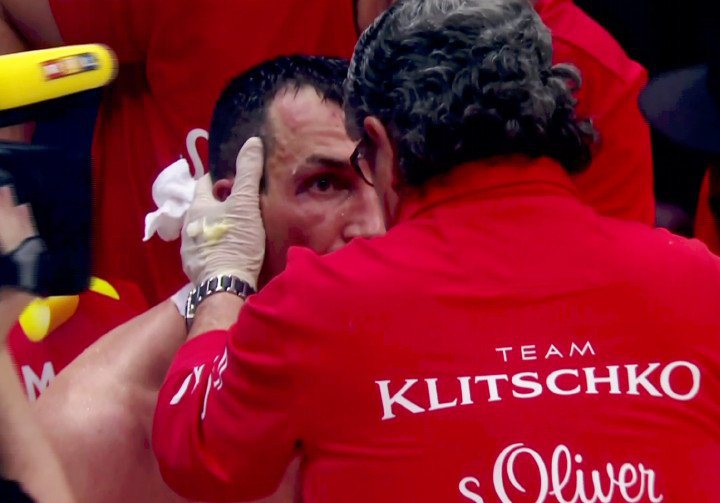 Former WBO/WBA/IBF heavyweight champion, Wladimir Klitschko, has confirmed that he intends to activate his rematch clause with Tyson Fury, and attempt to win back the titles taken by the Brit in style last night in Dusseldorf.
Despite Fury being a mandatory challenger, a rematch clause [unusually] existed in the contract, and the 39 year old former champion says he plans to exercise it, though gave Fury his due credit for the win, admitting the 6'9″ star was extremely quick for his size.
"There will be a rematch," he said post-fight. "It is still early and I have to process things but there will definitely be a rematch.
"I was well prepared for this fight but he was quick for his height."
A pre-fight row about the levels of foam beneath the canvas had threatened to spoil things for Fury, who would have had his mobility severely impeded by it's sponginess, until his team, inc. promoter, Mick Hennessy, demanded much of it's removal on the grounds of 'health and safety,' a victory that was no doubt crucial in last night's performance.
Interestingly, the insistence by Fury's cousin, Hughie, that Klitschko had been using heels and padding in the pre-fight build up to appear as tall as Tyson, also appeared to carry weight, with a notable size differential not noticed in previous head-to-heads visible in the ring.
"I never believed he would do it but he did," Kitschko added. "I was lacking speed and he was quick. I just could not find the right distance. His reach bothered me. I tried it but it just did not happen."
After the fight, Fury's trainer and Uncle, Peter, was insistent a rematch will go much the same way, saying to Sky Sports.
"I expect Wladimir will do a little bit better in a rematch but the best man won and that's not going to change.
"They can try to get their shots off and land them on Tyson but Tyson will be a different animal. At best it would be the same outcome next time but if they meet again I expect Tyson to stop him," he added.
Twitter @undilutedpoison