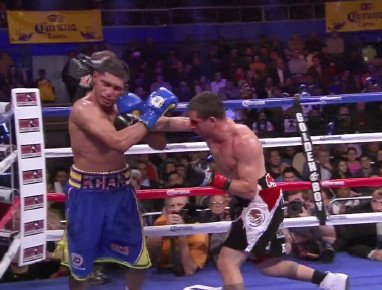 Amir Khan (29-3, 19 KOs) will be wearing some super expensive boxing trunks this Saturday night in his important fight against former two belt holder Devon Alexander (26-2, 14 KOs) at the MGM Grand in Las Vegas, Nevada. Khan's trunks for the fight have an estimated worth of £20,000 and £30,000, according to the Dailymail.co.uk. The trunks have 24 carat gold thread in the waist band along with crocodile trim.
This is an outrageously expensive pair of trunks, and it makes you wonder if Khan is getting a little ahead of himself in wearing something as expensive as this for a fight. He's not at the level of guys like Floyd Mayweather Jr and Manny Pacquiao, and the chances are high that he'll never be at that level unless he's matched carefully to put him in with guys that aren't dangerous punchers.
If Khan loses the fight to Alexander on Saturday night then the expensive trunks will have been for nothing, because he obviously won't be able to move past the likes of Alexander to get a big money fight against Mayweather or Pacquiao.
IBF welterweight champion Kell Brook thinks Khan is just looking for a big payday against Mayweather. He doesn't see him as someone who is willing to test himself against before he gets to that stage.
"All Amir is about is the big pay day against Mayweather, that's what he wants the big fight for, the big pay day," Brook said via ESPN.co.uk. "That's why he's not talking about me because he will get chinned if we fight and then there will be no big bout for him. He wants to fight Mayweather and when he loses he's got a big bag of dosh and then there's still the fight with me that he will get well paid for."
You can't really blame Khan for not wanting to take any chances of losing the fight against someone really dangerous. He's been waiting years and years for the Mayweather fight, and you can't expect him to take someone with big punching power like Brook or Keith Thurman before he gets the Mayweather fight.
Khan has already shown that he has problems against punchers, so it's a no-brainer that he's being matched against a non-puncher in Devon Alexander instead of guys that can expose him.