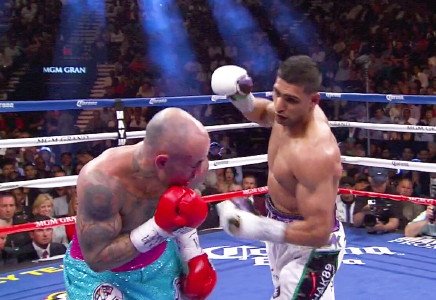 Amir Khan would like to be facing Floyd Mayweather Jr or Manny Pacquiao in his next fight in December, but neither of those fighters will be available to him at that time, so he wants to take the best fight possible against either Robert Guerrero or Devon Alexander.
Khan wants to pick up a big win over an opponent with a name so that it can catapult him into a fight against Mayweather next year. Khan believes that a big win will get him the fight that he's been wanting for ages against Mayweather, who he believes he can beat at this point in his career.
"I'm looking to fight in the first or second week of December and fly out to start training in San Francisco on August 25," Khan said to espn.co.uk. "We are looking at a couple of names for opponents. Devon Alexander and Robert Guerrero are possibilities for December."
Those guys would be a big step up for Khan from the likes of Luis Collazo, Julio Diaz and Carlos Molina, the last three opponents Khan has faced. Guerrero has a relentless style of fighting that would potentially cause Khan problems unless he fights the way he did against Mayweather by staying on the outside rather than crowding him the way he normally does with his opponents.
Guerrero would probably be the easier fight for Khan than Alexander, because Guerrero's hand speed is slow and he's not a big puncher. Alexander would definitely be the tougher fight for Khan. Alexander is an accurate puncher with power in both hands and good hand speed.
The guys that have given Alexander problems in the past were fighters that crowded him and fought him on the inside where he's less skilled. Shawn Porter and Tim Bradley both beat Alexander by smothering his offense with pressure and inside fighting.
Khan also would like to fight the winner of this Saturday's fight between Porter and Kell Brook in December. Those are both doable fights for Khan because both guys want to fight him. Brook would take a fight against Khan in a second.