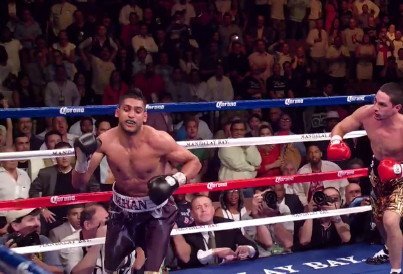 By Michael Collims: Former IBF/WBA light welterweight champion Amir Khan (27-3, 19 KO's) only has to win one fight against Julio Diaz (40-7-1, 29 KO's) next month on April 27th to find himself waiting for the winner of the four-fighter 140 pound tournament put together by Golden Boy Promotions.
Khan, 26, will face the winner of a set of matches in November involving WBA/WBC light welterweight champion Danny Garcia (25-0, 16 KO's) facing Zab Judah (42-7, 29 KO's) on April 27th at the Barclays Center, in Brooklyn, New York, USA, and Lucas Matthysse (33-2, 31 KO's) vs. IBF light welterweight champion Lamont Peterson (31-1-1, 16 KO's) on May 18th at the Boardwalk Hall, in Atlantic City, New Jersey, USA.
The winner of the Judah-Garcia & Peterson-Matthysse will face each other in a fight that could take place in the summer. The winner of that fight will then face Khan in November. In other words, Khan only has to fight one each opponent in non-top 15 ranked welterweight Julio Diaz, whereas the fighter that meets him in the finals will have to have gone through two tough fights to get to Khan.
You can see how Golden Boy has kind of made it easy for Khan by lessening his chances of something going wrong by limiting his risks to one instead of an additional two. Gee, you wonder who Golden Boy is pulling for to win the tourney.
Khan and Diaz will be fighting in the UK at the Motorpoint Arena, Sheffield, Yorkshire. While the 33-year-old Diaz is a welterweight, he's not ranked and clearly not someone that you could call a dangerous opponent for Khan. Diaz has never been considered a big puncher during his career, and he's not all that fast of hand or feet. He was a good lightweight at one time eight years ago, but a lot of things have changed since then with him aging and growing out of the division.