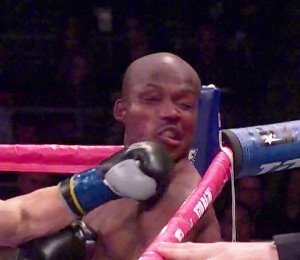 by Robert Jackson – The title of this article has got to be the question that everyone is asking around the water cooler today. Bradley went 'tooth and nail' against a fighter who everyone expected him to easily outbox, at times almost getting KO'd. The Russian,…Provodnikov with limited boxing skills, had never in his 6 year career faced an opponent of Bradley's stature and was chosen as a walkover/tuneup for Bradley who's looking for more lucrative fights. Having fought most of his career as a Jr welterweight Provodnikov stepped up to the 147lb class to face WBO champion Bradley.
If you were to look at Provodnikov's boxing resume there are no elite fighters to speak of prior to facing Bradley, expecting most – prior to the fight to disbelieve him able to put the beating on Bradley that he did Saturday nite.
Taking advantage of the 'punchers chance' that he had in the fight Provodnikov bullied and pressured Bradley into abandoning his slick boxing style that has carried him up boxing's P4P ladder. In more than a few rounds (I counted 4) Provodnikov had Bradley in serious trouble and on the verge of being 'KNOCKED OUT'! Bradley coming into this fight with a chip on his shoulder following a controversial win over Manny Pacquiao in his last fight to win the title, had a lot of pressure on him to show the fans that his victory over Pacquiao was legitimate, so instead of boxing Provodnikov he brawled giving away most of his advantages.
After an scare in the early rounds Bradley settled down into the boxing style that we've come to know, sticking, moving, countering and beating Provodnikov to the punch only to return to trading with Provodnikov in later rounds once he thought the advantage was his. To this Provodnikov obliged Bradley and proceeded to show the champion who was boss when it comes to close in-fighting and brawling, again almost taking Bradley out during the middle rounds of the fight. This became the pattern of the fight as it went forwards , with Bradley boxing for a round or two gaining an advantage and then returning to trading with the Russian to his disadvantage. In any case Bradley's refusal to stick to boxing to instead mix it up with Provodnikov led to this being a very entertaining fight possibly a fight of the year candidate. It also almost led to Bradley being KO'd in the 12th and final round.
Following the fight during the post-fight interview Bradley expressed that he was concussed early during the fight and was still dizzy. Provodnikov on the other hand proclaimed victory claiming that Bradley was unable to hurt him during the fight. Like Andre Berto before him who fought with very slick boxing skills early in his career only to abandon them in favor of brawling and mixing it up with his opponents, is Bradley now following the same path?? Craftiness, defense, good counterpunching and footwork is what we've come to expect from Timothy Bradley, what was displayed by him Saturday nite was totally opposite these attributes that have carried him to the highest level of boxing. I suspect in the aftermath of this fight Bradley's stock will drop a little bit, but…now he'll be able to get the fights he's been yearning for but at a lower payscale then what he's currently getting.
If Bradley had stuck to his usual fight style, there probably would be no discussion or debate today. Bradley would've probably coasted to a boring UD victory over Provodnikov as expected and nobody would probably care to see him fight again. For now Bradley is the talk of the town, having abandoned his forte, almost paying the price for doing so, while also forcing fans to wonder if he's even as good as we thought he was. A question that won't be answered until Bradley's next fight.