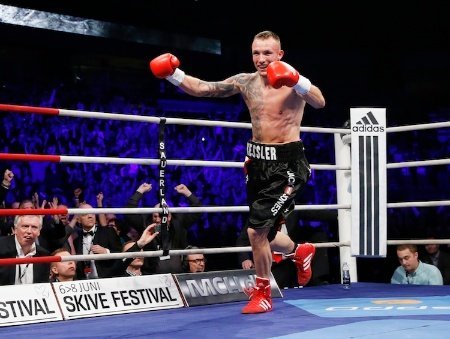 By Michael Collins,, photo: Wende / Team Sauerland – Using a fierce body attack, Mikkel Kessler (46-2, 35 KO's) chopped down WBA World super middleweight champion Brian Magee (36-5-1, 25 KO's) in a third round TKO on Saturday night to capture his World Boxing Association 168 pound title at the BOXEN, in Herning, Denmark.
Kessler started off slowly but once he figured out that Magee couldn't handle it to the body, he dropped him with a nice right hand in the 2nd and then another time in the 3rd round. After the knockdown at the start of the 3rd, the fight was halted because Magee was in no shape to continue fighting.
Kessler landed probing shots in the 1st round as he looked for areas to attack the 37-year-old Magee. Kessler landed some nice jabs and a few single right hands but nothing special. The southpaw Magee charged Kessler and hit him with a few nice shots at the end of the round but for the most part it was all Kessler.
In the 2nd round, Kessler noticed that Magee was wincing when he hit him to the body. He then loaded up with a big right hand to the midsection of Magee that put him down. Kessler then continued to hammer Magee to the body, causing him on two occasions to crouch down in pain but not hitting the canvas. With seconds remaining in the round, Kessler hit Magee with a hard right the body that caused Magee to bend over in pain and walk to the corner. Luckily for Magee, Kessler didn't run after him and brain in the back of the head like some fighters would have done had they been in the same situation. The round ended right there but Magee was given a standing eight round by the referee.
In the 3rd, Kessler landed a left to the body followed by a hard right hand to the body that put Magee down on the canvas in utter pain. The referee then stepped in and halted the fight. Magee wasn't going to be able to get up and even if he had, Kessler would have just knocked him back down again.
Undercard boxing results:
Alexander Hagen UD 4 Josef Obeslo
Kristoffer Storm UD 4 Tomas Kugler
Simen Smaadal UD 4 Uladzimir Kharkevich
Erik Skoglund TKO 3 Joe Ainscough
Torben Keller TKO 1 Gary Boulden
Rudy Markussen TKO 1 Daniel Regi
Guido Pitto TKO 8 Reda Zam Zam