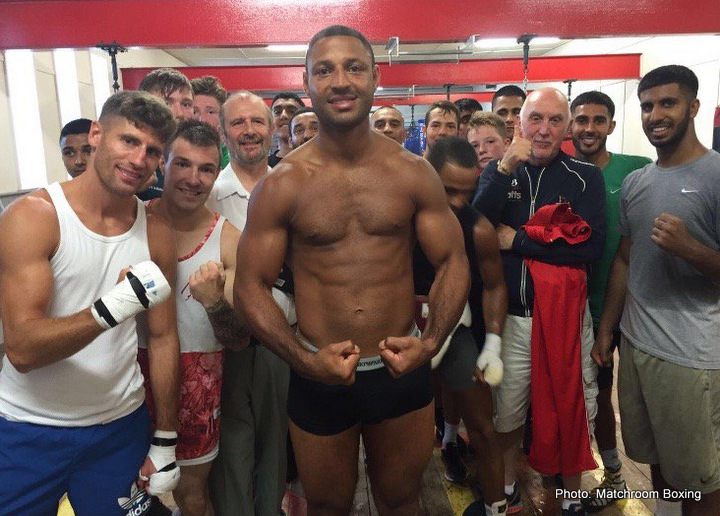 Unbeaten Welsh 154-pounder Liam Williams may not be a fighter the majority of fans are overly familiar with (at least not overseas), but the reigning British and Commonwealth champion is currently the man of the moment, getting Kell Brook ready for his big fight with Gennady Golovkin. Brook's team brought Williams, 15-0-1(10) in as he has a style and similar physical dimensions to GGG.
In fact, as Williams said when speaking with The Star, he was picked to spar five hard sessions with Brook because "I was told I had the most similar style to Golovkin in this country." The 24-year-old says he was "taken aback" by the flattering comparison, but he has not been taking things easy on Brook in their spars.
"It's been a massive opportunity for me," Williams said of his being asked to work with the reigning IBF welterweight champion. "I think they [Brook's team] wanted me to come forward in the sparring and put it on him, to make him work. I am exactly the same. I don't see the point unless you are hard sparring. I haven't been rocked in the sessions but there have been a few rounds where we have given it to each other. Kell is a fighter who can go on the back foot or come forward and have a go. I rate him very highly, he's got everything. Ability-wise, I think he is on another level than GGG. He is technically better, definitely."
That is very high praise indeed from Williams, and it's probably safe to say many fans will not agree with what he has said. Can Brook cut off the ring as effectively as Golovkin does? Has Brook got as varied an arsenal of punches? Brook is a fine fighter of course, but is he really "on another level than GGG?" We will only find out on the night of September 10. Williams, despite giving Brook praise, does not go so far as to assure a Brook victory next month.
"GGG has a ridiculously hard punch. It all depends on whether Kell can deal with the pressure and all the shots coming his way," Williams stated. "People recognise me as a bit of a puncher, but I have seen no vulnerability with Kell; he can take a punch. It depends how he takes the shots and deals with the pressure. If he does well there, he wins."
This is one of the big questions surrounding this intriguing fight: will Brook be able to take Golovkin's frightening power? Most experts, and fans, say no. Two weeks tomorrow, we will find out who is right.