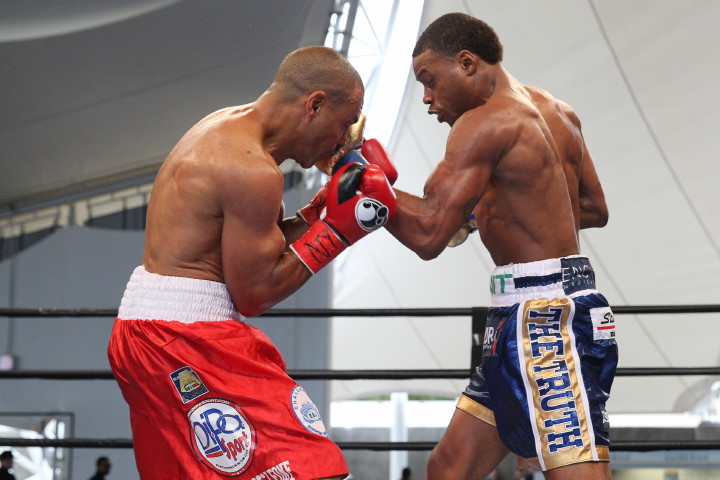 It's agreed, it's on and promoter Eddie Hearn says it's the best fight that could be made in the welterweight division today. And even though a number of fans would likely argue how the upcoming Keith Thurman-Danny Garcia is a better, bigger fight, the Kell Brook-Errol Spence fight is without doubt a big deal.
Hearn announced this evening UK time that terms have been agreed and that the fight will go ahead "in the UK." Already fans are looking forward to a big Sheffield night, although Hearn says an official announcement, regarding venue and exact date, is to come (the likely date is May 20, venue Bramall Lane, Sheffield).
Brook had said a number of times that he is not the type of person or fighter to duck anyone, while unbeaten IBF mandatory Spence has said the idea of coming to the UK to challenge the once-beaten Brook for his IBF belt does not faze him. We can now look forward to a potentially great fight. Who wins?
Brook deserves credit for taking this fight (when he could have vacated his belt and moved up to 154; as Hearn wanted) and Spence deserves credit for not complaining about having to travel to the champ's hometown fortress. Should Brook have taken an easier fight after his brave but damaging stoppage loss to middleweight king Gennady Golovkin? Is Spence as great as he has looked in compiling his 21-0 pro record?
There are many questions surrounding this fight (another massive one for British boxing) and whichever way you look at it, this match-up is a genuine 50/50 affair. Can Brook make the 147 limit effectively after having bulked up to middleweight for the GGG fight? Will Spence be intimidated by the vocal and passionate British fans supporting the defending champ?
Slick and powerful southpaw Spence may get the star treatment when he arrives in the UK; being one of the most talented and exciting fighters to have boxed on these shores for quite a while. Brook, though, will be more than ready to give him a wholly different welcome when fight night arrives. This one could be special.