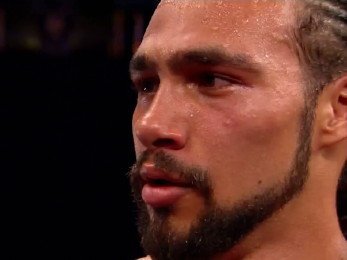 Only a few weeks ago, welterweight Keith Thurman stepped into the ring against a contender who few had heard of, and even fewer had actually seen. Those hardcore fight fans in the game knew that it could be an interesting night, as the scouting report on underdog Diego Gabriel Chaves was that he's under the radar, but above the rim. Although Chaves entered the night as the relative unknown commodity, to some, Thurman wasn't exactly popular, himself. Sitting in front of a flat screen TV in a house filled with fight fans ready for some action, I can recall hearing one young lady ask "who's the light-skinned guy with the long hair"?
A few rounds, several power shots, and a bloody nose later, she made a conscious effort to remember his name, as Thurman gutted his way to an effort she would make a conscious effort to remember. Stepping in the shoes of that young lady for a moment, we ponder the question out loud: "WHO IS KEITH THURMAN"? In the world of Boxing you have pretenders and contenders. In many ways he has shown enough ability to escape the "pretender" tag. But has he truly established himself as a "contender" in one of the sports deeper divisions? What makes the Thurman project such an interesting one is that he appears to have all the tools to do so. 19KO's in 21 fights is an indelible print left in the minds of both fans and future opponents. Trouble is, practically all of those KO's came against unproven talents.
Months ago in a live radio broadcast, I had the chance to ask Thurman directly about his thoughts on a scenario where he would potentially face an opponent who had the power to hurt him, a chin to outlast him, and the stamina to outwork him? Thurman made it clear that the KO is always his first aim and option, but he would finish that statement in saying that he "has the skills needed to win on the cards", as well. Against Chaves, he showed signs of adjustments, but the effort barely produced a victory, and depending on who you listen to, had he not achieved the late stoppage, the score cards may not have been too kind to him.
How does this serve him when we consider his chances against the man it appears he'll stand across from next? A man who goes by the name "Ghost" (Robert Guerrero), who hasn't always been the easiest target to conquer for those not named Mayweather. Many view Thurman's chances as average at best, but history isn't on his side, as Guerrero has rarely been knocked down, and has never been stopped. Tough and equally talented, Guerrero will easily succeed in taking Thurman to a place he's never been inside the ring. We saw Thurman adjust to certain strengths he encountered against Chaves. While Guerrero isn't the ultimate gauge, his ring experience certainly triples that of Thurman.
That said, the great thing about this potential showdown is the fact that it's the very stage in which stars are typically born on. Every now and then, fight fans are presented with a showdown designed to showcase a budding star in the making. For Thurman, if this bout comes to fruition, this bout will be the one. That one night where we find out if he's the "rose" or the "thorn"? Roses look great to the naked eye, but they're purely cosmetic and are typically known to wilt under intense heat and pressure. In contrast, the thorn remains sharp and on point under practically any conditions.
Thus far, Thurman has been the rose. Looking as good as can be, while drawing praise from every angle seen by every admirer. Soon, we get to learn whether or not he can transform to the thorn, as it's clear the heated portion of his resume is due to soon rise. His ultimate plan is to be part of the elite group within the sport. Until then, the rest of the world will continue to wonder who that "light-skinned guy with the long hair" is? While those closer to the game will continue to view him as a potential dark horse. With the likes of Broner, Garcia, Matthysse and others on the loose, there's no telling which "horse" will ultimately rise in this race. But one thing we can all agree on is the fact that it'll be a helluva show watching it all go down! Stay tuned.
(Vivek "Vito" Wallace can be heard every Monday night on "Left-Hook Lounge Radio". He can also be reached at 954.300.5692, FaceBook, Twitter (@vivekwallace747), & Instagram (ViveksView).